• The L25 Electric wheel loader from Volvo Construction Equipment (Volvo CE) was put to the test at two Eskilstuna Energy and Environment recycling centers in Sweden.
• The four-week partnership tested the machine in a range of waste and recycling applications – as part of Volvo CE's aim to deliver an exceptional electric performance across all segments.
• It is this unique partnership approach that is enabling Volvo CE to lead the transition towards zero emission construction.

The Volvo L25 Electric wheel loader – one of a number of compact electric machines made by Volvo CE – was put to the test at two Eskilstuna Energy and Environment recycling centers over four weeks. In partnership with dealer Swecon, the zero-emission machine worked at a sorting station in the Lilla Nyby recycling depot for two weeks before moving on to a transfer station outside the nearby ReTuna shopping center – the world's first climate-smart shopping mall selling only recycled or second-hand goods.

The L25 Electric was put through its paces at the depots with a variety of tasks, such as cleaning ground surfaces and sorting and lifting recycled or donated goods, and it handled the challenge with ease thanks to a number of easily interchangeable attachments – including a grading bucket, advanced hydraulic forks and a Holms sweeper. And all using only an on-board (AC) charger to provide the power.

Gustav Boberg, Segment Leader from Volvo CE, said: "It was a privilege to work with like-minded partners such as Eskilstuna Energy and Environment and Retuna on this project. Only by working together can we ensure that more sustainable solutions are used throughout the value chain. And by sharing our experiences, we hope to inspire others to see how our electric solutions can help them fulfil their own sustainability goals."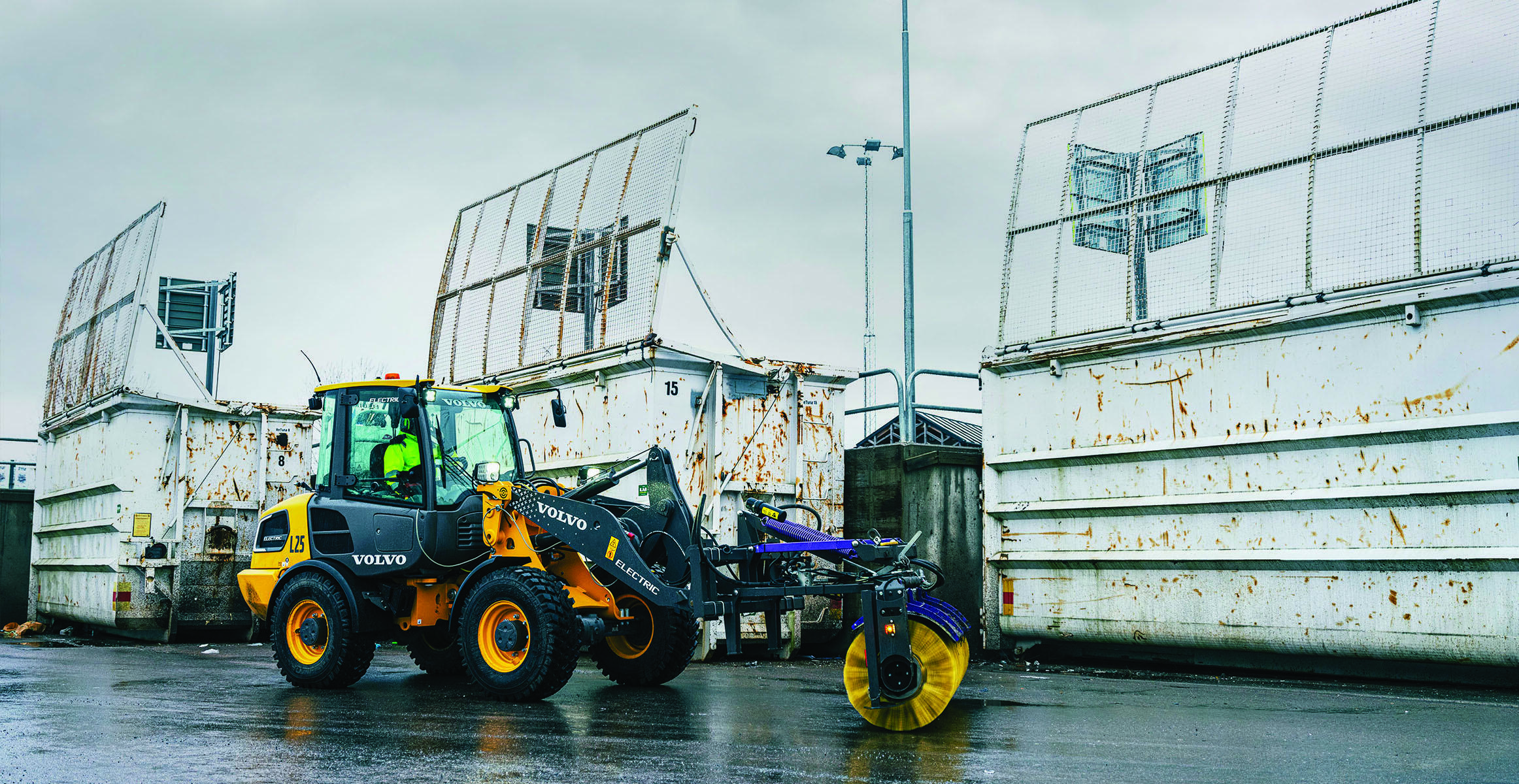 The L25 Electric is put through its paces at two waste and recycling plants in Eskilstuna, Sweden, on a variety of tasks
Making the cut
Not only did both customers and operators alike value the machine's performance, but it also delivered welcome savings. Over the two-week period, the use of just one electric machine saved 250kg of CO2, which translates to at least 6 tons of CO2 that could potentially be saved across a six-month busy season in this application. The L25 Electric not only provided a CO2 reduction for the two sites, but also delivered an 86-87% saving in energy costs at both centers – with the costs for charging just a fraction of that required to fuel a diesel equivalent machine.

In fact, it proved so successful at delivering the same outstanding performance as its diesel counterpart – but with the added benefit of low noise, zero emissions and a more comfortable working environment – that it also won over new fans.

Operator Amanda Sihvonen said she would now be extremely likely to recommend the L25 Electric to colleagues following the trial period. She added: "When I first found out that we would be trying electric machines I was really skeptical – but I completely changed my mind after I had driven the machine." She is also confident the machine holds enough battery power to get the job done each day and believes it is well-matched in performance and reliability against a diesel alternative.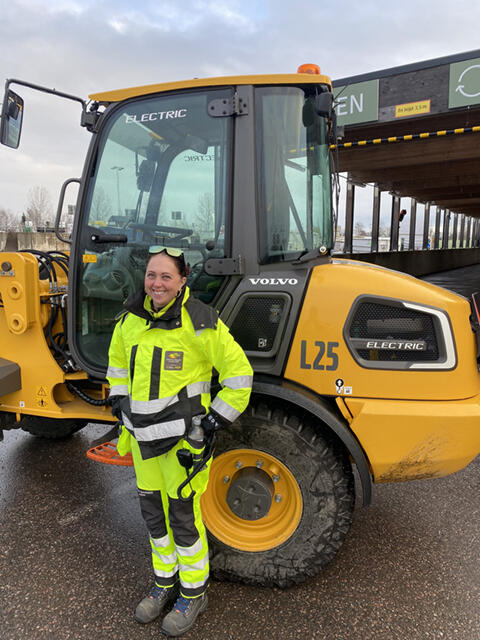 Operator Amanda Sihvonen is a convert to electric operation following the use case demonstration.
Gaining operator feedback was an instrumental aim of the project, not only in terms of the performance of the machines, but also on the use of attachments – to ensure the optimum flexibility and uptime from electric solutions. Insights gained from this project will help to inform future offerings.
Another benefit highlighted by operators was the L25 Electric's near silent operation, which makes it easier to stop and talk to visitors, for example.
A circular economy
Electric machines are ideally suited to waste and recycling applications – among others – helping to deliver a more sustainable way of working to match the environmental ambitions and operations of the very business itself. It is a circular economy approach that matches the company ambitions of Volvo CE itself, which has committed to achieving net zero greenhouse gas emissions by 2040 across its operations and supply chain.

At the heart of the ReTuna shopping mall is a passion for the environment and a desire to support communities with the ability to shop more sustainably.

Sofia Bystedt, Mall Manager at ReTuna Återbruksgalleria, said: "Here in Eskilstuna, we have a very strong sustainability objective. Together with the City Council, we aim to be climate positive by 2045, which is one of the reasons we started this partnership with Volvo CE and dealer Swecon. It is such an important initiative to test new electric solutions to see how they fit into our work environment and in doing so build a better world."