The 110 ton machine – currently the largest demolition excavator from Volvo CE – has an impressive 38 meter reach thanks to its three-part boom.

After making light work of the chimney in Vienna, Magyer Betriebs GmbH is ready to put the EC750E High Reach to work on many more demolition projects.

The excavator is one of around 30 Volvo machines supplied to the firm by Volvo CE dealer, Ascendum Baumaschinen Austria.
The demolition of a 38 meter high chimney on a 72,000 square meter construction site in the South of Vienna was the first test set by Magyer Betriebs GmbH for its new Volvo EC750E High Reach demolition excavator. The 110-ton machine, which can work up to heights of 38 meters, was bought specifically for high reach demolition work. And the results didn't disappoint. Within just 30 minutes, the chimney was history.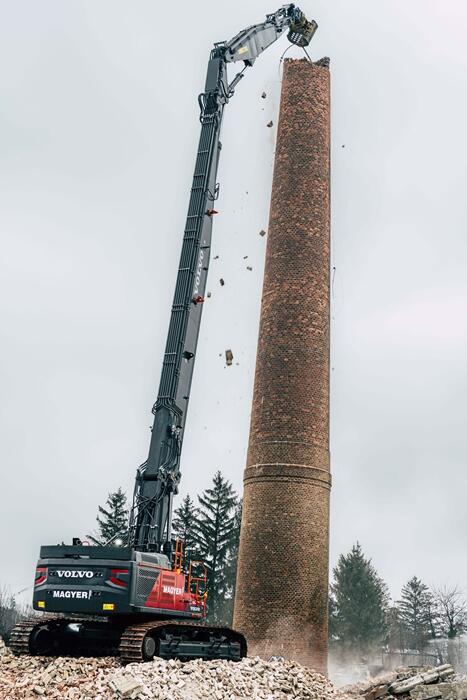 "This is the start of something big because the chimney demolition is just the beginning. Many more big demolition projects will follow," says Marcel Magyer, Managing Director of Magyer Betriebs GmbH. "And the job will be completed much faster with the EC750E High Reach because the output is much higher."
A versatile, high-tech demolition solution
The Volvo EC750E High Reach is purpose built for demolition work. A three-part boom means it can reach up to 38 meters above ground and 10 meters below ground. And it's not just it's enormous forces that guarantee fast handling. The excavator is fitted with a water spray system for dust suppression and two front cameras at the end of the demolition boom, providing optimum visibility for precision work.

Thanks to Volvo's patented boom change system, the long demolition equipment can be switched for suitable digging equipment in no time. And for demolition work up to a height of 18 meters, a 5-meter extension can be used with the digging boom, improving agility during demolition and allowing for the use of larger, heavier attachments with more power. It's this quick boom change that makes the Volvo EC750E High Reach a versatile and productive demolition giant.

Vital for both safety and performance, the machine has outstanding stability courtesy of its heavy and wide undercarriage which can be hydraulically extended an extra five meters for those jobs when extra stability is required. And with a transport width of 3.8 meters and the ability to lower the counterweight by 15 tons, moving between worksites is much simpler.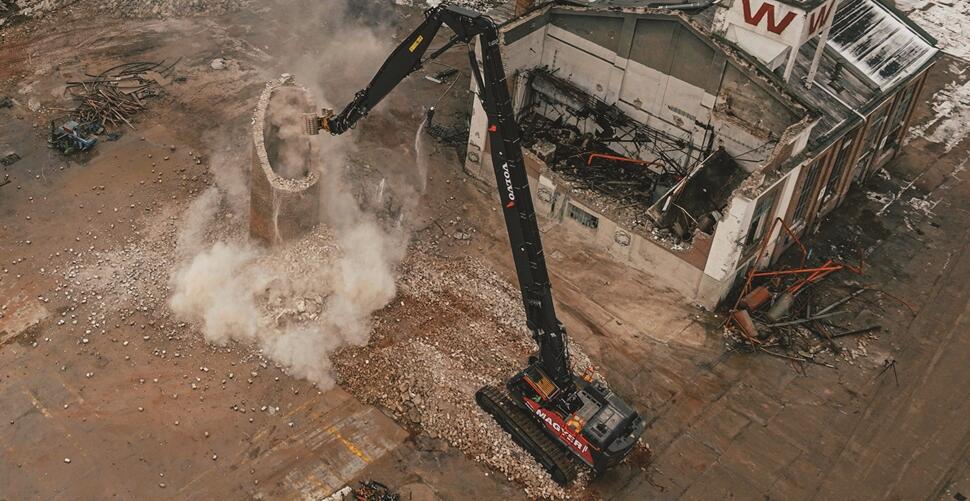 The EC750E High Reach is equipped with a Volvo safety cab that can be tilted by 30 degrees for improved visibility, something that excavator operator Alexander Dellago-Dworak appreciated during the work to dismantle the chimney. Other features include a stability monitoring system, frame-mounted cab guard, cylinder guard and site impact protection to ensure the safety of the operator and the machine.
Heavy-duty attachments
Large construction sites demand machines that can undertake a wide range of site tasks and the project in Vienna was no different. Epiroc tools, including an HB 7000 hydraulic breaker and CC 7000 demolition tongs were added to the excavation equipment of the EC750E High Reach. Weighing in at around 7 tons each – and the largest Epiroc has ever supplied to Austria – they provide enormous crushing force.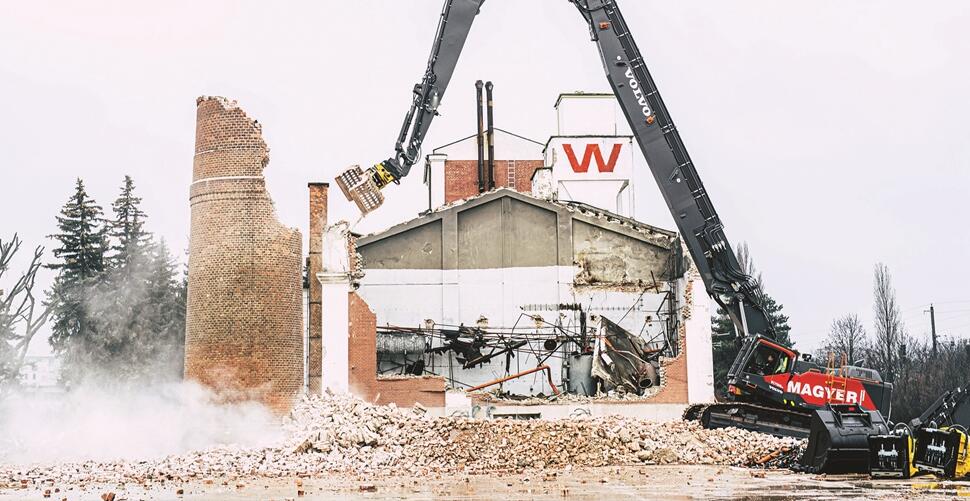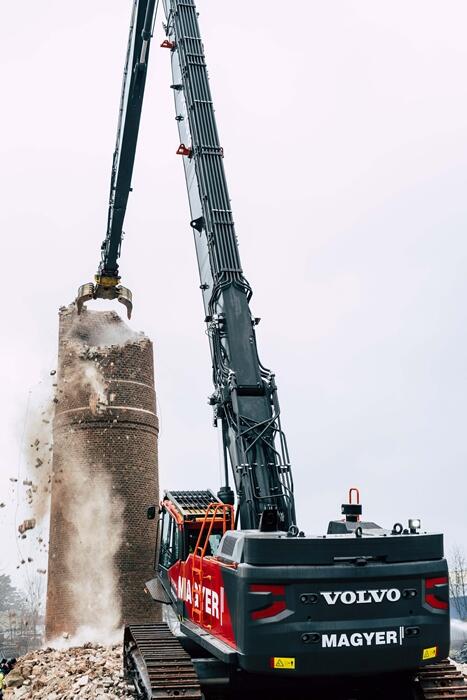 For the three-part demolition boom as well as for the digging equipment, the quick coupler was chosen over OilQuick to ensure the safe and speedy change of attachments. And when using the High Reach equipment, Magyer chose three more Epiroc tools.

"The Volvo EC750E High Reach with Epiroc attachments is an unbeatable combination. Completing heavy demolition work in less time is a top priority for us," says Marcel Magyer.
Partnering for success
Marcel Magyer's enthusiasm for Volvo began in childhood when his grandfather, who founded Magyer Betriebs GmbH in 1957, invested in the firm's first Volvo dump truck in 1992. For him the brand embodies Swedish robustness, quality and comfort. Similarly, he has long been a customer of Ascendum – a Volvo CE and Epiroc attachment dealer – and speaks highly of their sales and service support. It's no coincidence then that when Magyer was looking to extend its fleet, Volvo machines were first choice, with the support of Ascendum's maximum service package.

Alongside its EC750E High Reach, the firm has invested in a further 29 new Volvo machines, including 11 compact excavators, 12 crawler excavators, three wheel loaders, two articulated dump trucks and one asphalt roller to support its work across construction, transport and landfill applications. The Volvo machines are used in everything from excavation to recycling and reprocessing of demolition materials. Marcel Magyer is positive about the future and is looking forward to putting the machines to good use to achieve his goal to 'handle many good jobs effectively and accident-free.'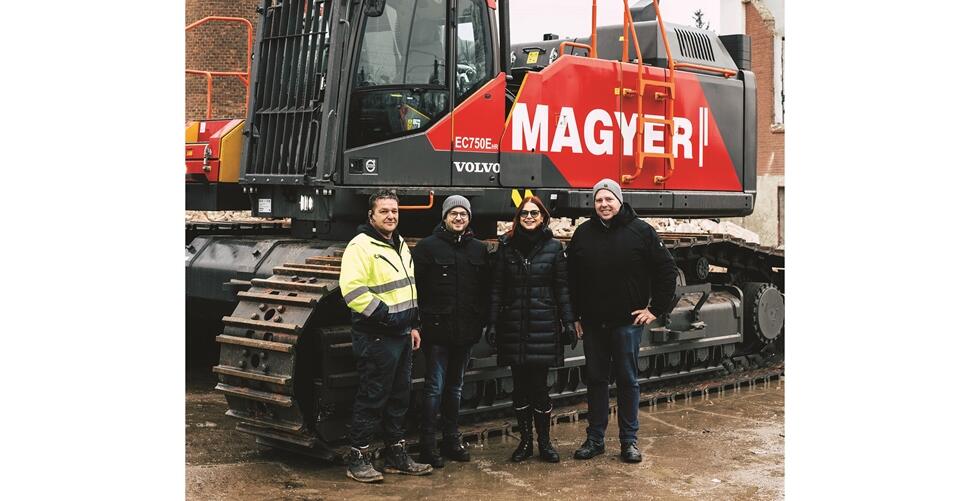 From left to right: Excavator driver Alexander Dellago-Dworak, Marcel Magyer (Managing Director Magyer Betriebs GmbH), Ines Prucha (Area Sales Manager Epiroc Österreich GmbH) and Ascendum Sales Representative Gerald Pappenscheller.