The demands of a busy waste and recycling centre require machines that are tough, versatile and productive.
The Volvo EW200E MH material handler and L60H wheel loader are engineered to deliver outstanding results in waste and recycling applications.
And they are proving their worth at Swiss disposal and recycling firm, Waser Entsorgung AG.
Swiss disposal and recycling specialist, Waser Entsorgung AG expects the best from its machines. Across its five disposal centres, the company sorts waste from private, commercial and industrial customers, returning it back to the materials cycle in the most environmentally-friendly way possible.
Alongside its state-of-the-art sorting systems, Waser Entsorgung relies on a fleet of machines to support this vital work – and they now have two new machines from Volvo CE at their Therwil site, a EW200E MH material handler, the first to be used in Switzerland and an L60H wheel loader - which are already proving their worth.

"You need good machines for hard work, we are very happy with Volvo," says Christoph Cabibbo, Operations Manager at Waser Entsorgung AG.
Height adjustable cab for improved visibility
Designed to handle even the toughest working conditions and developed specifically for the waste and recycling industry, the Volvo EW200E MH is a powerful and reliable wheeled excavator. The first of its kind in Switzerland, the machine is mainly being used to sort waste material of all kinds, including construction rubble, bulky goods and scrap metal. "It is our main tool," explains Christoph Cabibbo.

Based on its successful big brother, the EW240E MH, and weighing in at 22.7 tonnes, the excavator is powered by a 129kW (173 hp) Stage V Volvo engine and has a reach up to 10 metres thanks to a choice of 4-metre long gooseneck arm or a 3.5-metre long sorting arm. The machine can be configured as required so customers can optimise productivity for their specific application.

Comfortable and versatile, the cab can be easily raised by joystick up to five metres, providing a clear view of the job at-hand and maximising productivity. And it's from here that the operator can control the claws.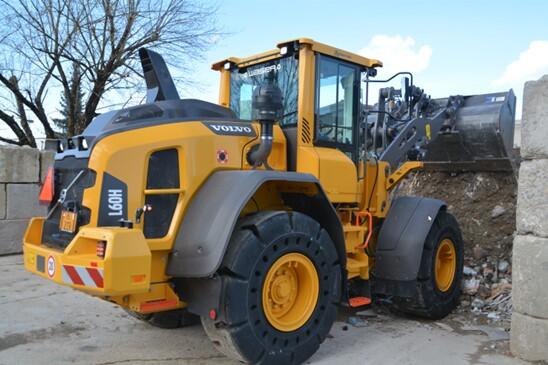 Loading, feeding and unloading, with the Volvo L60H wheel loader
Powerful machines for limited space
The second new addition is a Volvo L60H wheel loader, which is mainly used to move and feed the various materials into the systems at Waser and to load this onto trucks. A robust workhorse, the L60H offers exceptional stability thanks to a new optimised loading unit weight and redesigned counterweight. Torque Parallel (TP) linkage offers high breakout, tilt in and lifting forces and keeps the attachments parallel throughout the lifting range for exceptional load stability and easy bucket filling. "We are a little limited in terms of space, so there is a limit to the size of the machines on our premises," says Christoph Cabibbo. "The two new machines can operate perfectly here."

Available with a variety of purpose-built attachments, including grapples, sweepers, snow ploughs and material handling arms, the Volvo L60H can be used for a variety of applications.

The new machines have been well-received by the operators too. Ali Cakal, who has 29 years' experience operating construction machines, appreciates the comfort and ease-of-use of the Volvo machines and is very satisfied.

Volvo machines have been an important part of Waser AG's operation for more than half a decade. The firm now has six Volvo excavators and three Volvo wheel loaders in operation across its five locations. Key to this long-term relationship is the support from dealer, Robert Aebi AG.

"We appreciate the excellent service, constant availability and reliability of Robert Aebi AG," adds Christoph Cabibbo. "Its service technicians will be on site within an hour if we need them. This is worth its weight in gold, because every machine failure means loss."