When Volvo CE commits to something, it goes 'all in'. So, when asked to support the build of the tracks for the new 680bhp electric cars, the company decided to use its off-road expertise to help World RX in designing and testing a whole new series of track elements that will encourage the racing to be as close as it is thrilling.
World RX tracks 2.0
Following a series of workshops on what features make the 'perfect' rallycross track, Volvo CE invited the FIA, Race Series organizer Rallycross Promoter GmbH and professional drivers Timmy Hanssen, Klara Andersson and Niclas Grönholm to its specially developed 'RallyCross Test Lab' at the GTR racetrack in Eskilstuna, Sweden. Here, Volvo CE has helped test and design jumps, turns and dynamic features to keep the racing electrifyingly close. These included steeply banked turns, chicanes and epic jumps.

During a three-day test at the Rallycross Test Lab in early May, each track element was closely evaluated, with lots of ideas on how to encourage more overtaking and a greater spectacle for racegoers. The racing experts' suggested improvements – which were then quickly realized using Volvo CE's machines, refining each element until it was considered perfect. Once each feature was signed off by the FIA, the build data was captured in 3D on Volvo CE's Dig Assist in-cab machine control application. These data can then be programmed into Volvo machines and recreated at each of the tracks the race series visits during the coming World Championship. This will not only reduce the build time of each track considerably, but also do it with minimal carbon footprint.
Designed for racers – by racers
Klara Andersson, driver for the new Construction Equipment Dealer Team, is looking forward to trying out the new tracks
"The new tracks are going to be awesome!" says Klara Andersson, who drives for the new Construction Equipment Dealer Team in the forthcoming championship. "The jumps are epic – the fastest ones we will hit at 100 km/h and fly through the air for 25 meters and more!"

"The new race elements will be thrilling to drive," agrees Klara's teammate Niclas Grönholm. "The steep banking means we will be able to drive through turns on full throttle, while other corners are cleverly designed so that there are multiple racing lines – leading to wheel-to-wheel racing and more overtaking."
No compromise construction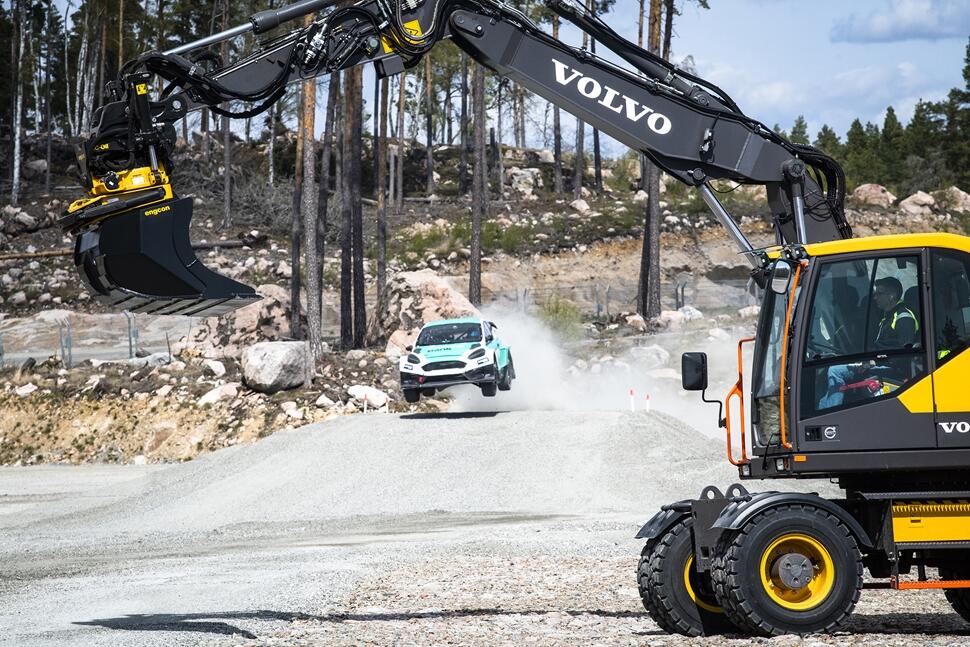 A series of workshops were held to determine the most exciting and efficient track builds.
"Our aim is to create the next generation of thrilling Rallycross circuits in the most effective and sustainable way," says Arvid Rinaldo, who heads up the partnership and the operational involvement in World RX for Volvo CE. "Our ultimate aim is to support the build and upgrade of tracks with a zero-carbon footprint, but thanks to the use of our electric equipment and latest low-emission engines running on biofuels, even at the outset we hope to significantly reduce the carbon footprint of each track build. It's the perfect platform for us to demonstrate to our own audiences how we can help transform the construction equipment industry and motorsport to be more sustainable."

The 2022 FIA World Rallycross Championship season starts at the Höljes circuit in Sweden on July 2-3, with the first race weekend at the legendary Nürburgring in Germany on July 30-31.