Bulgarian contractor Globus has enlisted the help of Volvo Construction Equipment (Volvo CE) to help shift three million cubic meters of overburden a year at the Maritsa Iztok coal mine, located in the Stara Zagora Province.
Since October 2015, Globus has imported four used Volvo A40F articulated haulers and bought five brand new Volvo A40G models from independent dealer Sigma Bulgaria, as well as an L35G compact wheel loader. The machines are now in around-the-clock operation on site.
The largest lignite mine in South Eastern Europe
The Stara Zagora Province is a particularly coal-rich region of central Bulgaria. Since the early 1950s, the State-owned Maritsa Iztok coal mining company has extracted lignite (or brown coal) from the area. Today, it is the largest energy complex in South Eastern Europe, producing in excess of 23 million tons of coal a year.
The majority of that coal is then sold to three thermal power plants located nearby. One is owned by the Bulgarian state; the other two are owned by US-based ContourGlobal and AES, which generates around 30% of Bulgaria's electricity output.
To keep the coal supply flowing – and Bulgaria running – much of the mining groundworks are carried out by Globus, based in Stara Zagora city, about 50km from the mine. Globus uses its 60-strong fleet of excavators and wheel loaders – from various manufacturers – to remove the overburden, which ranges in thickness between 10-15m, to reveal the raw lignite below.
"Until recently, we used on-road trucks to ferry the lignite away from the mining site to the processing plant," says Stoyan Rusev, general manager of Globus. "However, the gruelling nature of the work required the trucks to operate long hours and in harsh conditions, resulting in excessive maintenance and repair costs, as well as operational issues due to downtime."
The trucks' high total cost of ownership led Globus to investigate purchasing a fleet of premium articulated haulers for the task.
The logical choice
After testing various models from different manufacturers, Globus found that Volvo came out on top. Volvo CE has been involved in the Bulgarian market since 2001, and has been in partnership with independent dealer Sigma Bulgaria since 2007. Since then, the brand has begun building up a solid presence in the country.
"When it comes to articulated haulers, Volvo is the best brand; the competition doesn't even come close in terms of productivity, durability and fuel efficiency," Rusev says. The Volvo A40G articulated hauler, as well as the slightly older A40F model, provide the power, strength and reliability needed to maximize productivity in tough environments. With heavy-duty front and rear frames designed for severe off-road operation and long service life, these machines exhibit the quality and durability that owners expect from a Volvo machine. In short, hauling is easier, more efficient and more effective than ever before.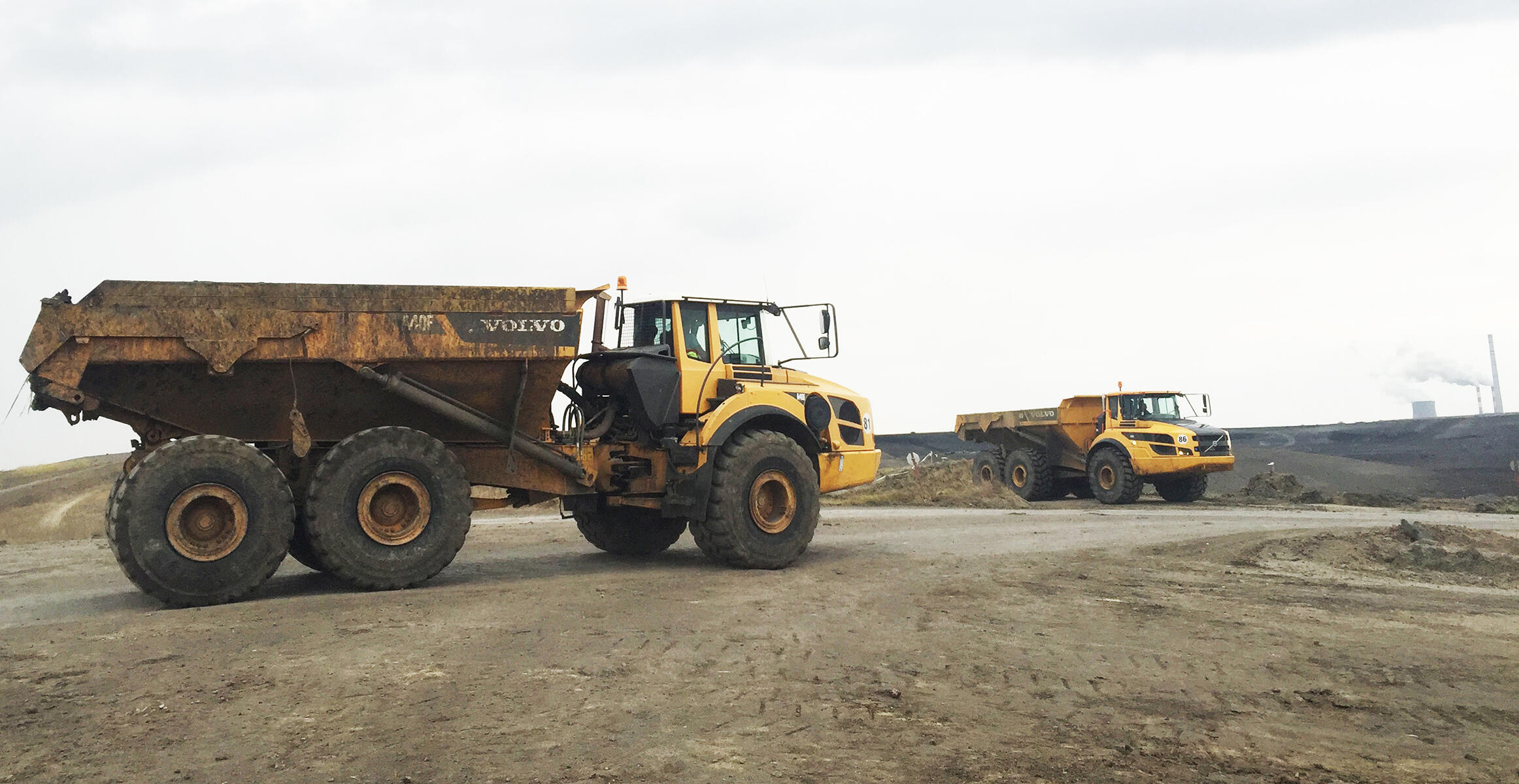 Maintenance production line
Being operational 24 hours a day puts an enormous amount of strain on the machines, which posed a potential challenge for Sigma when it came to servicing the machines. "The haulers need to be maintained every 500 hours of operation, and when they're working virtually all day, every day, each machine needs to be serviced every 21 days (or three weeks)," explains Haris Bailas, general manager at Sigma Bulgaria. "When you've got nine machines, that means a machine needs to be serviced roughly every two days. To arrange for an engineer to travel to and from the site every few days just wasn't practical, so we had to find another solution."
To provide the best possible service, Sigma built a €30,000 on-site service warehouse and hired a full-time maintenance engineer to ensure downtime is kept to an absolute minimum. "The warehouse contains all required spare parts and the engineer is based close to the Globus site, meaning he can be on site quickly when needed," Bailas continues. "He doesn't get much time off, but he's a bit of a workaholic, so he doesn't mind!"
Good news travels fast
"We are already receiving positive feedback from customers and companies that are cooperating with Globus about our presence there," concludes Nicolas Broisin, business manager for Volvo CE in Bulgaria. "The reliability and productivity of our machines is being noticed, as is our willingness to go to great lengths for our customers. Working on this project is going to be a really good step forward for all involved."
For further information, visit www.volvoce/pressroom



About Volvo AB
The Volvo Group is one of the world's leading manufacturers of trucks, buses, construction equipment and marine and industrial engines. The Group also provides complete solutions for financing and service. The Volvo Group, which employs about 100,000 people, has production facilities in 18 countries and sells its products in more than 190 markets. In 2015 the Volvo Group's sales amounted to about SEK 312 billion. The Volvo Group is a publicly-held company headquartered in Göteborg, Sweden. Volvo shares are listed on Nasdaq Stockholm. For more information, please visit www.volvogroup.com or www.volvogroup.mobi if you are using your mobile phone.
Contact Us
Anne Bast
VP Corporate Communication
Volvo Construction Equipment
Sales Region EMEA (Europe – Middle East – Africa)
Tel: + 46 16 5415906
anne.bast@volvo.com

Hannah Kitchener
SE10
London
Tel + 44 207 923 5863
hannah.kitchener@se10.com