The Aitik mine, run by Boliden mining company, never rests. Ore is mined here 24 hours a day, 365 days a year. This requires large, powerful and productive machines, and Rutqvists Schakt, which works under contract to Boliden, already has a number of Volvo EC700s and EC750s excavators, as well as a Volvo A60 articulated hauler, in its fleet of eight machines at the mine.
When Rutqvists Schakt signed the latest contract with Boliden, MD Lars-Göran "Lalla" Rutqvist chose to invest in the new 90-tonne Volvo EC950F crawler excavator, despite it being completely new to the Swedish market and an entirely new experience for him and his machine operators.
"There was no time for a test drive," Lalla laughs. "But I trust Volvo and Swecon. The decisions we make together always work. It also helped that I had read and heard from foreign colleagues that it was a good machine."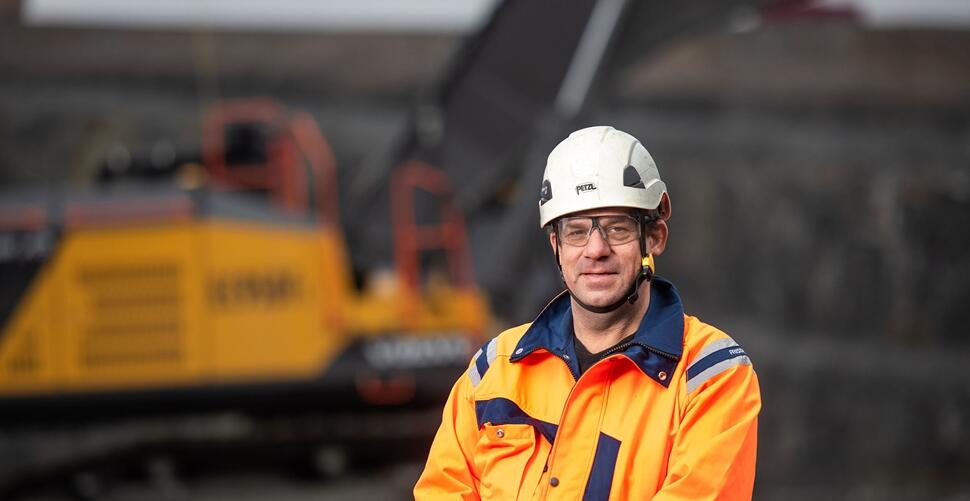 From Volvo CE's perspective, and that of dealership Swecon, it is a milestone to be able to deliver a machine of this size class in Sweden as well.
"There is trust in us that we need to live up to, and we are ready to deliver more machines of this class," says Hans Olofsson, Swecon's Director of Sales in Region North.
By the end of September, some 900 working hours later – the massive excavator is working more than 10 hours a day, seven days a week. Lalla is now just one of its many fans. "We are very happy," he says. "It's surprisingly fast for its size. In this job, it's important to combine capacity with speed. What's more, fuel consumption is reasonable and it's a pleasure to drive."
It all started with a tractor
A lot has happened since 24-year-old Lalla, after five years as a machine operator, made an important decision one day back in 1992.
After simply telling his mother Ann-Christine that he was going to buy a tractor, he immediately went out and bought a second-hand Volvo wheel loader, and set up the sole proprietorship under Lallas Traktorer.
Today, now that company has been renamed Rutqvists Schakt and boasts about 35 employees and 27 production machines, the majority of which are Volvos that are tied to Swecon with customer support agreements. This also includes the operation of Krossproduktion i Sverige AB, with three crushing plants in Norrbotten, which was purchased three years ago.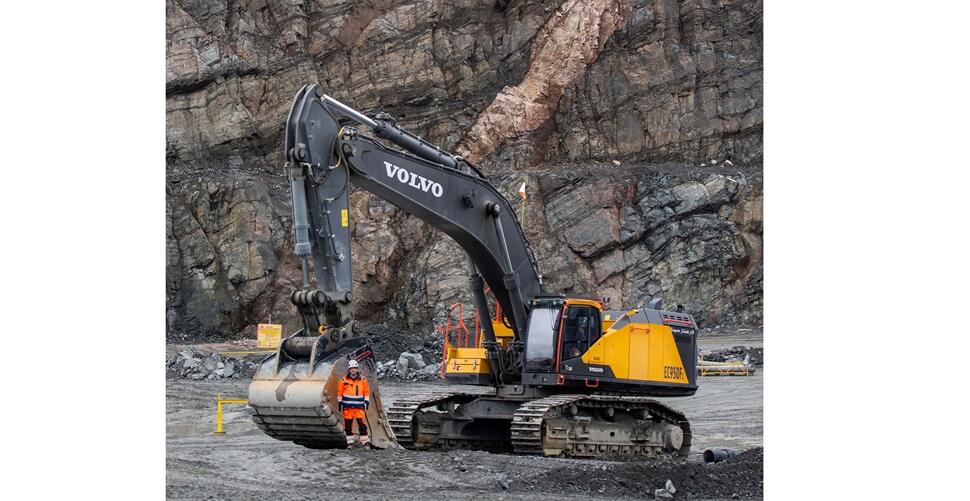 Facts about Volvo EC950F
• Volvo's largest excavator has a lifting capacity of 34 tonnes. The 90-tonne excavator has an electronically-controlled hydraulic system with five modes to optimise flow and pressure. The operator can choose between I (idle), F (fine), G (general), H (heavy) and P (maximum power). The machine also has a priority valve for boom swing.
• The attachment system has the ability to store settings for up to 20 different attachments. The Stage V engine can reach 603 horsepower at a speed of just 1,650 rpm.
• The excavator loads Volvo's largest dumper, the A60H, with a body capacity of 33.6 cubic metres, with just four bucket loads, with each work cycle taking between 20 and 25 seconds.
Facts about Aitik
• The Aitik deposit – copper ore containing copper, gold and silver – was discovered in the 1930s, but it wasn't until 1968 that the technology was in place to make mining profitable for Boliden.
• Today, the mine employs nearly 800 people and is Gälliver's largest private employer.
• The open-pit mine is enormous, with a length of three kilometres, a width of one kilometre and a depth of 450 metres in places.
• In 2020, Boliden extracted 128,000 tonnes of copper in concentrate from its four mines. In addition, 13 tonnes of gold were extracted at the three mines Aitik, Kristineberg and Renström.
For more information, please contact:
Anne Bast
Head of Brand, Marketing & Communication
Volvo Construction Equipment
Sales Region Europe / International
Email: anne.bast@volvo.com
Sandra Jansen
Marketing Communication
Volvo Construction Equipment
Sales Region Europe / International
Email: sandra.jansen@volvo.com