Volvo Construction Equipment has introduced three new buckets specifically designed to fit Volvo L110-L350 wheel loaders – Volvo Sand bucket, Volvo Rehandling Flat Floor bucket, and Volvo Rehandling bucket, which will replace the current model.

Optimized for the application, Volvo Rehandling and Volvo Sand buckets enable wheel loaders to perform at maximum capacity, helping customers save time, money and effort. From a wide range of attachments, Volvo customers can choose the best match to meet – and exceed – jobsite requirements, ensuring a more profitable operation.

Shaped to perform
The intelligently-designed Volvo Rehandling, Volvo Rehandling Flat Floor and Volvo Sand buckets are easy to fill, thanks to the bucket shape, balanced floor back ratio and countersunk holes. These productivity-enhancing features enable operators to do more at a faster rate, while improving fuel efficiency by up to 20%.

Optimized spill guards deflect material for greater linkage protection, while curved side plates provide excellent containment, securing the material for more efficient operation. To prevent different material grades from mixing, the buckets feature minimized pockets.

Profit in every bucket
Whether in a quarry or gravel pit, Volvo Rehandling bucket is the ideal partner to ensure a highly productive and fuel-efficient rehandling operation. Owners can expect the highest level of performance, plus reduced fuel costs thanks to the easy-to-fill bucket, which cuts cycle times. With Volvo Rehandling bucket, operators can do the same tasks while using less fuel, resulting in more loaded material for less money.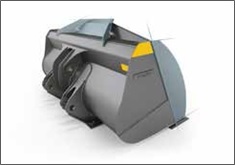 For handling, stockpiling and loading processed materials such as sand, gravel and aggregate, Volvo Rehandling Flat Floor bucket is the perfect fit. For applications on sand or other soft terrain, the bucket maximizes traction and break-out force, while maintaining a clean work environment for unbeatable productivity and efficiency.


When operating in soft ground conditions where tire traction is compromised, Volvo Sand bucket is the ideal choice. Designed for handling sand or aggregate in small fractions, the long bucket floor maximizes penetration for improved traction, while its flat design helps to maintain a clear and level work area.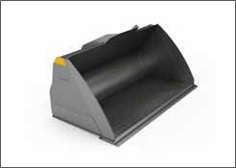 Made by Volvo, for Volvo
Durably designed to withstand harsh conditions, Volvo Rehandling, Volvo Rehandling Flat Floor and Volvo Sand buckets are built on decades of engineering experience to ensure a long lifetime. As with all Volvo attachments, the latest additions have undergone extensive testing to ensure the highest standard of productivity and durability across any application.

To ensure long-lasting buckets, high tensile steel and wear-resistant parts are positioned in critical areas, minimizing unscheduled downtime. No matter how hard they are pushed, Volvo buckets are built to last for ultimate machine uptime and profitability.

In addition to receiving the most productive and reliable buckets on the market, customers also receive outstanding support from Volvo's global dealer and service network. When a wear part needs replacement, availability is guaranteed. Volvo is committed to positive returns on its customers' investments.

Ends.

June 2016

For further information, please visit: www.volvoce.com/press

Or contact:
Thorsten Poszwa
Director, External Communications
Volvo Construction Equipment
Tel: int +32 490 65 96 68
Email: thorsten.poszwa@volvo.com
Twitter: http://twitter.com/VolvoCEGlobal
Brian O'Sullivan
SE10
London
Tel: int +44 77 333 50307
Email: osullivan@se10.com