The Sinsub Kree Ree Part, Ltd., crushing plant in Chonburi, Thailand, produces crushed stone used for road works (mainly crushed rock or stone flakes in asphalt mixtures) and building construction (larger stones (¾-to 2-inch) used in concrete aggregate). It focuses on market-oriented production to keep costs down and profits up.

"Stone production needs accurate market forecasting and careful planning to avoid oversupply," says Grisada Gijvaropard, general manager of the Sinsub Kree Ree Part, Ltd., crushing plant and nearby Sila Sinsub Samut Part, Ltd., quarry. "We assess the market situation by considering the overall construction industry and the most desirable types of stone. If demand for a particular size of stone is low, we will produce more crushed stones to minimize remaining stocks."


The key to profitability and success
But for Sinsub Kree Ree Part, Ltd., market forecast accuracy isn't the only factor in managing business expenses and increasing revenue the machines chosen to work in the crushing plant and quarry also play a vital role. "Machinery is one of the key factors in our profits. If a machine comes to a halt, production capacity will be affected," Gijvaropard says.
Therefore, machines must be durable particularly those working 100 m underground at the Sila Sinsub Samut Part, Ltd., quarry:
"If a machine breaks down, it's not easy to bring it up for repair, and taking technicians to the machine will affect scheduled hole blasting. However, even if the equipment is durable, if it's not fuel-efficient, we might end up wasting money on fuel not to mention maintenance and parts,"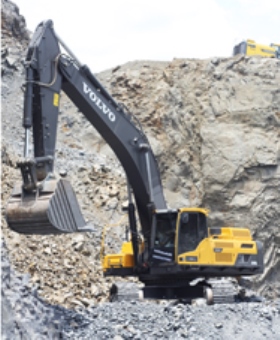 Gijvaropard says. "In the past, it has taken so long for replacement parts to be imported from abroad that I've had to look for the parts myself, which was time-consuming and inconvenient. That was an experience that I've always remembered when selecting new equipment."
Today, Gijvaropard uses Volvo Construction Equipment (Volvo CE) at both the quarry and the crushing plant. The company gets full sales and service support for its Volvo machines from long-standing Thai dealer, Italthai. "
I'd tried other brands before and faced the same old problems: frequent breakdowns and lack of replacement parts, which interrupted our operations. I hadn't heard much about Volvo CE, but I was looking for the best equipment for my business, and after repeated disappointment with other machines, I started talking to Italthai and decided to give Volvo a go."
The first Volvo CE machine Gijvaropard obtained was a 36 t excavator. "It was strong, durable and, most importantly, more fuel-efficient than the previous excavators I'd used," he said. Later, the company began using wheel loaders, 14 t and 21 t excavators and, most recently, a 48 t excavator, which works even more productively and quickly. There are seven Volvo CE machines currently at work in the crushing plant and quarry.
The company's technicians tested both Volvo CE machines and vehicles from other brands against each other to see whether their rear axles would bounce while loading large rocks. The rear ends of the competitor vehicles bounced immediately, and some even sustained boom damage.
"When we switched to Volvo CE, my team and I noticed immediately that Volvo CE machines worked fast and were easy to operate. They have a long service life, which saves us on spare part costs. I've been using Volvo CE for eight years now, and they still deliver impressive performance and high fuel efficiency. Our overall costs have been reduced, leading to better machinery management. We've been very impressed with the high standard of Volvo CE," Gijvaropard says.