With over half a century of paving experience and innovative engineering, Volvo has all but perfected its next generation paving machines with the P6820D ABG and P7820D ABG models.
The new Electronic Paver Management system (EPM 3), for example, is the most revolutionary development launched with the D-Series pavers. The EPM 3 enhances machine control and optimizes the paver for specific applications. The system consolidates the control buttons, arranged in a bird's-eye view layout, to guide the operator intuitively through individual working functions. Functions can be quickly selected and adjusted using the ergonomically-positioned jog wheel.
For individual projects, the Settings Manager stores customized settings within the EPM 3, enabling the operator to recall saved parameters when encountering similar projects in the future. This feature simplifies machine startup and can be fine-tuned by the operator once paving is underway to optimize productivity and high quality paving job-to-job.
From the operator platform, visibility ranges 360 degrees around the paver, hopper, auger channel and screed, enabling the operator to check material supply and flow at a glance. The new glazed area on both sides of the platform provides even greater visibility, optimizing overall efficiency and jobsite safety. Even in low-light conditions, operators can pave with precision thanks to state-of-the-art LED work light and balloon light choices. To maximize safety, the home lights, located below the canopy, illuminate the operator platform and steps for three minutes once the main switch is turned on and after the ignition is turned off. For quick paving or transport preparation, the weather roof can be raised and lowered easily by pressing a button.
For a comfortable ride, the canopy offers built-in sound insulation, while the automatic track tensioner reduces vibrations, ensuring a smooth operation.
Power to perform
Beyond machine control and operator comfort, the Volvo P6820D ABG and P7820D ABG pavers are packed with built-in, high quality features, starting with the premium Volvo engine. Combining high torque and low RPM, the Volvo engine is specifically tuned to the hydraulic system for market leading power, productivity and fuel efficiency. The system features the adaptive ECO Mode that matches the engine output to the jobsite requirement. This default function can reduce fuel usage by up to 30%, benefiting customers' bottom line and the environment – a key consideration in the development of the D-Series pavers.
And, like all Volvo pavers, the P6820D ABG and P7820D ABG perform at remarkably low noise levels, benefiting the paving crew and local community alike
Even at high ambient temperatures, the cleverly-designed engine compartment and hood provide ample space for continuous air circulation from the adaptive cooling fan, allowing the engine and hydraulics to cool effectively. Regardless of environmental condition or application, the D-Series pavers provide a smooth, even mat surface thanks to the winning combination of several features, including the large hopper capacity, automatic track tensioning system and Soft Dock.
Thanks to these advanced features, as well as the optional Pave Assist system, first-class paving results have never been more accessible. Powered by Volvo Co-Pilot, Pave Assist is designed to improve functionality, providing operators with real-time insight to the quality and productivity of the paving operation. The highly innovative and Volvo in-house developed solution helps operators to manage paving operations with greater ease and independence. Tools offered by Pave Assist include Material Manager, Thermal Profiling and Weather View.
Industry-leading screeds
Volvo screeds are designed to provide premium pavement quality, uniformity and smoothness. Versatile and efficient in paving widths up to 11 meters, the Volvo P6820D ABG and P7820D ABG pavers feature industry-leading screeds, capable of handling a wide range of materials.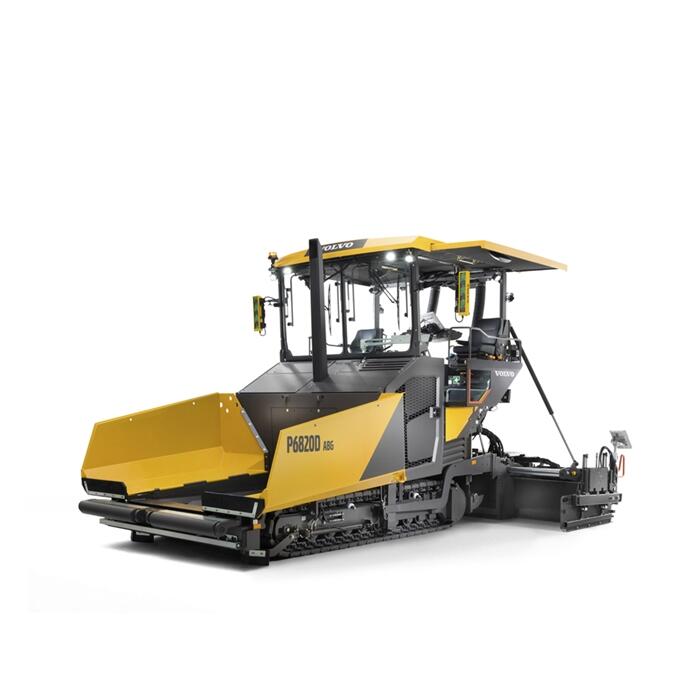 Volvo's specially designed tamper bars achieve material target density over the entire working width and are fully hardened for lasting durability. Depending on application and condition, Volvo customers can choose from the wide range of single or double tamper screeds to ensure a smooth surface. The Volvo ABG double tamper technology offers the highest degree of pre-compaction behind the screed, essential when paving thick asphalt and cement-treated base (CTB) material.
To guarantee smooth and precise movement of hydraulic screed extensions, the stable screed guide system features two purpose-built guide cylinders, located on each side of the paver. Together, the rigid tubes prevent the screed extensions from twisting when high forces are exerted on them, resulting in a consistent, uniformly compacted surface.
What's more, the paving crew can meet various jobsite requirements by simply adding or removing screed extensions in minutes, with no special tools required, thanks to Volvo's quick coupling system. Safety and quality are further enhanced by the new hydraulically-controlled end gates, delivering faster handling for the screed operator and a clean side finish.
When paving special crown profiles in road surfaces, the VB 79/89 and VDT-V 79/89 screeds are the ideal match. The extendable screeds feature two additional articulated sections and are adjustable upwards or downwards by 10% (5.7°), creating the possibility for paving irregular profiles – such as special drainage requirements – with greater ease, less material used and at a lower cost.
Optimum uptime
To keep machines efficient and increase longevity, Volvo offers quick and easy maintenance, as well as a number of component life-extending features and uptime services.
Thanks to improved service access to essential checkpoints, customers can count on the Volvo D-Series pavers to reduce downtime and minimize operational costs. Volvo Care Kits also help to cut costs by optimizing performance and life for wear parts. By having them all on hand in a single package, Volvo Care Kits support customers in identifying which parts to replace.
Additionally, with technologically advanced features, such as Service Interval Manager, customers remain informed of servicing requirements. The system alerts the operator of required or scheduled maintenance, and retains a record of service history within the EPM 3. To remotely monitor their machines, customers can also rely on CareTrack®. The telematics system generates detailed reports on machine location, usage, productivity, fuel consumption and more. Using the MATRIS diagnostic software, Volvo dealers can analyze machine operational data. The system tracks activities and identifies areas of improvement, resulting in better economy and reduced machine wear.
These smart systems, added to a range of services – available from Volvo's dealer network – make it easy to keep hardworking P6820D ABG and P7820D ABG pavers up and running.


P7820D ABG
P6820D ABG
Engine emission
EU Stage 4 / EPA Tier 4f
EU Stage 3a / EPA Tier 3
EU Stage 4 / EPA Tier 4f
EU Stage 3a / EPA Tier 3
Engine type
D8J
D7E GEE3
D6J
D6E GAE3
Engine power
kW
hp (imp)
175
235
170
228
140
188
140
188
At engine speed
r/min
1 800
1 800
2 000
2 000
Basic width
m
ft
2 548
8.36
2 548
8.36
2 548
8.36
2 548
8.36
Maximum paving width
m
ft
11
36.1
11
36.1
10
32.8
10
32.8
Paving output
ton/hr
short ton/hr
900
992
900
992
700
772
700
772
Maximum layer thickness
mm
in
300
11.8
300
11.8
300
11.8
300
11.8
Hopper capacity
ton
short ton
13.5
14.9
13.5
14.9
13.5
14.9
13.5
14.9
Tractor weight
kg
lb
14 900
32,849
14 650
32,298
14 350
31,636
14 200
31,306