Clancy & Theys Construction Company, headquartered in Raleigh, North Carolina, is the general contractor on the project. In order to meet the tight timeframe, the earthworks responsibility of the project was put out to tender.
Trucco Construction Co. of Delaware, Ohio, put in a bid with production numbers based on using seven K-Tec scrapers being pulled with Volvo full-suspension articulated haulers, also known as articulated dump trucks (ADTs), and over a dozen other pieces of earthmoving support equipment. Rudd Equipment Company, being a dealership for both the Volvo ADT's and K-Tec scrapers, provided a seamless product solution and support for Trucco to make a strong bid.
"What the customer looks at is the cost per yard that they are moving material, so when we look at the overall cost with the K-Tec scraper married up to the Volvo A45 artic truck, then your costs are so much lower," says Martin McCutcheon, Vice President of Rudd Equipment's Columbus branch. "When you put everything together from the K-Tec quality product to the Volvo quality product, it is hands down the best product out there as far as cost per yard. Plus, it has a quality dealership in Rudd standing behind it."
Due to this advantage in cost and production performance, Trucco managed to successfully outbid the other two contractors who were planning on moving dirt with other equipment combinations.
High Productivity, Smooth Rides
Trucco had two months to complete the earthworks on the Dollar Tree project, requiring over 500,000 cubic yards of clay and topsoil material to be moved. Regarding site production efficiency, Dave Overholt, Superintendent for Trucco Construction notes, "We are trying to move over 20,000 cubic yards a day. We self-load when stripping the topsoil, and we typically push load the K-Tec's in the high-moisture, clay cut material."
Rain is always a concern in Ohio, and Trucco's use of K-Tec equipment has been strategic and advantageous. The crews are able to get into wetter underfoot conditions with the K-Tec scrapers, compared to their traditional twin-engine scrapers, as the K-Tec machines do not pump out the soft haul road.
A well-maintained 750-foot haul road is critical for the five-to-six-minute cycle time on this jobsite. The smooth ride of the Volvo articulated dump trucks, and the Automatic Cushion Ride system of the K-Tec Scraper, makes for an enjoyable ride for operators to complete their jobs comfortably and productively.
"This combination," Overholt says, "is basically the only way to go. They are very easy to adapt to the operators. The operator isn't getting beat around and can run at high speeds on the haul road. The ride is tremendous."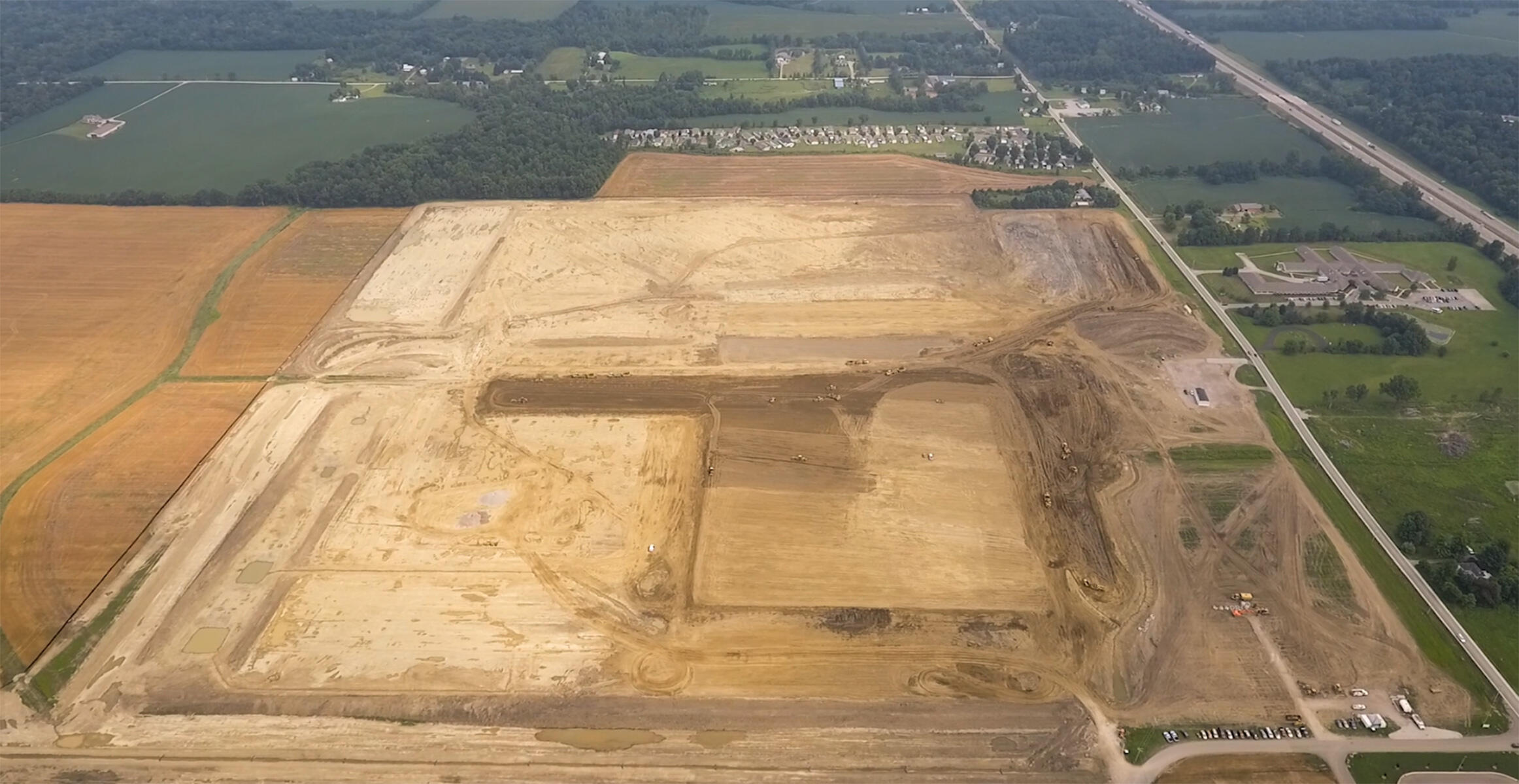 Hitting — And Exceeding — Goals
Trucco Construction experienced 39 weather days during the project, with 56 inches of rain (a seasonal record high for the area), yet the company still came in on time for the building pad earthwork and did not hold the project up for any other subcontractors. True to the original project estimations, the performance of the Volvo ADTs and K-Tec scrapers allowed Trucco crews to average right at the 20,000-cubic-yards-per-day goal — and sometimes to exceed expectations by moving upwards of 23,000 cubic yards in a day. Trucco has an additional 50,000 cubic yards of supplementary earthwork to move on the Dollar Tree property to wrap up in spring of 2019.
Overholt considers future scraper investments for Trucco's fleet to be a real possibility. "I can see us in the near future buying a couple more," he says. "They're just the way to go."
From being able to quote the job at a lower cost per cubic yard than their competitors, to handling wet conditions, to making a profit for their own organization, the efficiencies and savings gained by the productivity of the Volvo ADTs and K-Tec scrapers seem to be making money grow on trees on this earthmoving project.
About Trucco Construction Company, Inc.,
Since its inception in 1990, Trucco Construction Company, Inc., has quickly become an industry leader in Central Ohio and the surrounding areas.
Founded with the time-honored principles of honesty, integrity, hard work and craftsmanship, Trucco was built on a solid foundation. Although rooted in tradition, Trucco still keep abreast of the best that the construction industry has to offer its customers. So, while methods have constantly adapted to embrace improving systems and emerging technologies, the fundamental character of Trucco's foundation is unwavering.
This artful blend of old and new, of tradition and innovation, combined with a customer-centric approach to business has made Trucco one of the largest, fastest growing family-owned businesses in the area.
About Rudd Equipment Company
Rudd Equipment Company provides complete equipment sales and service support to the mining, construction and associated industries. Rudd is the exclusive distributor in the Midwest for internationally recognized and preferred manufacturers and are among the oldest and largest distributors in the world for Volvo articulated haulers.

For 67 years, Rudd has been dedicated to servicing the customer, and pledges quality product support, demonstrated in employment of award winning, factory-trained technicians, professional and knowledgeable sales people, and a commitment to consistent parts and service availability.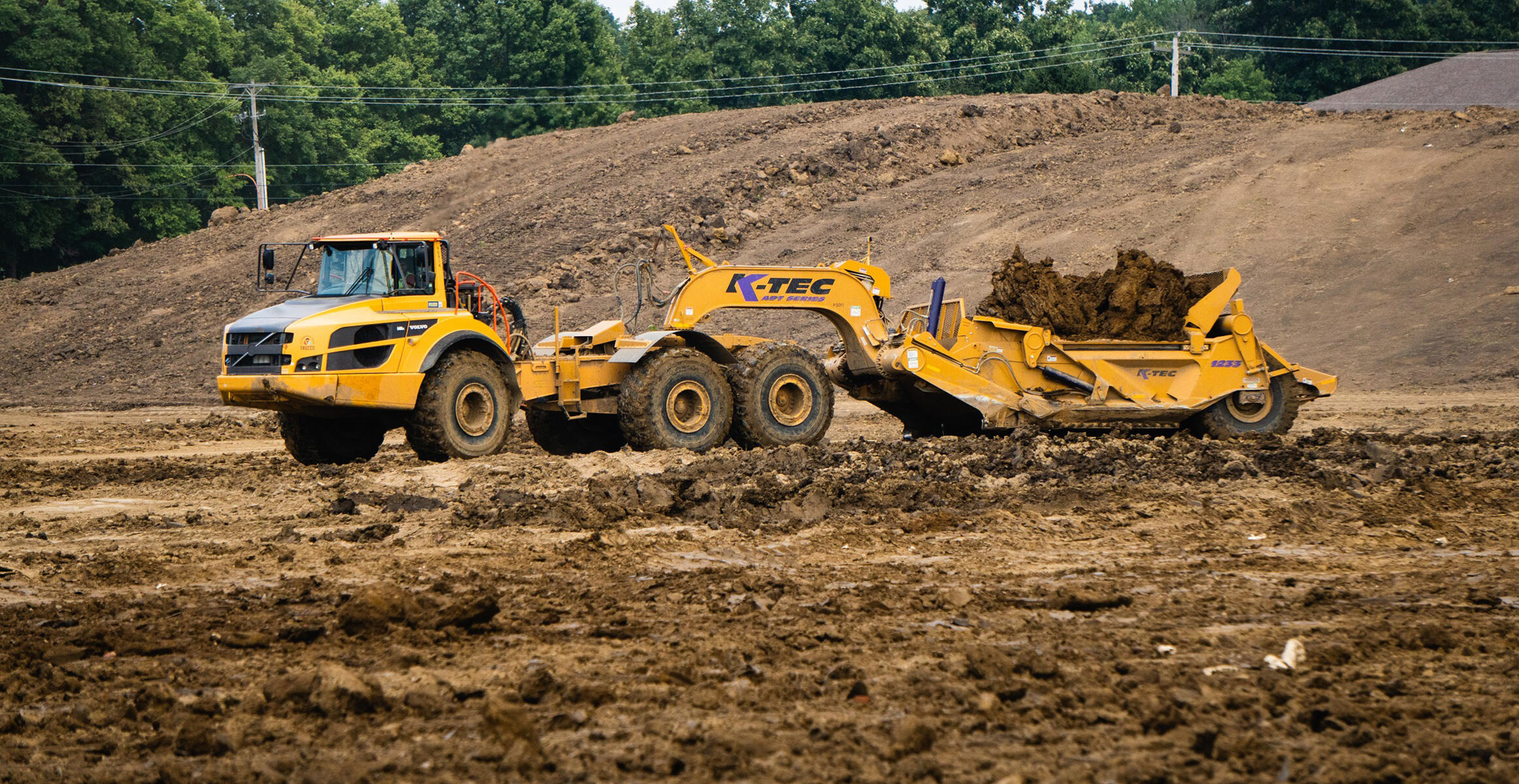 About K-Tec Earthmovers Inc.
K-Tec Earthmovers Inc. believes they have developed the most profitable, productive way to move dirt. Founded in 2000, K-Tec provides its customers with high quality scraper equipment for purchase through their authorized dealers around the globe. Their offerings include Direct Mount, Train and ADT scrapers and earthmoving accessories in a variety of model specifications to fit any construction project. K-Tec's growth is attributed to a strong product, after-sale services and their industry-leading warranty policies. They strive to provide leading edge earthmoving equipment for their customers to successfully and efficiently transform landscapes now and into the future.
Courtesy of K-Tec Earthmovers