The new EC250E and EC300E excavators from Volvo Construction Equipment (Volvo CE) are heavy-duty machines that weigh 26-31.5 t and 30.2-36.8 t for the EC250E and EC300E respectively. These enhanced machines are packed with the latest technology, new and proven features, and can even come with purpose-built attachments – to help you move more, for less. Durable by design, these Volvo excavators are safe, comfortable and reliable members of your fleet.
More, more, more
The updated models deliver up to 10% improvements in fuel efficiency, thanks to a combination of features that includes more intelligent electro-hydraulics, the classic ECO mode and selectable work modes, and finally the new D8M Volvo engine. This upgraded engine reduces rpm from 1,800 down to 1,600, while delivering a 5% increase in power. The EC300E also has a 700 kg heavier counterweight – providing greater stability and a 5% increase in across lifting capacity. Furthermore, both machines have benefited from enhanced performance thanks to new priority functions – which enhanced controllability by allowing operators to prioritize one function, Boom/Swing and Boom/Travel, over another – boom-down speed control – which is adjustable, ideal for precision tasks – and improved jack-up speed.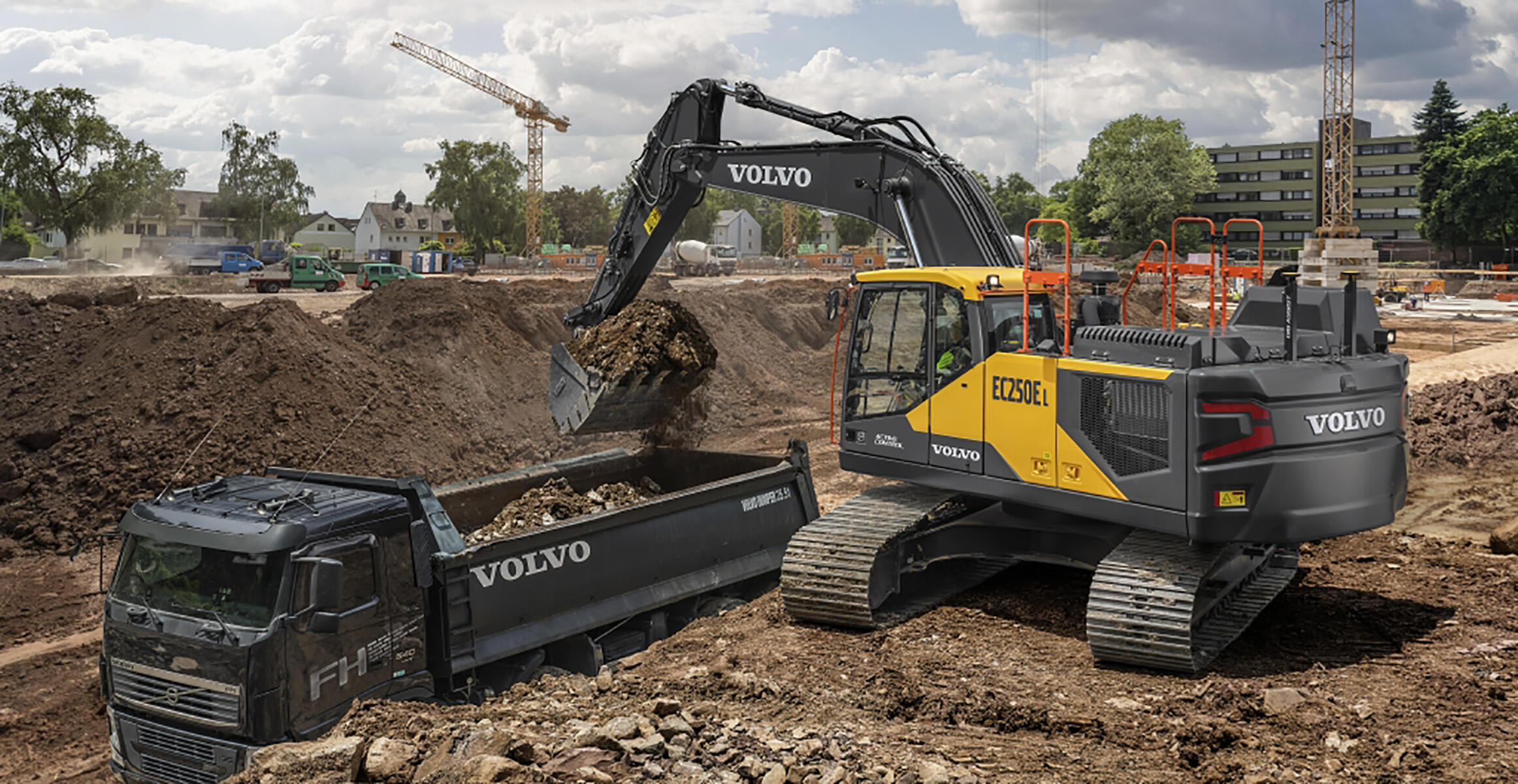 Operators will benefit from improved response times – thanks to electric control joystick and full electric travel pedals – and are helped in their task by the optional Dig Assist apps – powered by the 10in. Volvo Co-Pilot in-cab tablet. These include 2D, In-Field Design, 3D software packages and On-Board Weighing. Not forgetting Volvo Active Control, which boosts digging accuracy allowing jobs to be completed up to 45% faster, thanks to automated boom and bucket movements. Operators can also easily set swing fence, height limit, and depth limit to avoid contact with side obstacles, overhead obstacles such as power lines, and underground hazards such as pipes and cables.
Comfort and safety
When it comes to designing Volvo machines, safety has always been the priority. Renowned features, such as easy access points, bolted anti-slip plates, high visibility handrails and spacious, ergonomic and low-noise Volvo Care Cab ensure the highest level of operator comfort and safety. To access the upper structure, operators can be safe and confident thanks to the new 3-point right-hand side access. Furthermore, rear and side cameras, along with the 360-degree Volvo Smart View option, result in safer machine rotation, especially when working in confined spaces.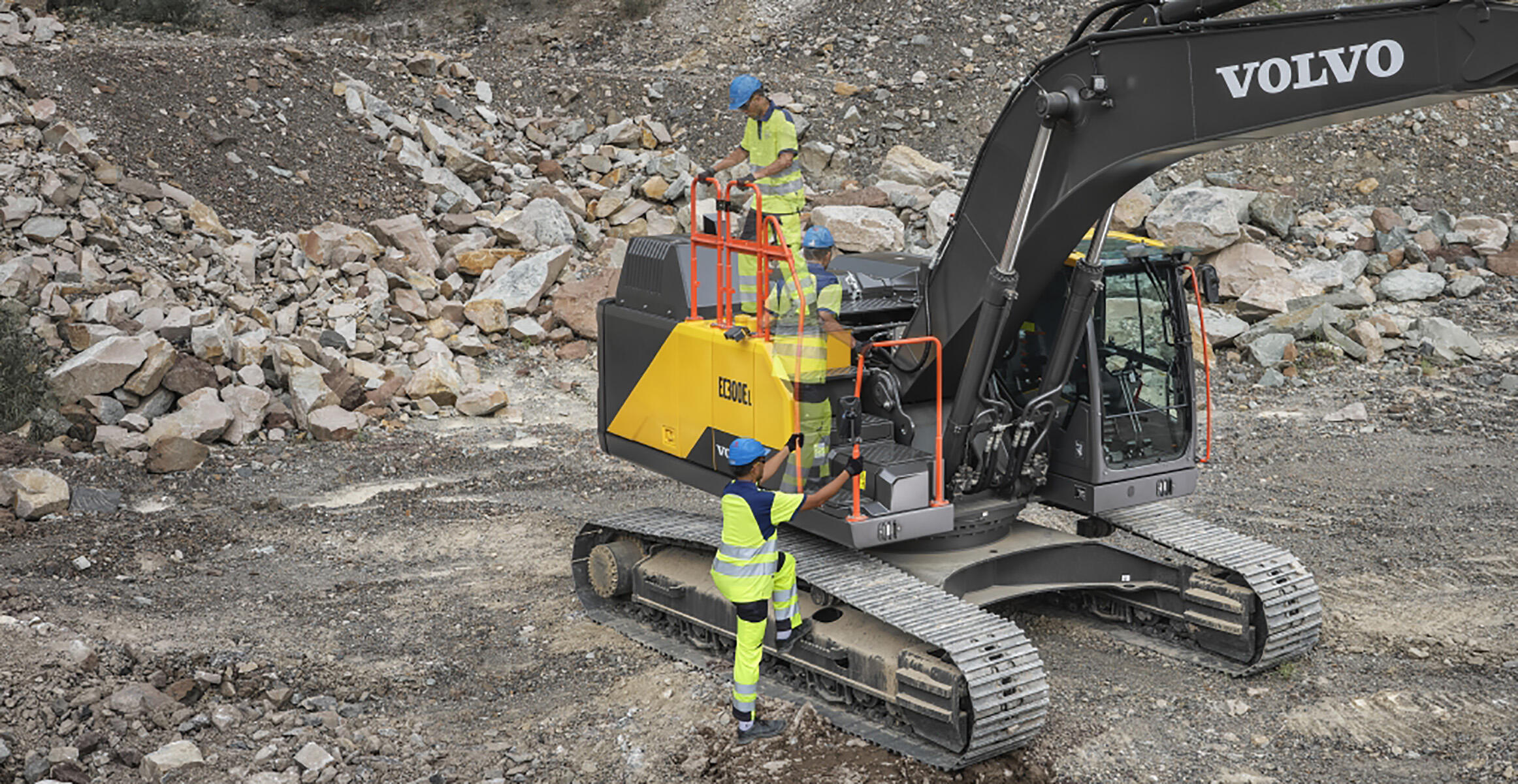 Operator comfort is always a priority. Volvo has addressed this with new boom and arm bounce reduction technology – which reduces machine shock – and Comfort Drive Control helps reduce fatigue by enabling operators to steer the machine using the joystick rollers instead of the pedals. Now getting ready for the working day could not be easier, with customizable settings that include choosing preferred control patterns easily via the monitor and a new 'long push' functionality on the joystick allows operators to set an additional shortcut function.
Getting attached
Quality Volvo attachments mean that the most can be got out of the machine. Every job is different but with purpose-built attachments – including buckets, breakers and more – you always have the perfect solution at hand. With the new Steelwrist® Auto Connect Quick Coupler you can easily connect hydraulic attachments from the comfort of the cab. And thanks to compatibility with Steelwrist®, Engcon®, Rototilt®, SMP® and OilQuick® tiltrotators, you can boost productivity and dig at any angle. The factory-fitted tiltrotator preparation system gives you the power to control both the excavator and tiltrotator using the original joysticks, with the information presented on the main display. Long-term performance of all these attachments has been secured, thanks to hydraulic attachment cooling capacity improved by 10%.
Hassle-free maintenance
The new D8M Volvo engine builds on generations of proven Volvo engine technology to deliver superior reliability. Service requirements have also been reduced with auto engine regeneration and the updated hydraulics making life easier. The new hydraulic system has fewer hoses, which reduces the need for couplings and increases reliability. Time and maintenance costs are further reduced, due to the engine oil and filter change intervals being doubled to 1,000 hours. And when the urea needs topping up the new splash guard makes filling quicker and easier – while also reducing the risk of spillage and subsequence corrosion.
Even the toughest jobsites are no match for the EC300E and EC250E. Both feature robust undercarriages with reinforced idler frames, track links and bottom rollers. Strength and durability are further assisted by reinforced bucket linkage, an optional heavy-duty superstructure undercover and easily replaceable bolt-on wear plates.
Boosting profits with the full package
Volvo CE's portfolio of services is key to ensuring machine long-term performance and profitability. Operator training initiatives will help unlock the full capability of the Volvo machines while easy-to-read reports – powered by CareTrack telematics system – help owners track productivity, fuel efficiency, and machine condition. For even less hassle Volvo Uptime Center can monitor the machine and notify customers if preventative maintenance action is required. This service is called Volvo Active Care. And finally remember, only by using Genuine Volvo Parts can machine investment be protected, machine life extended, and long-lasting performance guaranteed.
With better fuel efficiency, faster cycle times, and a full set of features enhancing operator control and performance, the new and improved EC300E and EC250E help lower operating costs.