The Singapore-based demolition contractor, founded in 1987, is responsible for the deconstructing the towers from the top down, breaking up the building foundations and removing the demolished material from the site.
Throughout each stage of work, Beng Siew Construction Pte Ltd is paying careful attention to the sustainability of the project. The company believes strongly in environmental care and aims to reduce, reuse and recycle wherever possible.
This is one of the reasons Beng Siew's management chose to deploy Volvo machines for the job. Volvo Construction Equipment (Volvo CE) has been an advocate for sustainable construction for over 50 years and has made great strides in limiting the environmental impact of its products during manufacturing, shipping and on the jobsite.
Safety as standard
Another reason is Volvo CE's dedication to safety. The project is in a busy urban area and the demolition process is complex, requiring extra care to ensure the safety of machine operators, site staff and the public. By selecting Volvo machines, Beng Siew benefits from industry-leading machine reliability and safety features.
The old high-rise building was constructed using pre-cast concrete floor slabs with wire rope running through them to withhold floor load stress. To safely demolish the structure from the top down, Beng Siew is using a Volvo EC140DL excavator with a Volvo HB14 hydraulic breaker to break up the slabs floor by floor from the level directly below.
"Our operators really like this machine. It is very easy to use and control, delivers low fuel consumption and the auxiliary hydraulic piping ensures the hydraulic breaker works effectively and efficiently," says Mr. Tan Chee Seng, senior project manager at Beng Siew Construction Pte Ltd, who is in charge of the demolition project
On site, the contractor has also deployed one EC140BLC, one EC290BLC, two EC200D, two EC210D and three EC350DL excavators to clear the site and load the demolished material onto trucks for removal. The 10 machines were commissioned between June 2018 and February 2021 and will remain on the project until October.
High uptime and productivity
"Ours is a heavy demolition application and we are pushing the excavators hard. They are working for eight hours per day in a single shift six days a week. This is where the durable and reliable Volvo design and build shows its true strength," Mr. Tan Chee Seng says.
"Of course, there have been some minor issues, as is to expect with any piece of machinery, but these were resolved very quickly. The service and parts we receive from Volvo CE Singapore is excellent. We are also using CareTrack to keep on top of machine health and productivity," he continues.
CareTrack is the Volvo telematics system that gives customers access to a wide range of machine information designed to save them time and money. By connecting machines to this remote monitoring tool, customers can optimize machine and operator performance, reduce fuel costs and proactively manage service and maintenance for maximum uptime.
"Overall, the combination of well-built machines, quick parts and service support, and connectivity with CareTrack is helping us to complete this job safely and efficiently," Tan Chee Seng concludes.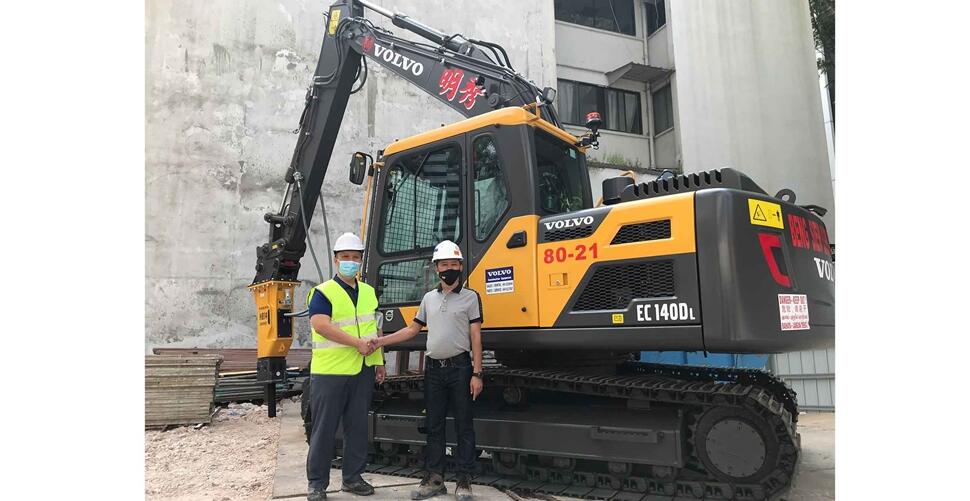 Mr. Alex Wong, sales manager at Volvo CE Singapore (left) with Mr. Tan Chee Seng, senior project manager at Beng Siew Construction Pte Ltd (right) in front of the contractor's Volvo EC140DL excavator with HB14 breaker.