Volvo Construction Equipment has added to its industry-leading hauler portfolio with the introduction of the R45D, R60D and R70D rigid haulers. Covering payload capacities from 41 to 65 tonnes (45t-72t), the machines are designed to help reduce the industry's number one operating cost for its customers – fuel – as well as promote safe operations and ease-of-use.

The D-Series rigid haulers may be new, but they have a rich history that dates back more than 70 years to when the team of technical experts and engineers introduced the world's first off-road dump truck from the Volvo CE facility in Motherwell, Scotland. Now backed by the Volvo CE design and manufacturing core values, the D-Series rigid haulers are built at the same facility that has produced rigid haulers for decades. Blending a strong heritage, technical expertise and modern processes, the latest haulers provide customers with a high quality, reliable and productive equipment.
Efficiency as standard

Powered by premium engines, the R45D, R60D and R70D rigid haulers achieve high performance, torque and up to 567kW (760 hp) power, even at low engine speeds. On top of that, long service intervals and an efficient use of fuel provide exceptionally low operating costs.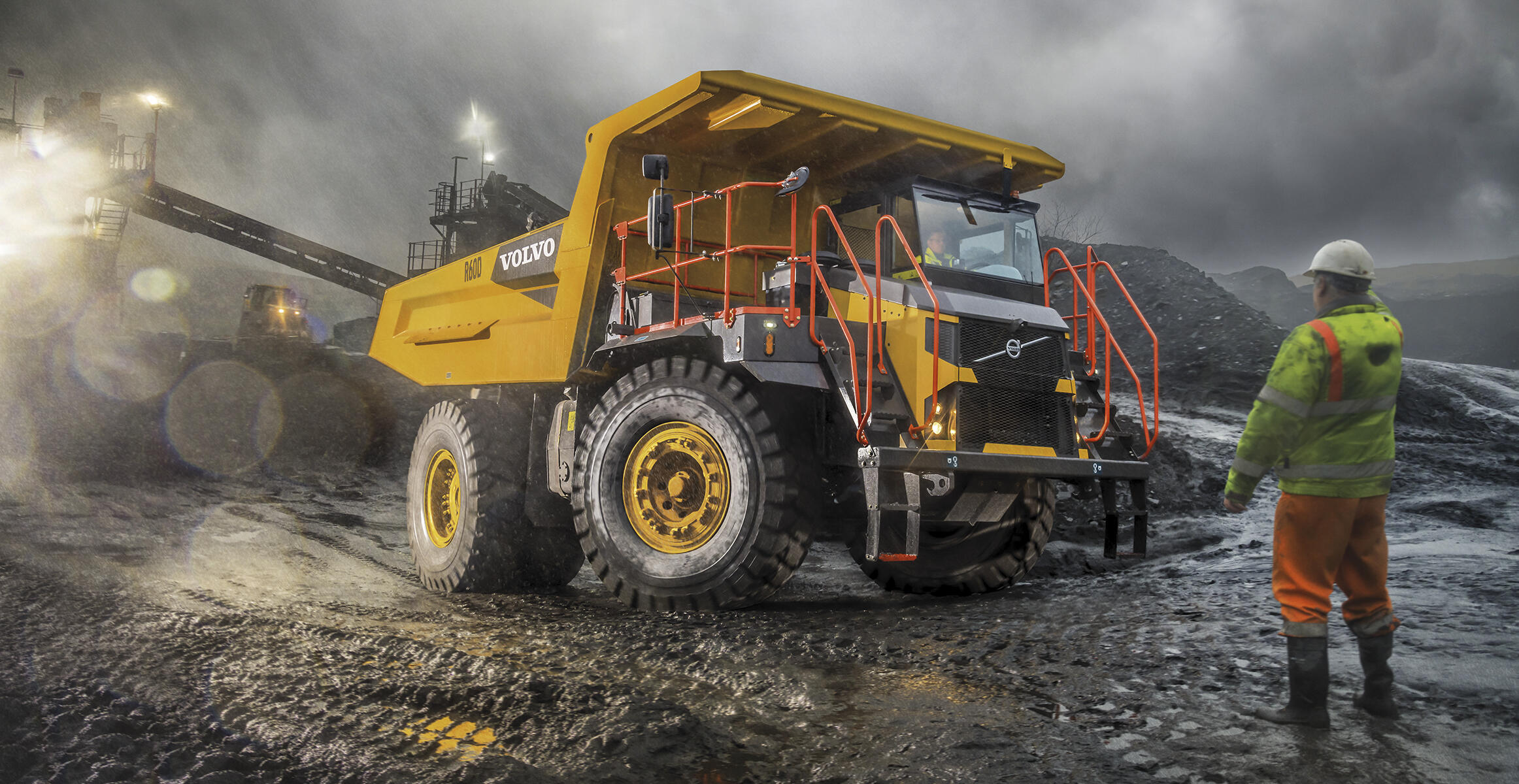 Electronic integration between the engine and transmission allows the machines to achieve smooth gearshift quality for consistent momentum and acceleration on all hauling applications. Performance and fuel efficiency are enhanced by the integrated shift pattern system, which includes two transmission shift schedules – Power and Economy – for tailored performance on all hauling conditions. The operator can pre-select the transmission operating mode to adapt to varying haul loads. Meanwhile, the hydraulic systems provide necessary flow for cooling and actuation systems that provides the productive required performance for quick cycle times and performance efficiencies.
Productive powerhouses

Efficient and intelligent, the Volvo haulers boast a competitive power-to-weight ratio, effective gearing, and optimum weight distribution, enabling operators to meet productivity targets faster. With impressive tractive effort, generated by the complete drivetrain design and configuration, the R45D, R60D and R70D rigid haulers are the ideal machines to traverse the steep slopes often found on mining and quarrying worksites. By enhancing torque to the low-geared rear axle, the complete drivetrain calibration supplies high levels of rimpull, resulting in excellent productivity on poor ground conditions and steeper inclines.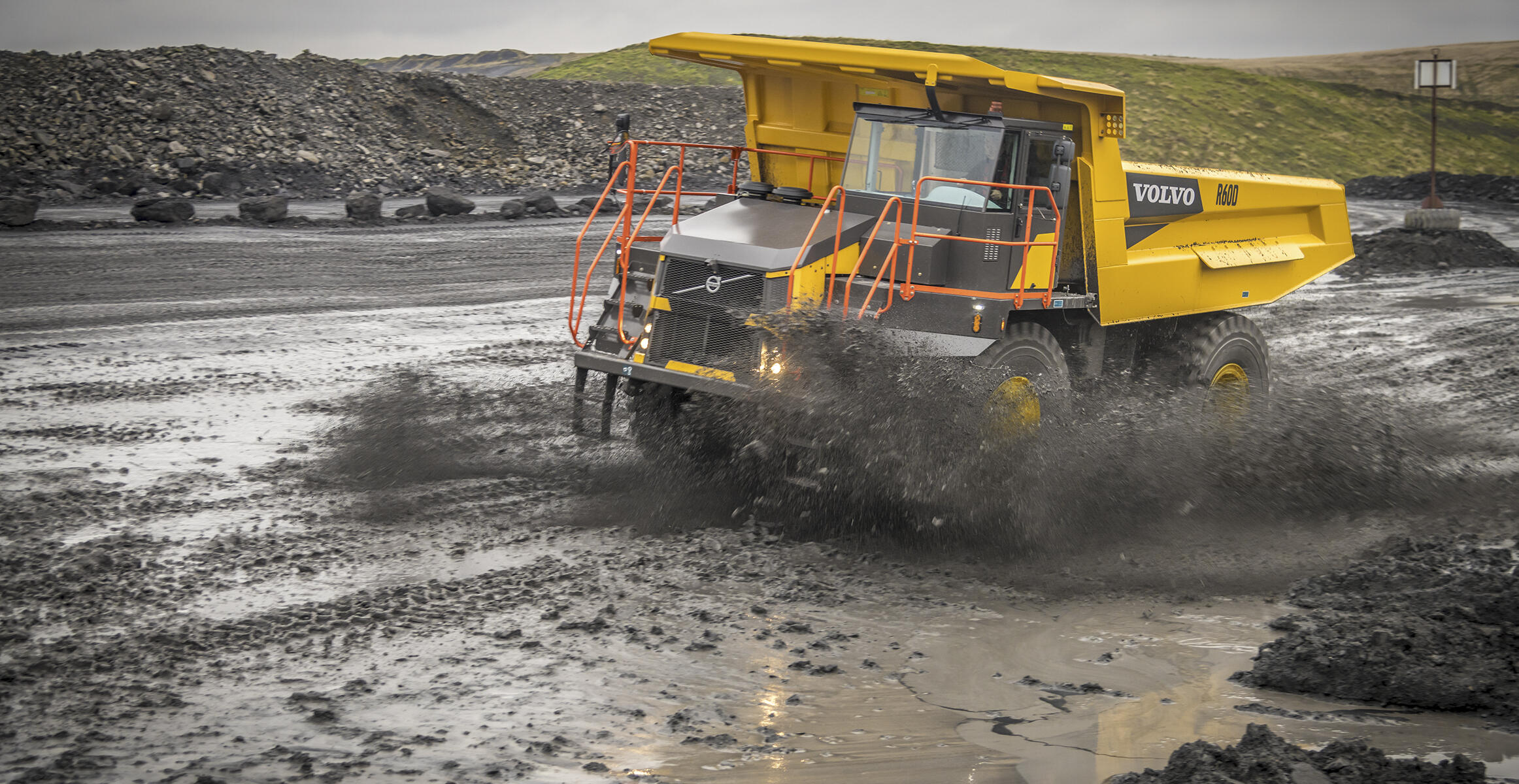 Offering good material retention, the abrasion resistant high-capacity bodies are made of HARDOX 400 steel specification with exhaust heating to ensure clean dumping and minimal material carry-back. To optimize site efficiency and productivity for both existing and future projects, customers have access to a variety of smart systems, like Volvo Site Simulation, which provides information about machinery, fleet choices and site configuration. Operator productivity is enhanced by responsive features, such as the steering, and controls that fall easily to hand. For added convenience, the operator can customize their comfort with the high capacity HVAC system.
Built to last

The D-Series rigid haulers are not just productive machines in the short term, but continue working over a long service life, ensuring greater machine availability and a significant reduction in maintenance and repair costs. To meet tough job site conditions, the durable machines have been rigorously tested under extreme working conditions to achieve high machine and component longevity. Straightforward in design, the haulers are equipped with a frame assembly that incorporates a reserve of structural strength well beyond the requirements of every demanding job site conditions. With a balanced weight distribution, thanks to a centrally mounted transmission, and a low center of gravity, all load impacts are equally distributed across the tires. Able to withstand extreme structural stresses, the rigid haulers' high-strength chassis absorbs shocks and vibrations from road conditions and load processes, for greater structural longevity and lower cost of operation through reduced maintenance.


The rigid haulers are set to achieve good long-term value, thanks to uptime-enhancing components. The life of the primary braking system is extended by the transmission retarder, a standard feature that reduces the engine speed and minimizes use of the service brakes. With component longevity being key to a low-cost operation, every component is protected. For example, the hydraulic system has several levels of filtration in order to protect it from downstream contamination, increasing machine uptime. The machines are also equipped with an engine safe mode, which alerts the operator when the engine protection derate system is initiated. The engine power and speed will gradually reduce depending on the level of severity of the out-of-range condition, preventing engine damage. Engine parameters include high coolant temperatures, throttle pedal outputs, and low coolant level.
Safety is in our DNA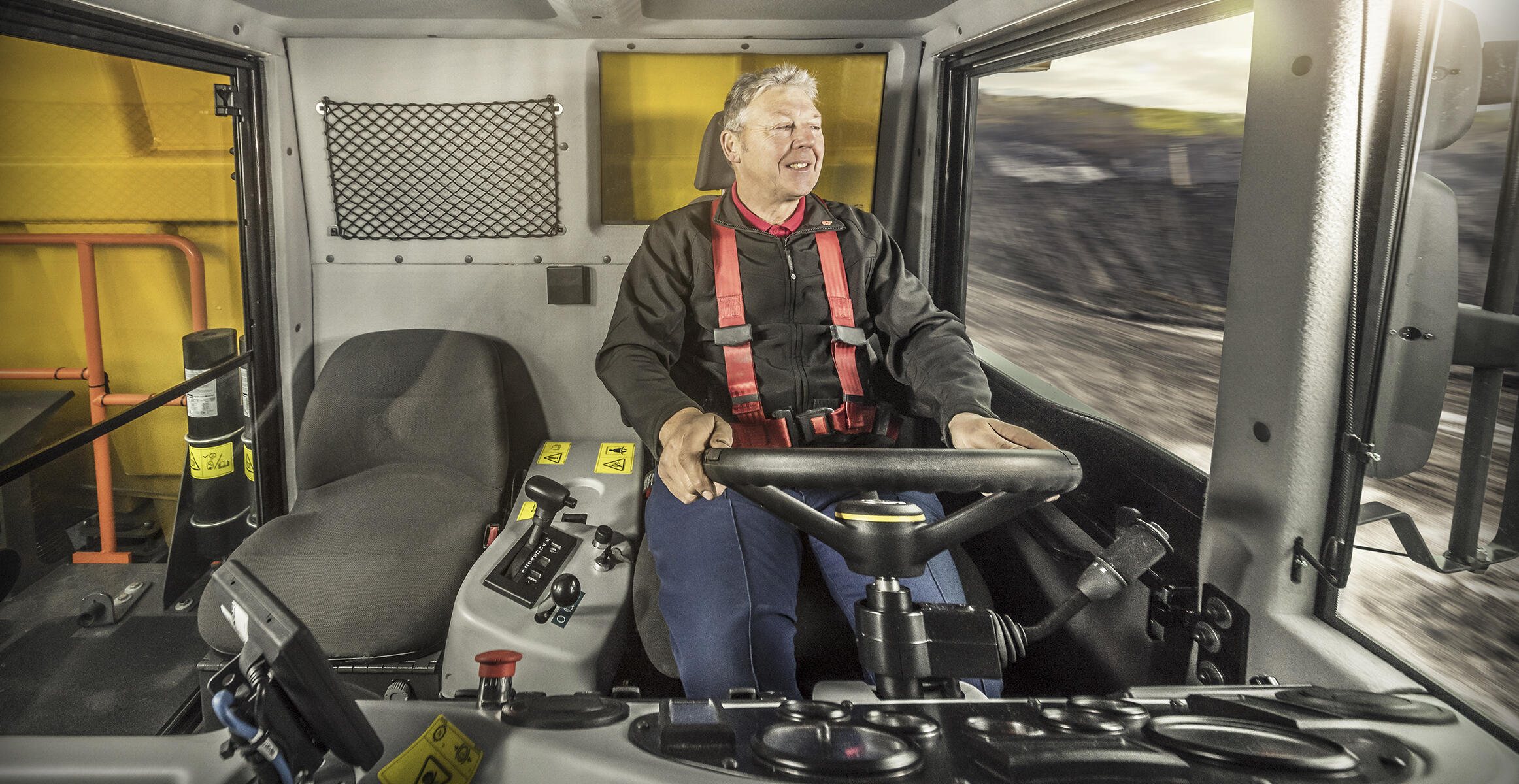 Built to work hard, the D-Series rigid haulers are also full of features to make tough jobs safer. From the FOPS-certified cab, fitted with a ROPS body canopy, the operator has a commanding view of the job site and surrounding areas. Visibility is enhanced by the operator seat, located on the left-side of the cab, and Volvo Smart View, which combines four exterior-mounted cameras to form a birds-eye-view of the operation, visible on the onboard monitor.

With safety built into every design aspect, these high-performance machines can travel up and down steep gradients while remaining in total control, thanks to the transmission and brake retarder and optional neutral coast inhibitor. An overspeed protection element automatically slows the machine down to within safe operating limits, while the body hoist inhibitor prevents upshifts when traveling with the body in the raised position. A host of other safety features, such as fail-safe braking and secondary steering systems provide that all-important peace of mind.
Maintenance made easy

In order to guarantee a long service life and maximum uptime, regular service inspections are required to spot potential problems before they occur. Accessing the machine is safe and easy, thanks to anti-slip steps and secure walkways. From both the wide platform and ground level, technicians can safely access conveniently grouped checkpoints with minimal tooling. The centrally mounted transmission provides ease of access without the need to remove other components. Inside the cab, the operator has access to top-level diagnostic data via the dashboard for fast analysis and solutions.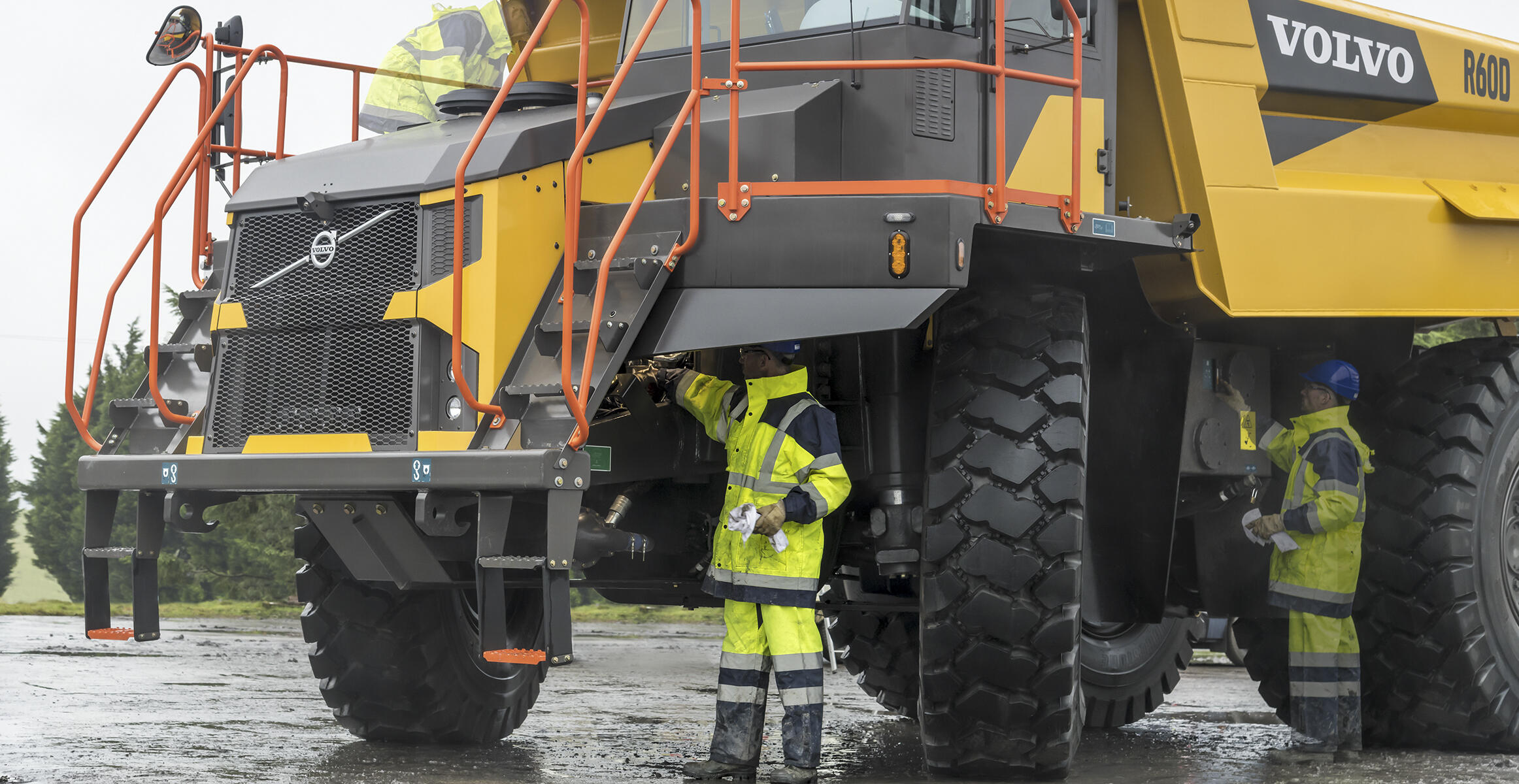 Should the haulers require any more attention than a routine service check; customers can rely on Volvo's global service infrastructure of technicians, workshops, and dealers. Combining local knowledge and global mining experience, Volvo offers good parts availability, Volvo Service Agreements, and telematic machine reports that further support Volvo's commitment to driving down operational costs for customers.



Key specifications:
R45D
R60D
R70D
Payload capacity
kg
lb
41 000
90,389
54 500
120,152
65 000
143,300
Body Volume, SAE 2:1 heap
m3
yd3
26
34
35
46
41.5
54
Net weight
kg
lb
36 435
80,325
42 048
92,700
49 573
109,290

Gross weight
kg
lb
77 435
170,715
96 548
212,852
114 573
252,590
Engine
Cummins QSK19-C525
Cummins QSK19-C700
MTU-2000TA
Engine emission
Tier 3 / Stage IIIA
Tier 3 / Stage IIIA
Tier 2 / Stage II
Max. engine gross power
kW
hp (imp)
392
526
522
700
567
760
... at engine speed
r/min
2 000
2 000
2 100
Max. SAE J1349 gross torque
Nm
ft lbf
2 407
1,775
2 981
2,199
3 323
2,451
… at engine speed
r/min
1500
1500
1350
Max. speed
km/h
mi/h
65.0
40.4
57.5
35.7
57.0
35.4
Note: you can download the pictures in this press release by clicking here.