Powered by a premium 31.2 kW Volvo D2.6A engine, the ECR50D has been designed to offer superior digging performance, longer reach, higher lifting capabilities, as well as leading breakout and tear out forces. It is equipped to work on a range of jobs such as utilities site preparation, construction and landscaping. With its 5-ton weight, the compact excavator also expertly handles heavy loads with stability, balance and control.
Optimized efficiency
"Volvo CE is proud to launch the ECR50D in Singapore. As urbanized countries like ours develop further, space becomes limited at work sites offering less room to maneuver. Contractors are looking for equipment that can function in restricted spaces yet still offer powerful performance, so we are expecting strong levels of interest in this new arrival," says David Choo, business director for Volvo CE in Singapore.
"In developing the ECR50D, Volvo's engineers studied ways to improve productivity and reliability in existing operational settings. Environmental sustainability was another core focus, with a renewed emphasis on reduced fuel consumption."
The focus on environmental sustainability was also behind the development of Volvo's unique ECO mode, which is included on the ECR50D. By simply pressing a button, the feature reduces fuel consumption by up to 10% without any loss of performance in most operating conditions.
Another notable feature is Volvo's load-sensing hydraulics which supply power on demand to the system, lowering fuel consumption as a result. The system ensures fast response for quick cycle times while delivering smooth operation through precise control of the equipment.
There are also the auto engine shutdown and auto-idle smart functions that turn off the engine and reduce engine speed respectively, when the machine is inactive for a user-selected period. The auto-idle function can be activated as well when the left-hand console is raised (which may indicate the operator has exited the machine temporarily) and returns the engine instantly to the pre-selected speed when the operator touches any control.
Productivity through comfort
Higher operator productivity is facilitated with a more comfortable operating environment. With this in mind, the ECR50D's industry-leading cab provides a spacious and safe work place with all-around visibility, an adjustable seat with a height alteration function, ergonomically positioned controls, and an efficient heating system.
The seat and consoles are mounted on the same suspension and therefore move together, providing excellent shock and vibration absorption for maximum comfort. Simultaneous boom offset movement and fingertip control of the slew delivers easy and fast machine positioning.
For better security, the ECR50D offers an optional anti-theft system which requires the operator to punch in a keypad code. It can be changed or disabled via the machine management system.
Seamless serviceability
In terms of serviceability, the ECR50D offers superior maintenance simplicity. The side position of the engine, together with two wide-opening hoods ensure safe and easy ground level access to all components and service check points – engine oil, air filter, coolant level and fuel filtration check. Grease points with 50-hour minimum greasing intervals can be accessed at the sides too.
"When it comes to servicing the ECR50D, I would like to specifically highlight Volvo's patented, multifunctional hydraulics 70A alternator, which enables easy oil level checks and permits early detection of contamination. This allows preventative maintenance to be carried out before damage occurs and is key to prolonging the machine's longevity," adds David Choo.
Profitability through versatility
Versatility is another strength of the ECR50D. Operators are given the freedom to switch between any of Volvo's durable range of purpose-built attachments for a variety of uses, increasing operational profitability.
An embedded keypad inside the cab can be utilized to adjust auxiliary hydraulic flows so the operator can benefit from the correct speed and power for optimal attachment operation. Here, four pre-programmed settings are available to match attachment and individual needs.
Key specs: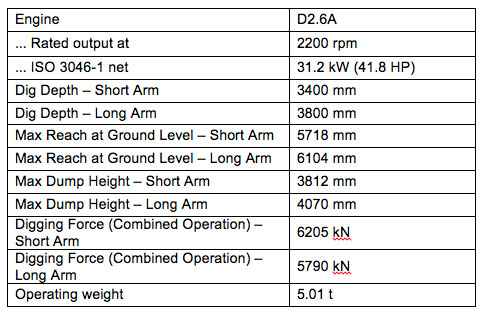 Find out more about the ECR50D here.