When a company decides to change its equipment fleet, the normal process is to buy one machine, try it for a while and, if it meets expectations, purchase the others it needs. But Jorge Tarazona, of the family-owned company Antonio Tarazona SL, Spain's third largest producer and distributor of fertilizers and chemical additives – and with 50 years' experience, one of the longest established – took a different and very unusual approach. He replaced the company's entire fleet of four wheel loaders at the same time.

With a production and storage facility of more than 50,000m², Tarazona's fleet needs to move around half a million tonnes of material a year.

"We'd had our previous loaders for eight years and decided it was time to change," says Tarazona. "We bought two Volvo L90G and two L110G wheel loaders, but obviously you don't make an investment of this size without doing a lot of research. We looked at other manufacturers' loaders, including newer models from the company whose equipment we were using at the time. And we talked to other companies within our sector which were using the Volvo wheel loaders we were interested in, and which were all very happy with their investment. We decided to change to Volvo because they have a very good reputation and offered the best overall package for our needs."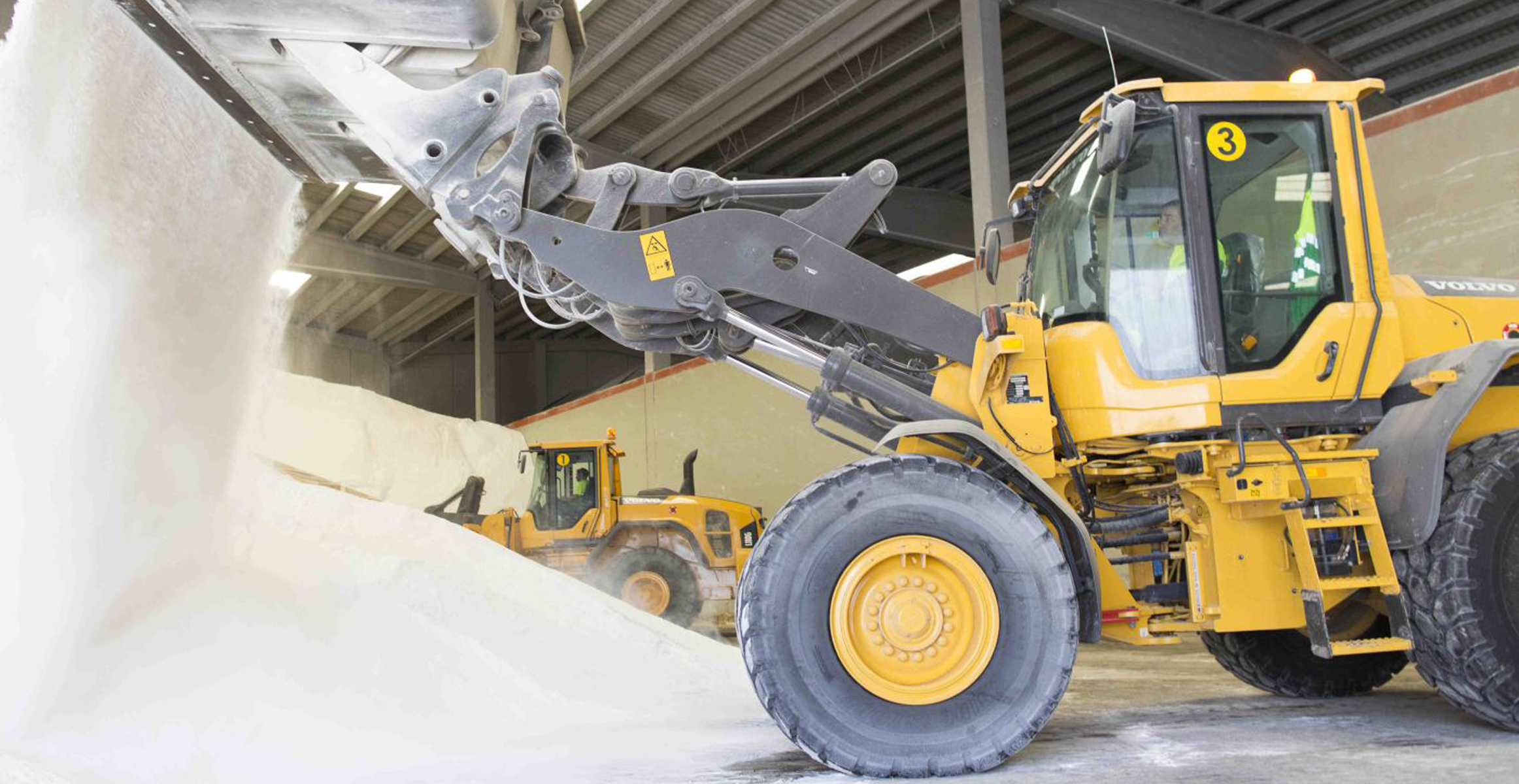 Money well spent
A first for Tarazona was the negotiation of a five-year maintenance agreement with the official Volvo CE dealer in the Valencian region, Ribarroja del Turia-based Maquinaria y Recambios de Levante SL, which included adaptions to the equipment to suit the company's specific needs.

"The extended warranty and maintenance contract is important to us because we can't have a machine standing idle. That costs money. Our maintenance provider is extremely well equipped and very close to our factory, which means that any problems can be sorted out quickly."

Because of the type of materials Tarazona works with, the company also decided to install the optional anti-corrosion kit, including aluminum radiators, reversible fans – which temporarily change direction to blow the radiator clean to prevent it from clogging up in dirty environments – extra protection for all electrical connections, special anti-corrosion paint and a cabin filter. Also included was an automatic engine cut-off after two minutes, to save fuel and reduce air pollution. The plastic engine hood, now fitted as standard, is a bonus – gone are the metal hoods which were badly affected by the corrosive materials used in the company's production processes and needed regular maintenance.

Tarazona was the first company in Spain to produce AdBlue (known as diesel exhaust fluid in the US) using solid urea to produce a chemical additive that converts nitrogen oxide exhaust gases to harmless nitrogen and water. The additive is used in Volvo CE equipment as part of the company's commitment to good environmental practices and to comply with emissions legislation.
Working arrangement
Ultimately, the decision as to what loading equipment to buy rests with Jorge Tarazona, who is responsible for the company's technical/industrial division. Yet it is the operator who spends his or her working life in the cab. Eusebio Molero, the most senior operator with 15 years' experience, was part of the decision-making process from the very beginning.

"Es una maravilla," is his verdict on the L110G wheel loader he uses daily – a Spanish phrase that covers just about everything praiseworthy. "It is fast and very comfortable for the operator to use, even when we work at steep angles moving materials. And because of the way the cab is designed you can see exactly what is happening, both with the instrumentation that tells you how the machine is performing, and outside the cab because of the visibility."

The equipment must be versatile enough to be used throughout the depot, but the greatest stress is when a bulk-carrier laden with material from around the world berths at Valencia docks: urea from Egypt, ammonium phosphate from Morocco, potassium chloride from Norway. In a single day, a caravan of trucks will make around 120 round trips to transport cargo from the docks to the factory in nearby Silla, chosen for its proximity to transport routes. Working under very tight time restraints, the loaders move around 3,000 tonnes of material, making sure that the trucks keep up their regular circling between the factory and the port.

"We have to work very quickly," says Molero. "It is technology such as the boom suspension that really helps us, especially when we are unloading large quantities from the ships. If we moved quickly over uneven ground with the loaders we used before we would lose material from the bucket, which obviously has to be picked up later, adding time to the job. With boom suspension, where the bucket is automatically kept level, we don't lose anything in the unloading, which also means we can go faster."

Going faster usually means using more fuel, but that is not the case with Volvo's G series of wheel loaders. "With our former loaders I would use a full tank of fuel when we had a large delivery to unload, but with the L110G, which has a fuel capacity of 269 liters, I use around half a tank. Imagine the fuel savings over a year, multiplied by four machines in use up to nine hours each day in various parts of the factory."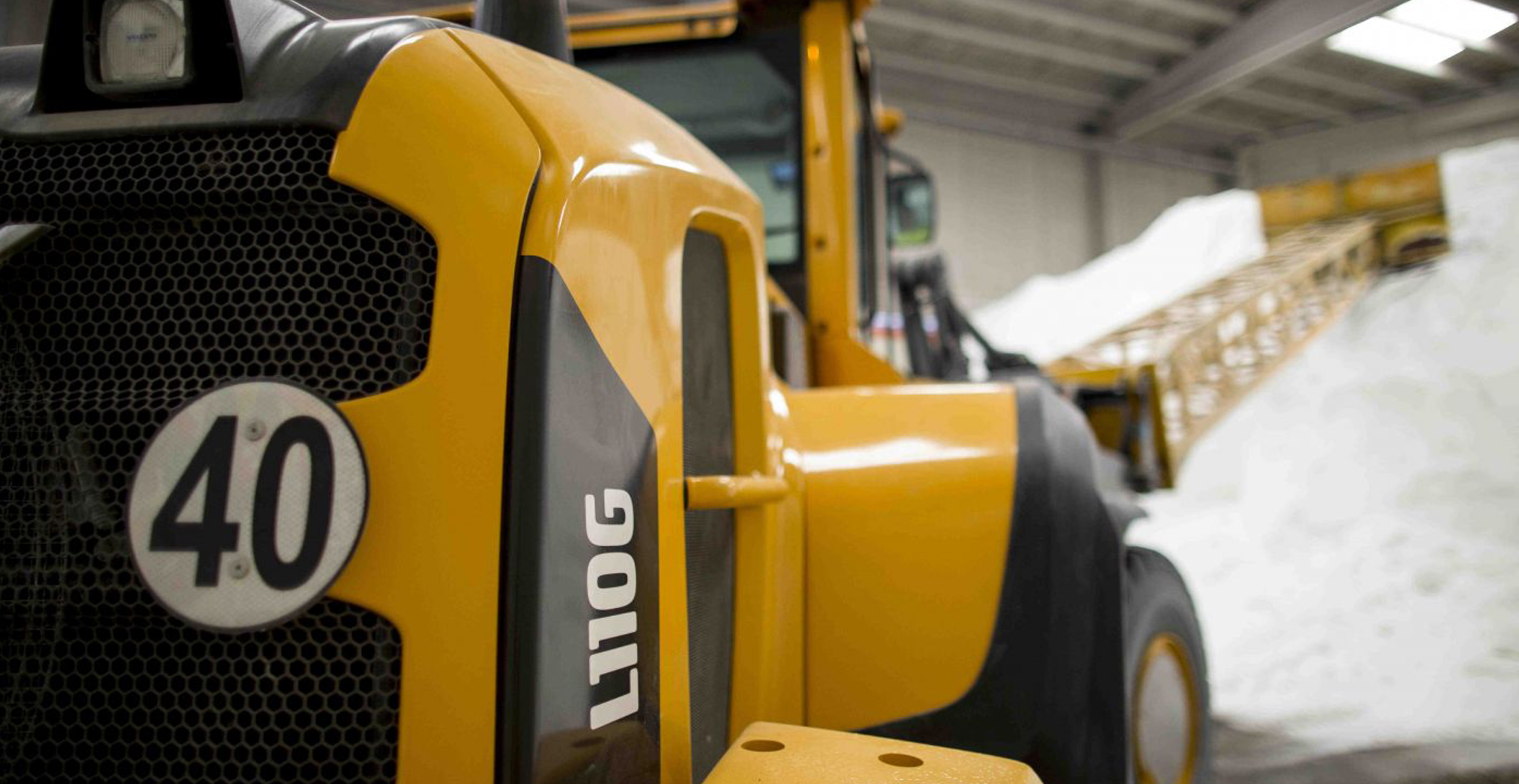 Time for change
"It isn't simply about buying a new machine," explains Tarazona. "We are in a major developmental period of our company: we had 58 employees in 2013, and by 2015 increased that number to 95. We have to make sure that everything we do or buy helps us with that development and I think that our decision to buy Volvo wheel loaders will help us in that.

"We didn't just focus on fuel consumption or how fast the loaders could work – it's the increased productivity and total cost of ownership. What is certain at the moment is that we are making very large savings over the previous loaders we used, but they were eight years old when we changed them and maintenance costs were very high. With the five-year extended Volvo warranty we know what our fixed costs will be for this period, which obviously helps us with our future projections."

And a final word from Molero: "I'm very happy. They are excellent machines to use, and at the end of the day I go home feeling much less tired than I used to."