Founded in 2001 by Tim Gardner, Australian company Summiitt Earthworks undertakes some of the toughest applications in the business. The crew carries out civil works, including road maintenance, fire trail construction and bulk and detailed excavation. They also provide services such as forestry mulching and weed spraying in some of the most remote areas of New South Wales.

"Summiitt is prepared to tackle jobs that most companies won't take on – the more remote, the more difficult, the better," Gardner says.

Gardner long held the dream of owning his own business but came to this niche area of civil construction and forestry through his role as a plant operator for the National Parks and Wildlife Service on the Main Range near Thredbo in the Snowy Mountains.

"I thought I was an okay operator until I got into the mountains," he explains. "That lifted the game and really pushed the limits of what was possible with a machine in some pretty intense situations on the Main Range with shear drops and no room for mistakes."

Toughest of the tough
Tough conditions require tough machines and Gardner always sought to acquire the best equipment he could afford. Today he owns a fleet from Volvo Construction Equipment (Volvo CE), including the ECR58, ECR88, EC140C, ECR145C, ECR235C and EC240C excavators – the ECR235C being his most recent purchase.

Canberra-based Summiitt Earthworks specializes in all aspects of civil engineering across government and private entities. The company purchased its fleet of Volvo CE machines from CJD Equipment, Volvo CE's distribution partner in Australia.

Among the many benefits of equipment from Volvo CE, Gardner appreciates the versatility of the excavators as he can use them for day-to-day earthworks duties and then deploy them for heavy forestry mulching or rehabilitation work with minimal adjustments. He also values the fact that safety and ease of maintenance are integral to their design.
"We run GPS mapping systems for our bush work, but anything that can get tangled up in the scrub is a big issue, as it wouldn't hold up any longer than a week in the bush. That's where the Volvos are great. All of our daily checks can be carried out in the cab or on the ground," he explains.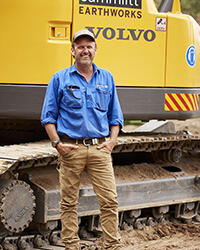 Uptime guaranteed
In addition, Gardner stresses the importance of the excellent parts and service support from CJD Equipment.

"Our machines have pretty well zero downtime and roll from job to job – often in isolated conditions," he says. "If something breaks, it's a major issue. It's a very different environment to what other local contractors face, but to Summiitt it's just part of the job."

Gardner knows he can rely on CJD Equipment to solve any issues instantly, ensuring his machines are always ready to work.

"I put the purchase out to another brand and questioned the cooling capacity, particularly in relation to hydraulic cooling in summer with an FAE mulching head – I was told that it 'should be right', but no guarantees," Gardner says of his recent purchase of the Volvo ECR235C excavator. "The same question posed to CJD Equipment was a straight-up yes – 'we guarantee operation at full mulching capacity up to 52 degrees ambient temp. If you have issues, it's our problem'. That was what I wanted to hear, a company that will back what it sells and stick by its customers."

Volvo's ECR235CL has a bucket capacity of 1.09m3, a breakout force of 141.2 kN, maximum digging reach of 9.89 m and maximum digging depth of 6.75 m. Volvo's ECR235CL short-swing excavators offer increased safety and maneuverability, features that are crucial for working on congested worksites. The machine's body is so compact that its rear swings less than 185 mm, only fractionally outside its own track width. This means that the excavator can get extremely close to objects (walls, trees etc.) without risk of collision with the rear of the machine as it swings.

"The bottom line is, I wouldn't buy Volvos if they didn't perform," he concludes.

For further information, please visit: https://www.volvoce.com/australia