With the launch of the ECR50D, ECR35D, ECR25D and EC18D models, Volvo Construction Equipment is bringing its complete line of compact excavators to Australia.

These compact excavators have for decades given Volvo market leading positions in large European markets like France, Germany and UK.
Flexibility is the standout feature across the range, with a variety of attachments offering more possibilities for utilization. All are designed for high performance, making them ideally suited to the needs of Australian customers.
"With house building, road building and other applications on the rise, Australian customers are looking for versatile and compact equipment that can be used for a wider range of jobs," said A.M. Muralidharan, Vice President of Dealer Development & Sales Support at Volvo CE APAC.
"We've been watching the market closely and feel that now is the right time to introduce our machines. We're also offering a range of financing options through Volvo Financial Services, making these new models even more attractive. With their excellent reliability and the backing of our experienced distribution partner, CJD Equipment, the new range should also appeal to Australian rental companies," says AM Muralidharan.
ECR50D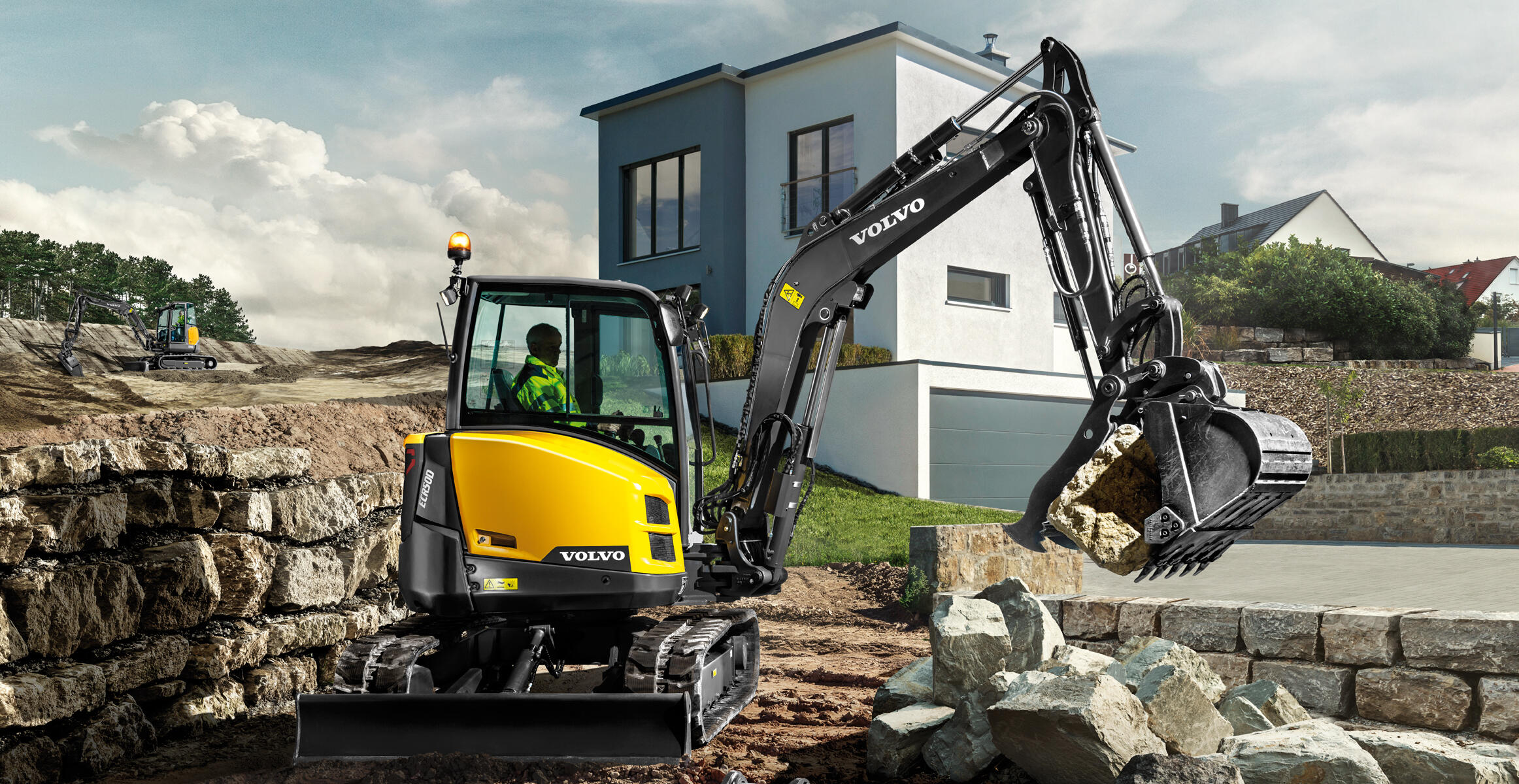 The Volvo ECR50D is a powerful machine that is ideal for site preparation, construction landscaping and utilities. Featuring a premium Volvo D2.6A engine and an advanced hydraulic system, the ECR50D provides fast and powerful response with smooth operation. Maximum break out force is 36.12 kN while the maximum tear out force is 25.93 kN.
The ECR50D's digging equipment includes its enhanced boom and attachment geometry, which permits an increased working range. The maximum digging reach is 6.29 m on the long arm and 5.91 m on the short arm. With its 5-ton weight, this machine effectively handles heavy loads with greater stability, balance and control. For optimized travel speed and traction, the automatic two-speed travel function allows the operator to continually drive the machine at high speed.
ECR35D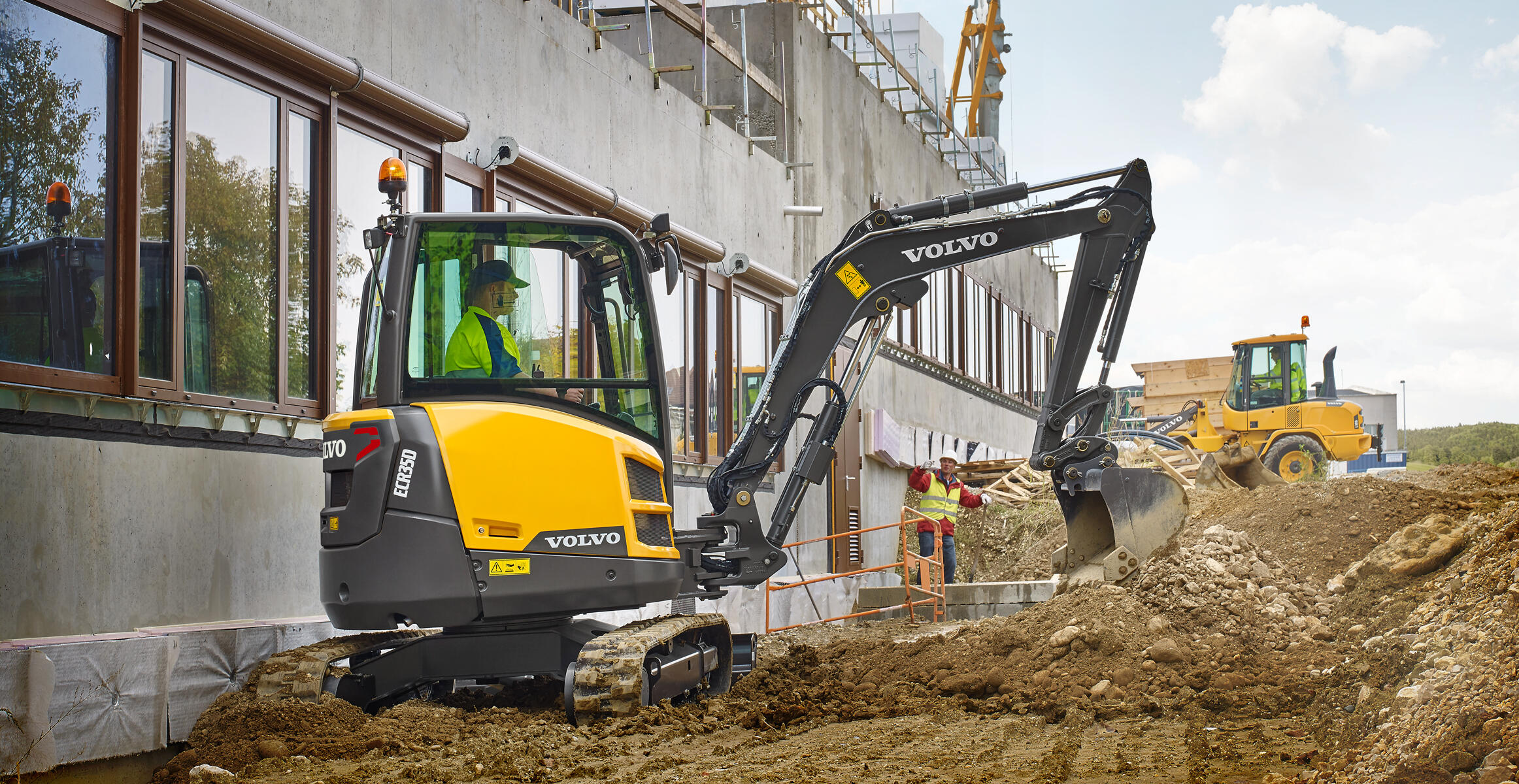 The ECR35D is designed to work with power and precision in tight spaces. It features a sturdy, spacious and comfortable cab and is powered by a D1.8A Stage 3A Volvo engine. The intuitive fingertip controls allow ease of operation, so operators can enjoy high digging and lifting forces, or operate powerful hydraulic attachments. Thanks to the short swing tail radius and positioning of the boom cylinder on the left below the cab, the Volvo ECR35D is ideal for tight working conditions.
An electronic system enables operators to fine tune settings through a keypad and monitor. Up to three profiles can be saved in the system, adjusting machine behavior to suit the application or the operator's preferences. The system also includes four attachment-specific buttons that precisely adjust hydraulic flows and two user-adjustable, pre-selected engine speeds, for applications such as grading or lifting. For those preferring greater simplicity, the unit is available without the electronics package.
Equipped with good tractive force and effective blade design, the excavator delivers high performance when dozing. The float function of the blade also enables precise finish in grading, while the automatic two-speed travel reduces repositioning time.
ECR25D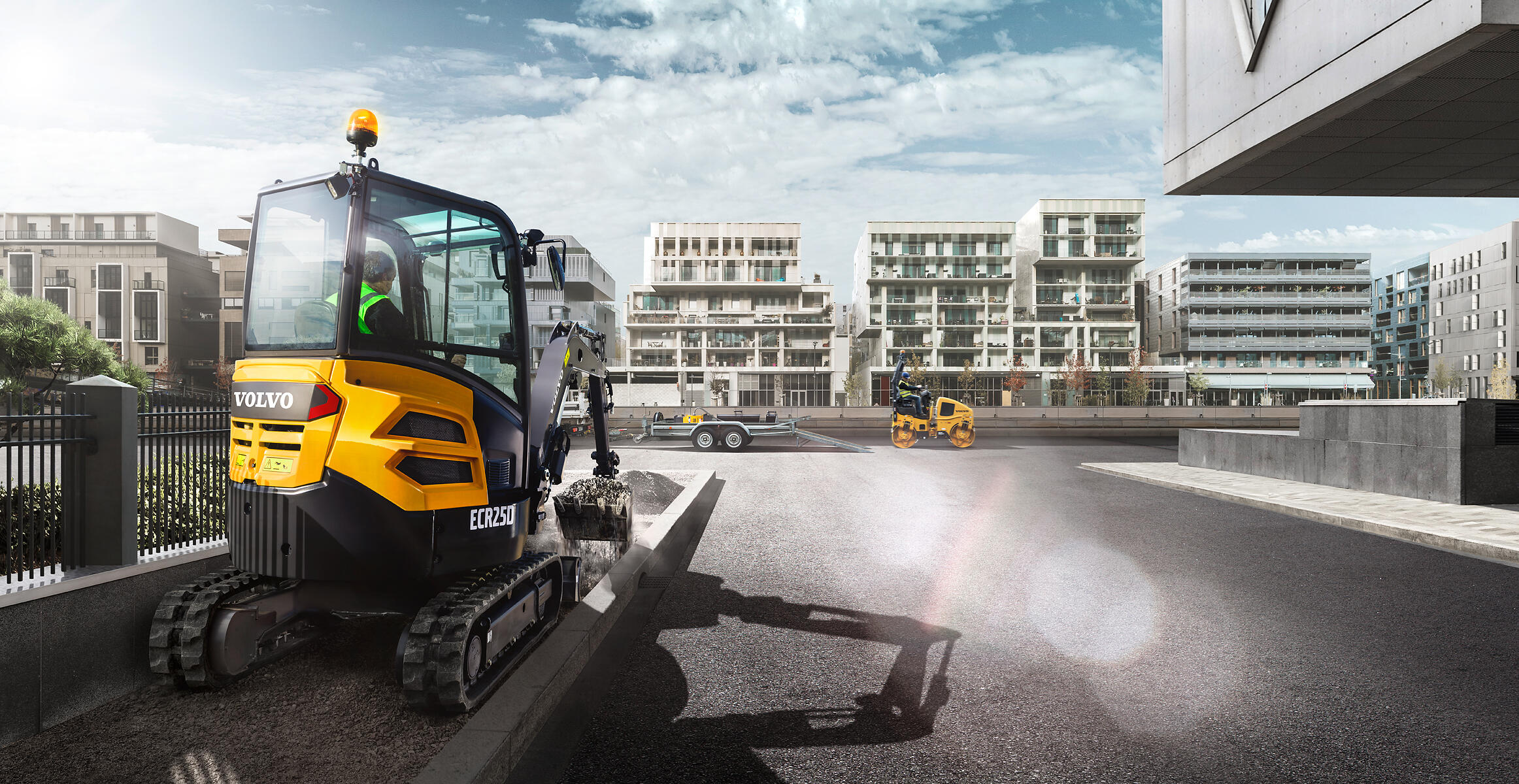 The ECR25D delivers maximum mobility, performance and power for its size. With a weight of 2.5 t, the unit has even greater breakout and tear out forces than the 2.8-ton ECR28 it replaced. Heavy loads are easily hoisted and the ECR25D remains surefooted in any situation. It features a 15.6 kW (20.9 hp) engine and advanced hydraulic components. This versatile machine is highly mobile and has low running costs.
The ECR25D's compact dimensions make it ideal for working in tight areas, and it can be easily transported from site to site. The machine's total transport weight — with three buckets, a hydraulic breaker and a small trailer — comes in at less than 3.5 t. With its narrow body design, the ECR25D is ideal for applications such as electrical wire installation or water piping repair. For more demanding operations or greater versatility, it can be equipped with an additional counterweight.
EC18D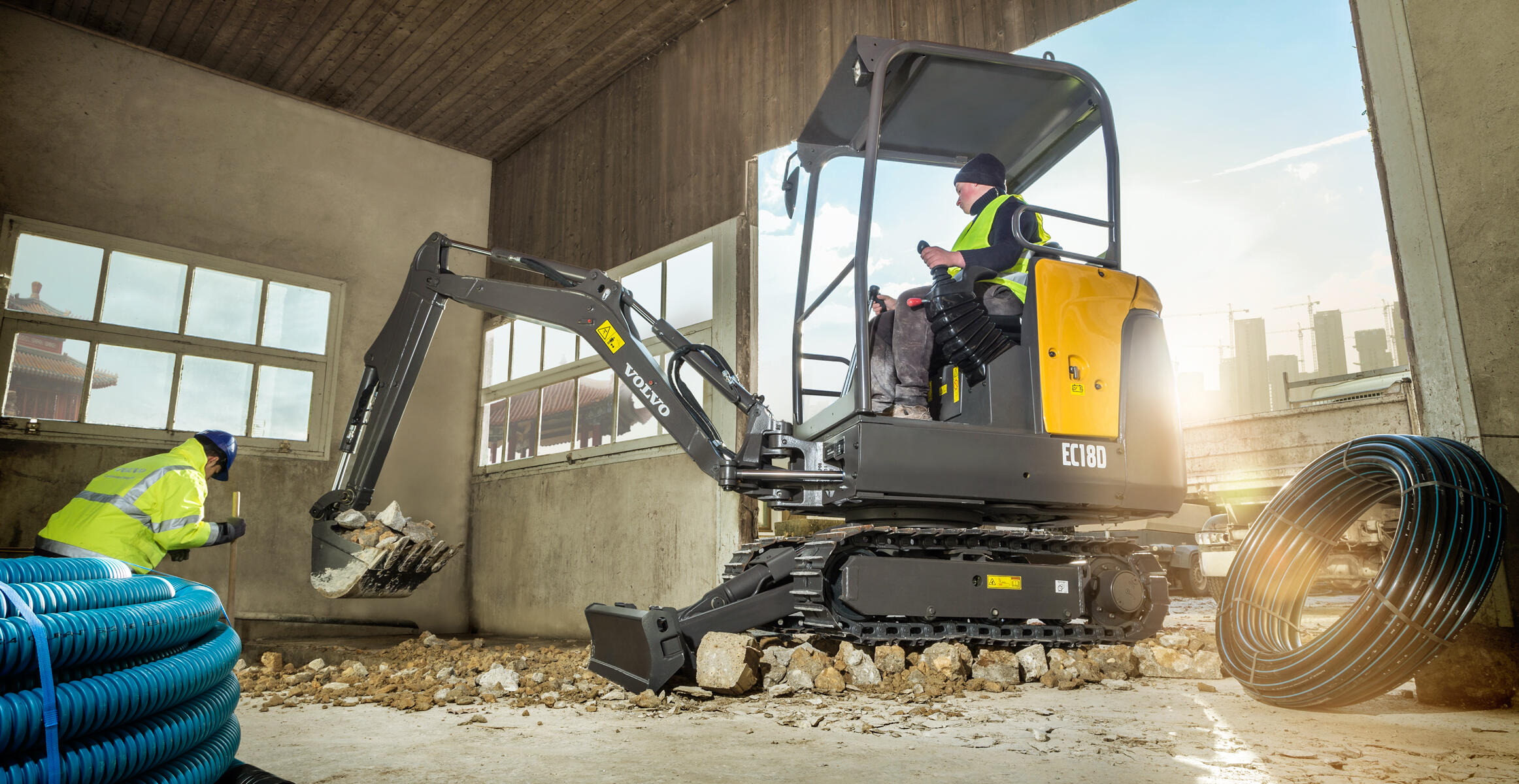 Fitted with an efficient D0.9A Volvo engine, the EC18D offers impressive lifting capacities and excellent digging abilities with a tear out force of 8.5 kN and a breakout force 15.1 kN. It is ideal for tight working conditions and its standard boom offset allows it to work flush against obstacles while maintaining visibility for the operator.
A tough rear counterweight provides outstanding impact resistance and shields vital components, while remaining unobtrusive. The lifting cylinder is on top of the boom, reducing the risk of damage, and hydraulic hoses are routed through the boom for ultimate durability. The dozer blade has a reinforced cutting edge for superior wear resistance and a strong curved upper lip for added protection.