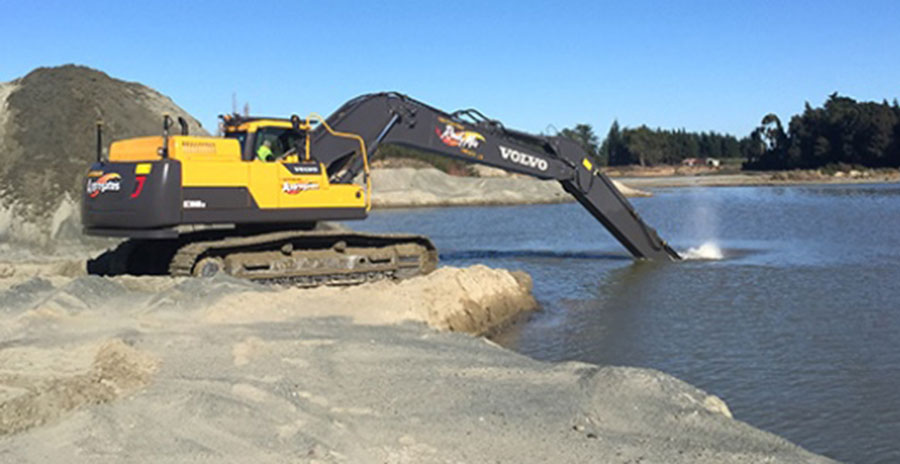 Canterbury Aggregates, a division of Christchurch Ready Mix Concrete Ltd (CRMC), operates at three land-based quarries and several river locations across the Canterbury region of New Zealand's south island. The company produces a range of specialty sands and aggregates for use in horticulture, concrete processing, building and recreational use. At its waterside locations, the company requires machinery that can excavate to depths of 7 m to dredge up the best possible sand, while remaining stable on sodden ground.
"Here in New Zealand, site safety is of utmost importance," said Hayden Leach, aggregates manager for CRMC. "When purchasing new equipment to work on our sites, we have to consider not only the fuel efficiency, performance and productivity – but also the safety features on the machine. After extensive research, the Volvo EC380D Long-Reach (LR) excavator demonstrated its ability to do the job and it came out on top in all of the areas that were most crucial to us."
Full loads at full reach
Because of strong market demand for its products, Canterbury Aggregates required a highly productive machine that was capable of excavating full 1.4 m3 bucket loads, from 7 m below ground level – even at full reach. The EC380DLR features an 8.5 m boom and a 5 m arm with a 14.75 m digging range and a maximum digging depth of 10.98 m. The bucket is able to rotate through 177°, while delivering 148 kN breakout force. Excavator equipment operator, Gavin Goldingay, said: "At full reach with a full bucket of sand there have been no issues whatsoever. The breakout force is outstanding – I can curl up the bucket at full reach without a problem.''
Safeguarding productivity
When Hayden and his team were deciding which machine to purchase, stability was of dual importance for both reasons of safety and productivity. They selected an additional counterweight, triple grousers and extra wide 800 mm tracks to counter-balance the extended boom and arm. Gavin Goldingay states that it's the most stable machine he has ever operated and Hayden Leach is equally impressed.
"We worked closely with our local dealer – TransDiesel – and the Volvo Special Application Solutions team at the factory to tailor the machine to suit our application needs and the process was very smooth," said Leach. "We're really pleased with the result, the machine is exceptionally stable. This is essential for both safety reasons and to enable the machine to deliver full buckets at full reach. On paper it looked like the perfect solution – and now that the machine has been operating, we are certain we made the right choice.
''The machine is also fitted with a Topcon X-63 Excavator GPS mapping system that transmits images taken from the top of the bucket to a display inside the cab to show the operator exactly how much material is remaining below the water's surface. "The Topcon system completely eliminates any guess work involved and I can be 100% sure that I've not left any material behind," said Goldingay.
In addition to the standard handrails, steps and non-slip plates, the EC380DLR features all-round visibility for maximum operator safety. "There are mirrors exactly where you need them, giving great visibility," added Goldingay.''
We are really pleased with the machine – it has enabled us to produce materials at a very high level to meet our market demand," concluded Leach.