Sitting to the northeast of Singapore, Pulau Tekong Island is the largest island off the coast of mainland Singapore, covering an area of 24.43 km2. It was previously home to a large British population during the colonial era, but today the island is most famous as the home of Singapore's Basic Military Training Center where young men fulfill their national service obligations.
Running tirelessly
However, a new chapter in the island's history beckons as the Singaporean government is investing billions of dollars in its development. The development is part of the government's plans to boost Singapore's land space from its current 71,400 hectares to 76,600 hectares, and its population from 5.3 million to 6.9 million by 2030. Handling the huge amount of earth moving required in the land reclamation process is local contractor KTC Group, which has 22 machines from Volvo CE on the job. In total there are 18 A40E trucks and four excavators - two EC700 units and two EC480 units. The machines are running tirelessly, loading earth and sand that arrives at the island by barge before being transferred to the fleet of Volvo ADTs for delivery to the required deposit points. The trucks travel along an uneven path approximately 1 km long, then unload at the job site.
Performance delivered
At present, the Volvo machines are delivering an average of 17,000 m3 of sand and earth during each 12 hour shift. As the project progresses, the amount of earth and sand delivered to the project will increase. In total, 3 million m3 of material will be moved over the five year project. At the project's peak seven barges of imported earth and sand, each holding up to 4,000 m3 of material, will be arriving at the island daily. To meet the demanding schedule, the ADTs are running at average speeds of between 20 km/h and 25 km/h over the course of a daily shift. The longest -serving Volvo ADT on the project has clocked up 27,000 hours so far.
Perform smoothly
"For a demanding project like this, we need rugged machinery that can endure long working hours and perform smoothly on uneven and sometimes very muddy terrain. There is also a lot of stormy weather, especially in Singapore's tropical climate," says Chua Lai Seng, chairman of KTC Group. The Volvo A40E has the strength and durability needed to deliver maximum productivity to the job site. The Volvo drivetrain works in harmony with the engine, transmission and axles to deliver category-leading performance. To ensure the smoothest and safest operations, the A40E also includes a self-compensating, hydro-mechanical steering system which makes the machine easy to maneuver – even when working with its maximum 39,000 kg payload on board.
Delivering on time
Working alongside the ADTs are two EC700C excavators which include the high-torque, low-revs 336.5 kW Volvo V-ACT engine, which offers up to 10% better fuel efficiency compared with competitors. Their advanced hydraulics also deliver more responsive digging and lifting, while the air-conditioned cab ensures maximum operator comfort and enhanced visibility. The other two excavators are both EC480DL units, featuring the fuel-efficient Tier-4 D13H engine which delivers a stronger performance but with significantly lower fuel consumption than competitors. The unit also has a three-piece, high tensile steel undercarriage allowing it to work productively in even the toughest conditions. And downward speed of the digging arm has been increased by 15% over its predecessor, meaning faster cycle times and higher productivity. "I have built my business by developing a reputation for delivering projects on time. To help us, we use Volvo CE machines which not only have the capabilities to work to the most demanding schedules, but also a high fuel efficiency which helps keep our operating costs lower," says Chua.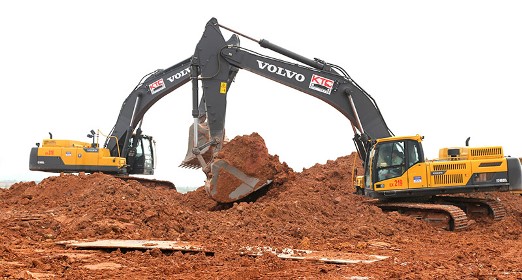 Volvo CE's local Volvo APAC headquarters is just 45 km from the ferry point that runs to Pulau Tekong Island. It includes the regional service depot, which means that support for any of the machines on the island job is a matter of minutes away. Parts and components from the Jurong West facility can be at the project within an hour, minimizing machine downtime. The service center also has 24/7 telephone support to assist with technical issues. "Knowing that support is just a phone call away puts my mind at ease," says Chua. "Running a huge fleet of equipment needs constant management, but at least with our Volvo machines I know the help is there if I need it. KTC Group was established in 1985 and the company purchased its first Volvo in 2005, an A40 ADT. Today it has well over 100 Volvo machines, both construction equipment from Volvo CE and trucks from Volvo Trucks. Its workforce has grown to over 1,500 and its operations have extended from supplying equipment into general contracting and larger infrastructure work, with operations in both Singapore and Indonesia. The S$90 million contract on Pulau Tekong Island is the largest contract in the company's history.