Located 100km from Indonesia's capital of Jakarta Cilegon is better known as 'Steel City' thanks to the region's thriving metals industry. The manufacturing hub is home to PT Krakatau POSCO – a joint-venture between South East Asia's largest (PT Krakatau) and the world's third largest producers of steel – POSCO. The plant produces an incredible three million tons of steel every year – and an expansion project is currently underway to double steel-production capacity.
By-products from the steel-making process previously ended up in landfill – but with new technology over 97% of waste is now recycled. PT Krakatau POSCO has contracted Korean Resources Recycling & Green (PT KRnG) to crush, separate and recycle the waste sludge, dust and slag from its blast furnace, a task they are doing with help from a fleet of Volvo Construction Equipment (Volvo CE) machines.
"When buying machinery, the most important factor is aftermarket support," says Kim Bo Young, managing director of KRnG. "Our machines are in operation 24 hours a day so a breakdown can be very costly. Our Korean parent company – POSCO – has used Volvo equipment for over 30 years and recommended the brand to us. Since purchasing Volvo units, I wouldn't hesitate to buy more."
Tailored equipment
KRnG had specific requirements at the site – including a tight turning radius for truck loading and the need to keep operators at a safe distance from the white hot molten waste that is expelled at temperatures of up to 3,000°C from the blast furnace. For these reasons, the Korean-owned company decided to purchase an excavator fitted with a shovel attachment and extended boom, as opposed to a wheel loader. Mr. Kim followed suggestions from his colleagues at POSCO and bought a Volvo EC700CL excavator.

The excavator's 360° swing radius allows it to load trucks in a much smaller space – improving manoeuvrability by simply negating the need to drive back and forth, (which also helps reduce fuel consumption). The excavator's narrow bucket has a sturdy center of gravity – making loading large slabs of slag material safer and reducing the risk of the machine tipping over.

"Once a bucket is attached to the excavator, the center line is automatically secured – and bulky loads will not upset the machine's balance," explains Yongun Lee, vice president of Volvo CE Korea. "The extended boom – that we were able to fit straight from the factory – allows operators to keep a safe distance away from the blast furnace."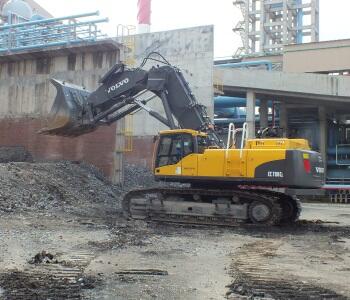 Once the trucks are loaded, the material is crushed and transferred to KRnG's recycling plant, located on site. There, a Volvo EC480DL with a magnet attachment extracts steel particles from the debris – and the steel is returned to the steel mill. Other by-products are then ground into particles smaller than 0.8mm and sold to concrete, asphalt and fertilizer producers.
"KRnG was under a lot of pressure to get these bespoke machines working in a short space of time," explains Lee. "So they liaised with our factory in Korea and local dealer PT Indotruck Utama (ITU) – to make the special adaptations at top speed."
In total, KRnG has a fleet of nine new Volvo machines, including three excavators and six G-Series wheel loaders – which load sludge and fine dust into separators. "We are planning to construct a second recycling plant here," says Kim, "and we would like to continue our strong relationship with ITU and Volvo by buying more machines for the site. These nine initial purchases are just the start."
Tailored Service
Volvo CE's team of specialist technicians give operators a demonstration of the machines' features – as well as advising them on how to maximize productivity and minimize fuel consumption – at the time of delivery. Mariano Maryono, who operates an L180G wheel loader at the site, says: "Volvo machines use less fuel than other machines in my experience. The new work modes also make them very easy and comfortable to operate – and there are a lot of new features."
Indonesia's prolonged rainy season can impact a machine's performance, but Kim is impressed with the way Volvo machines maneuver on the wet ground. "Volvo specialists come to our site regularly to advise us on how to maintain the machines as best we can," he says. "And we also provide our machine data to ITU so that they can devise a service plan for us. We have a good working relationship and they are always on hand when we need something."
Continued Growth of VCE Indonesia
"The manufacturing sector – including steel production – now contributes a growing proportion of our total construction equipment sales in Indonesia," explains Mark Gabel, managing director of PT Volvo Indonesia. "It's our aim to increase our presence in this sector and to expand our product and service offering outside of the traditional equipment sectors of mining and construction."

Contact:
Mats Edenborg
Volvo Construction Equipment
Tel: +65 6412 2804
Email: mats.edenborg@volvo.com

Holly Brace
SE10
Singapore
Tel: +65 9724 4871
Email: holly.brace@se10.com