In another significant drive to promote its sustainable solutions, Volvo CE is an official partner to FIA World Rallycross Championship (World RX), both as an equipment supplier and a track-building collaborator. Volvo CE played a major role, demonstrating groundbreaking efficiency by constructing the entire racetrack in just eight days, using electric construction solutions.
The attendees enjoyed the festivities and excitement of the race, and all were invited to join engaging seminars and tour the electric construction machines on show. These included a 23-ton EC230 Electric excavator, used to excavate materials to form the jumps on the racetrack. Also working to build and maintain the tracks were two new L120 Electric wheel loaders manufactured in China. One of these zero-emission L120 Electric wheel loaders was also fitted with recovery forks to remove crashed race cars from the track as part of Volvo CE's motorsport safety solution.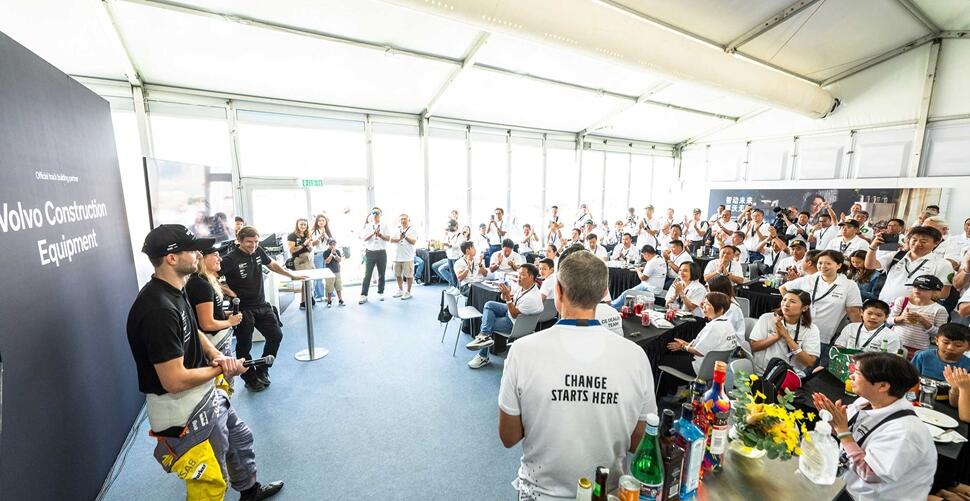 Volvo CE conducting a seminar, bringing together dealers, customers, and representatives
The resounding cheers from the Volvo CE dealer team stood out as a major highlight, with customers describing the race as "incredibly thrilling" - creating a fully-spirited atmosphere. First-time attendees were pleasantly surprised, with the on-site experience exceeding expectations, forming authentic connections between Volvo CE and its customers.
Tomas Kuta, Head of Region Asia, said: "This was the first World RX event in Asia and an energizing and inspiring finale to a genuinely exciting competition. We are proud to be an official partner and it was the perfect platform to highlight our range of electric construction machines. This year, we've introduced electric machines to Japan, Singapore, and Indonesia, in addition to our launches in China and South Korea in previous years. As we wrap up this successful event, it holds immense significance for us and underlines the strong bond that unites us across continents. We remain enthusiastic about the path ahead and will continue to work collaboratively as one team to ensure that we stay strong and remain at the forefront of the innovation market."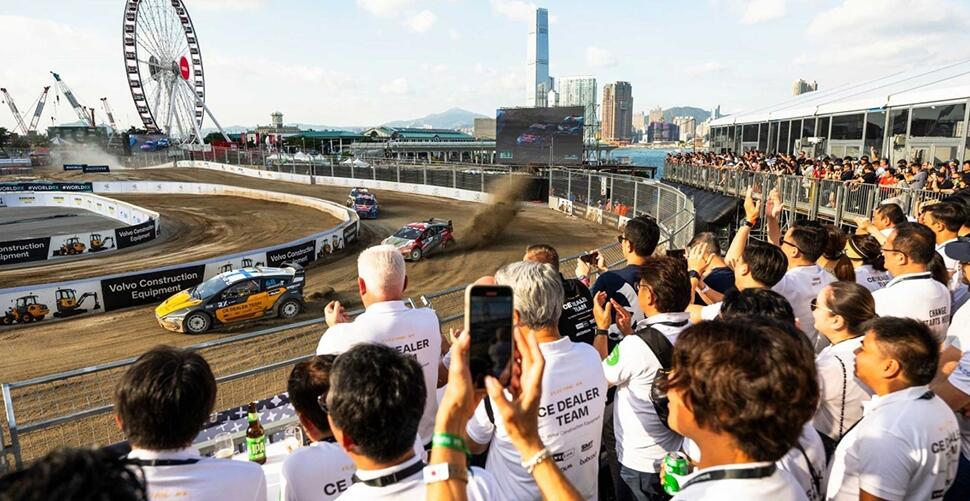 Vibrant cheers from the Volvo CE Dealer Team surrounded the track
Volvo CE has been the World RX Champion's Official Construction Equipment Supplier and Track Building Partner since 2022. The 2023 season finale took place at the Central Harbourfront Event Space in the heart of the city's bustling business district. It was one of only two non-European stages in this year's prestigious international electric race series.
To learn more about electric machines from Volvo CE, click here.