Amelee and her finance team during a teambuilding exercise
"In my role I get to make a positive impact," says Amelee Cheen, Head of Accounting & Finance at Volvo Construction Equipment (Volvo CE) Region Asia. "I have to solve complex problems and contribute to the company's ongoing success. But it's not just about numbers – it's about being a financial strategist, a risk manager and a leader all rolled into one. I love knowing that the decisions I make have a direct impact on the organization's success."
Amelee joined Volvo CE in 2019, after 14 years at General Electric, seeking a new adventure and the chance to apply her expertise in a different industry. Her decision to transition not only highlights her personal journey, but also exemplifies how companies like Volvo CE are continually evolving to diversify the workforce and provide equal opportunities to women.
"Construction is evolving in terms of gender equality and Volvo CE is driving change in the industry. You see it everywhere in our culture and organization – we're committed to diversity and inclusion, and it's truly embedded across our programs and activities."
Amelee started out looking after Dealer Financial Health, before moving on to Business Controller for Oceania and then a promotion to Head of Accounting & Finance. It's been a rapid rise and today she's leading a team of professionals who oversee the financial health of the company and deliver guidance on various aspects of the business including investment, cost management and growth strategies.
As well as enjoying her role in the company, Amelee is also passionate about the wider progress Volvo CE is delivering through electromobility and she was able to experience this first-hand at the Electric Machines launch event in Singapore in June, 2023.
"To drive the new machines was an 'electrifying' experience, it felt like a leap into the future of construction. The absence of exhaust fumes and reduced environmental footprint is remarkable. Knowing our company is contributing to a greener construction industry is a source of great satisfaction."
For Amelee Cheen, one of the major benefits of working at Volvo CE is the company's commitment to frameworks that support a more gender-inclusive workforce. Volvo CE is targeting a workforce of 35% female leaders and employees by the end of 2023.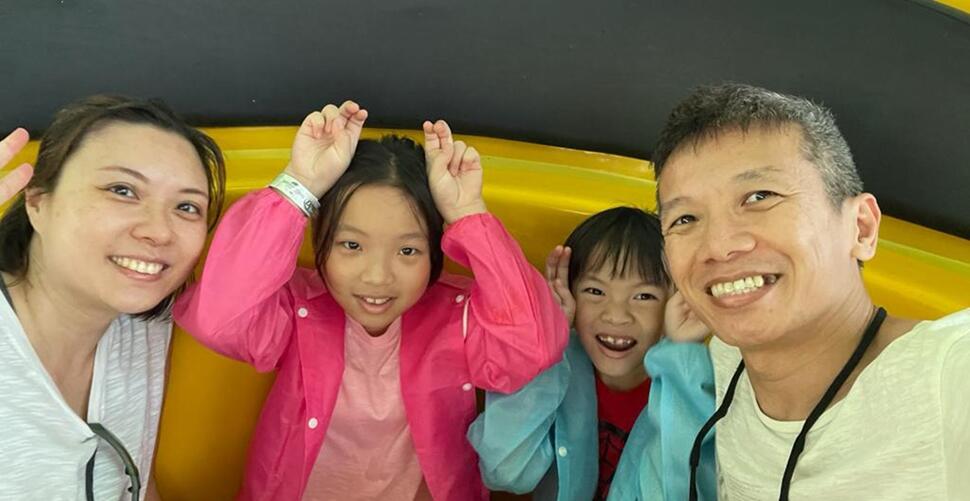 Amelee enjoying quality time with her husband and two children
Amelee, in her role at Volvo CE, maintains a harmonious balance between her professional and personal life as a loving mother of two. In her leisure time, she enjoys playing board games, exploring new playgrounds, meeting friends, and supporting her children's hobbies of piano and dancing.
To learn more about Volvo CE's acceleration of gender diversity in the workplace, click here