At the launch event for the first electric construction machines in Singapore were senior leaders from the country's most important building and construction companies, as well as Volvo CE dealers from across the Southeast Asia region, and Volvo CE leadership from Asia.

Tomas Kuta, President Region Asia for Volvo CE, kicked off the launch by sharing insight on the sustainability goals of Volvo CE.

"Our company wants to reach net-zero emissions by 2040, and as part of that and our commitment to Science Based Targets, we want to reduce emissions from our product line by 30% by 2030, as well as reducing emissions from our own operations by 50% in the same timeframe. For the Singapore construction equipment market – Change Starts Here. Singapore is a natural market for electric construction machines with a strong focus on sustainability, efficiency, and safety in its construction industry. We are launching our first electric machines in Southeast Asia, and we believe it will act as a launchpad for further sales, both in Singapore and the wider regional market."

Volvo CE aims to have 35% of the machines it sells powered by electromobility by 2030. It already has the widest range of electrically powered construction machinery available today. To begin in Singapore, the company has launched three models: the ECR25 Electric compact excavator, the L25 Electric compact wheel loader, and the EC55 Electric excavator.

Jenny Egermark, Chargé d' Affaires a.i. at The Embassy of Sweden in Singapore, was among the VIPs at the event, and she paid tribute to Volvo CE's ongoing drive for change:

"I am delighted to see Volvo's innovative Swedish construction machines launching in Singapore. They are excellent additions to Singapore's robust construction industry. Both Sweden and Singapore have ambitious goals toward sustainability and reducing carbon emissions, and the launch of Volvo's first electric construction machines brings us one step closer to achieving these common goals."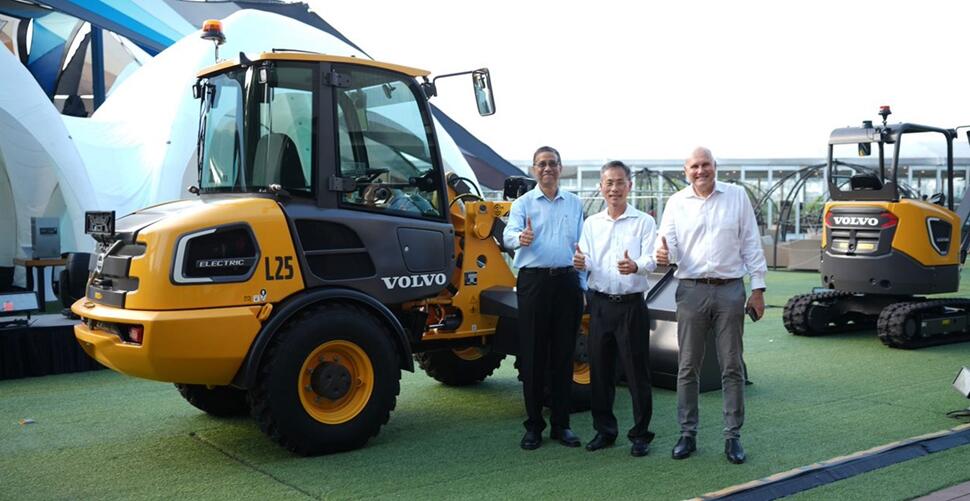 With the newly launched Volvo CE L25 Electric compact wheel loader; two of which are currently being used by Singapore recycling business Kim Hock Corporation. Left to right are: AM Muralidharan, Head of Productivity & Retail Development Asia, Volvo CE; T.S. Lim, General Manager, Kim Hock Corporation; and Tomas Kuta, President Region Asia, Volvo CE.
EVs head off-road

Electric construction machines have the power to change the way construction sites and material handling industries are run. They offer the same productivity benefits as diesel equivalents but with less noise, fewer vibrations, and no exhaust fumes. They can help industries meet sustainability requirements or regulations. It also allows companies to use the machines in new locations, such as indoors, or in other sensitive environments.

In Singapore, the country has set ambitious targets to enable sustainability across the building and construction value chain through its Singapore Green Building Masterplan (SGBMP). This includes introducing mandatory sustainable construction practices. Using electric machines on construction projects will go some way toward helping contractors meet their sustainability objectives.

AM Muralidharan, Head of Productivity & Retail Development Asia, said:

"Using Volvo CE electric machines offers all kinds of advantages to owners. Of course, it will boost the sustainability of their own operations, but it's also about creating a nicer environment for the operator and others on site. The lack of engine noise and fumes removes a lot of the distraction that can come from working around equipment and allows much better focus on the job at hand. It's also kinder to the local community."

Technical details

The ECR25 Electric compact excavator is a 2.6-2.8 t capacity machine with a 22.3 kN breakout force. It is equipped with an on-board charger for general charging, an external quick charger (optional for indoor/outdoor specifications), and a 20-kWh battery array, allowing for 3 - 4 hours of work per charge.

The machine is equipped with an excavation bucket (0.074 m3) with a quick coupler, a standard arm, spare piping, and a ROPS standard canopy. There is very little noise, resulting in a very low environmental impact on the operator, surrounding workers, and neighbors. Operator comfort is further improved because there are no fumes from the electric operating system. And unlike a diesel excavator, the ECR25 Electric consumes almost no energy while idling thanks to an inbuilt stop/start system, so it only consumes energy during the minutes it works. It has a slightly higher operating weight than its diesel equivalent, but also delivers more continuous motor power.

The L25 Electric compact wheel loader features a 2.1 t payload, a maximum speed of 20kph, outstanding lifting height and 100% parallel movements. The machine comes with a 40kWh battery pack and is expected to deliver 6 - 8 hours of work per charge. Again, operator comfort is enhanced by near-silent operation, and there's an automatic park brake with hill-hold functionality and a range of customizable work modes. Like its electric sibling, the ECR25 Electric, the L25 Electric has a slightly higher operating weight than its diesel equivalent, but then has a higher static tipping load too.

The EC55 Electric excavator is a 5.5 t electric machine built at the Volvo CE facility in China, which is currently the world's largest market for e-mobility equipment. The EC55 Electric is based on its diesel-powered counterpart, the EC55D, but delivers even better performance and controllability, as well as quiet operations and zero emissions. Power comes from two lithium battery packs of 400 V that work continuously for 4 – 6 hours per charge.

Discover more about Volvo machines and services at www.volvoce.com/asia.