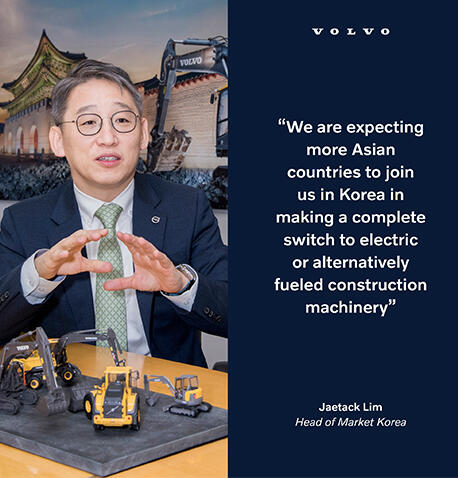 The Volvo ECR25 Electric compact excavator has landed in Asia, and is available to customers in South Korea. With the positive reception the fully electric machine received in the European and North American markets following its launch in 2019, we expect this compact excavator to attract a lot of attention.
The arrival of Asia's first battery-powered machine from a major manufacturer is in line with Volvo CE's previously stated short-term goal of phasing out the use of diesel engines across its entire compact excavator and compact wheel loader ranges. It's a development that also fits with mood in Asia.
Transport in Southeast Asia alone is currently responsible for 40% of global greenhouse gas emissions, with many of its local and national governments now aggressively promoting EV use through a potent combination of emissions regulations and incentives. Several years ago, Hangzhou's battery-swapping facilities for 500 electric taxis were joined by ultra-compact and incredibly cheap electric car-hire vending machines, while the APAC region today accounts for the largest share of battery electric vehicle (BEV) sales worldwide, not to mention a higher growth rate than in the west.
History tells us that off-highway machinery will follow suit. Demands for low-carbon job sites won't be far behind and, in conjunction with more sustainable building practices, the progressive governmental policies of China, Japan and Singapore mark those countries out as early candidates for deliveries of the ECR25 Electric. We expect others to follow too.
The opportunities for the machine and its environmentally friendly siblings will be boundless. This shift will help customers in one of the world's most significant markets work just as productively but in a much more healthy, quiet, and comfortable environment.
Keeping an open mind
At the same time, we know that a widespread transition to e-mobility will take time. So at Volvo CE we aren't putting all our eggs in one basket. Engines still have their place, especially in larger equipment – they just don't need to be powered by diesel. There are several less-polluting alternatives – all Volvo Penta engines, for instance, have been approved for use with HVO (hydrogen-treated vegetable oil) since 2016, providing virtually the same performance with only the merest hint of CO2.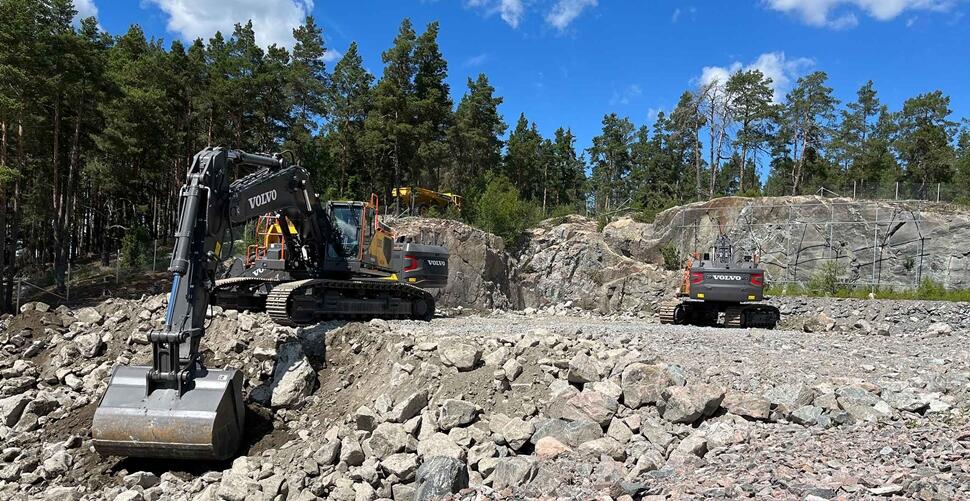 Crawler excavators running on HVO at the Customer Center in Sweden during Volvo Days 2022.
In fact, all demo machines at our Customer Center in Eskilstuna, Sweden, now run entirely on HVO, proving to customers how well the fuel works without any special modifications to the engine being required. CNG, biogas and hydrogen, as well as the use of hybridization, are also likely transitioning solutions for markets that cannot yet support fully electric solutions.
By leveraging access to the latest technology from across the Volvo Group, Volvo CE is committed to leading this shift by becoming carbon neutral. We have set ourselves ambitious yet realistic goals using Science Based Targets initiatives (SBTi) to drive real change, setting emissions-reduction targets in line with leading climate science – in fact, as part of our aim to become 100% fossil free by 2050, we plan to reach net-zero value chain emissions 10 years earlier to ensure older machinery doesn't artificially enhance the 2050 figures.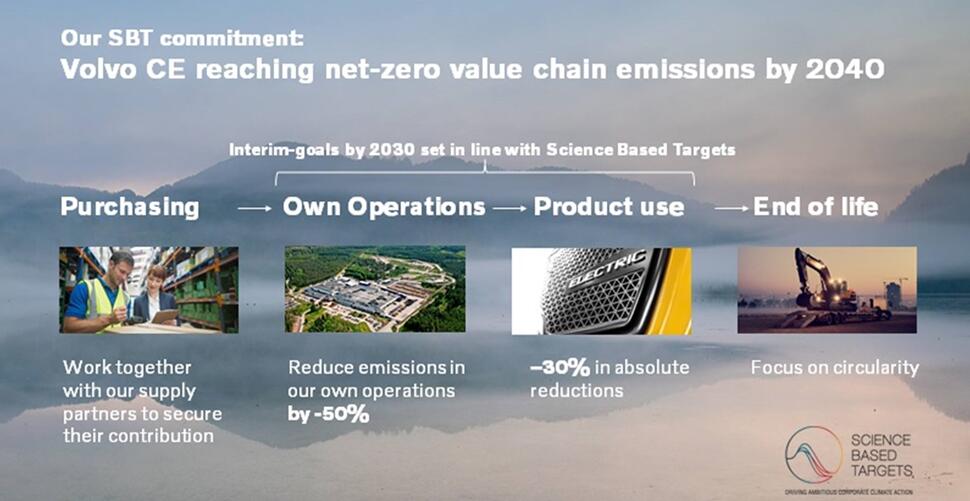 Volvo CE's Science Based Targets commitments
We are expecting more Asian countries to join us in making a complete switch to electric or alternatively fueled construction machinery as we can see the market is changing. And Volvo CE wants to lead the change.