When Swedish construction company LMBab purchased a new EWR150E short swing radius wheeled excavator to add to its fleet of Volvo machines last summer, it was keen to try out the new Volvo Co-Pilot with Dig Assist. Six months later, the contractor is not disappointed.
With Volvo Co-Pilot, high-precision pressure and position sensors deliver real-time operational data to a 10-inch Android colour touchscreen in the cab and to the cloud.
Depending on whether a customer chooses the 2D, in-field design or 3D version, the Dig Assist function then allows operators to set target depths or slope levels or even complicated 3D shapes and monitor the progress of the job, receiving alerts when the required parameters are met.
LMBab is currently using the 2D version but is eager to upgrade. "We dig and plan water pipelines and roads, which the Dig Assist feature helps us with," says operator Patrik Ekström. "It's simple and effective. I think we will now upgrade to 3D."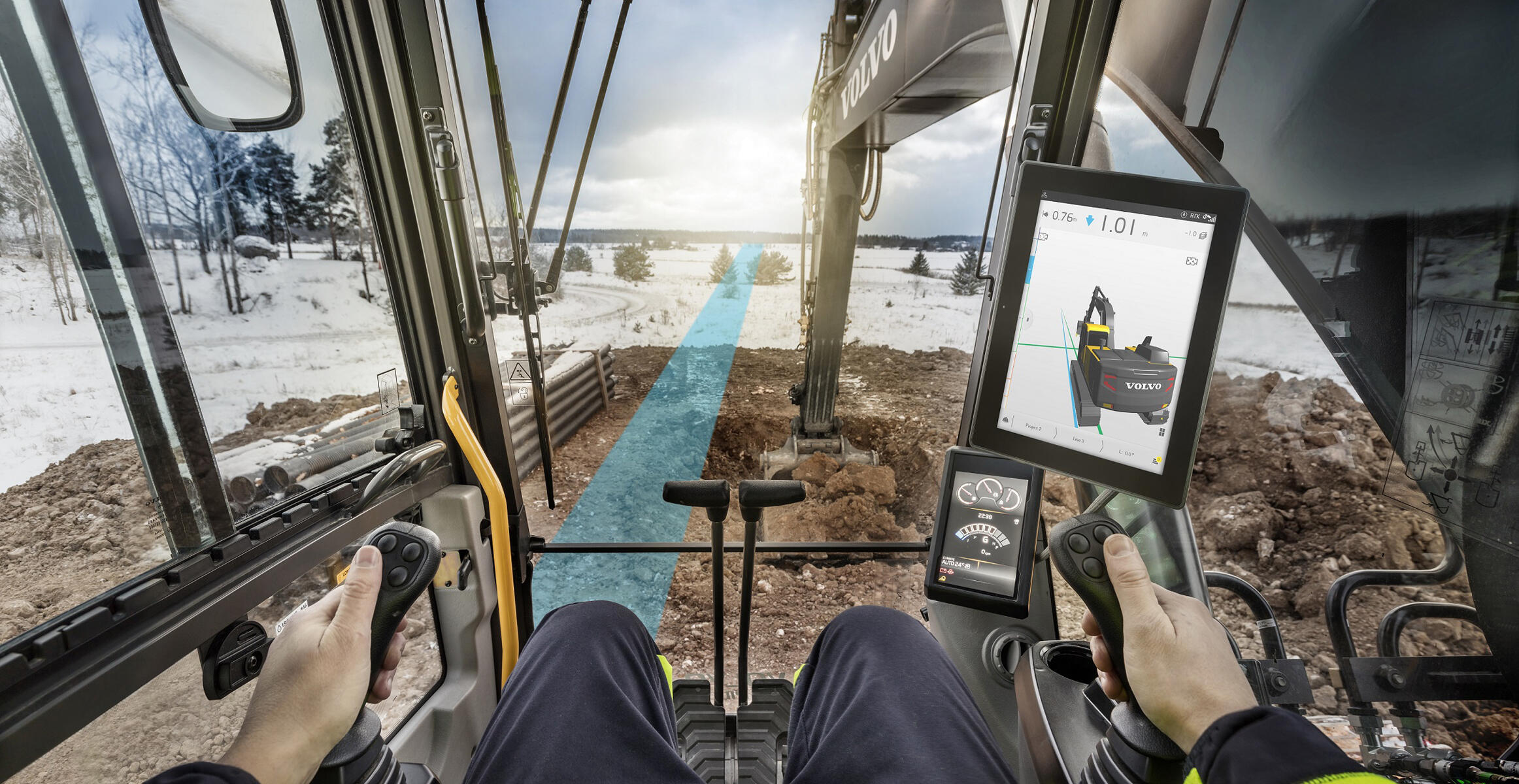 Safer on site
Dig Assist not only helps to improve accuracy and productivity, but also safety. It can remove the need for the operator to leave the cab to manually check grades or levels – or for surveyors to mark out the excavation site. The on-board weighing system, meanwhile, greatly reduces the risk of overburdening the machine.

Easy fleet management
Because machine information is also delivered to the cloud, Dig Assist is equally as useful for fleet managers as it is for operators. Data such as total tonnage moved per day, bucket load weight and idle time makes it simple for fleet managers to identify areas where efficiency or productivity could be improved and set targets.
"It records data and allows us to analyse it as often as we want," Ekström explains.
Volvo Co-Pilot with Dig Assist is available on crawler excavators – EC220E, EC250E and EC300E – and wheeled excavators – EW160E, EWR150E and EWR170E – in the 15 to 30t weight category.
Since operating the EWR150E with Volvo Co-Pilot and Dig Assist, Ekström wouldn't want to go back to his old way of working. "The system is very good and I honestly couldn't go a day without it," he concludes.