For over 20 years, Rosco Contractors has built its reputation on an ability to deliver on spec and on schedule. What started as a small contracting company in 1995 has grown into an established company with a strong reputation and over 100 employees. And as demand for the company's services continues to grow, Rosco Contractors is looking for more efficient and reliable machinery to support its clients in the mining sector.

"It has been amazing to see how the company has grown steadily. Now, we are not only a contractor for several coal and gold mines, but we also own and operate our own mines. With many projects in the pipeline, it is essential to have the right machines to allow us to work efficiently, meet growing demand and maintain our hard-earned reputation for reliability," said Dave Stone, company engineer for Rosco Contractors.

Helping the company reach its goals is a large fleet of equipment from Volvo Construction Equipment (Volvo CE). Over a third of the huge Rosco Contractors' fleet are from the Volvo brand. The company made its first purchase of Volvo machines with several A25D haulers back in 2005 and today the company owns 35 haulers plus five excavators.

One of the most popular Volvo units in the fleet is the 41-ton rated A45G hauler — the company recently added nine to its fleet. Designed for heavy hauling in severe off-road operations, the durable A45G features robust design, easy service access and reliable uptime. Technology includes the optional on-board weighing system, which boosts fuel efficiency and reduces machine wear by guaranteeing an optimal load every cycle. Other features include the Volvo drivetrain, automatic traction control, all-terrain bogie and hydro-mechanical steering.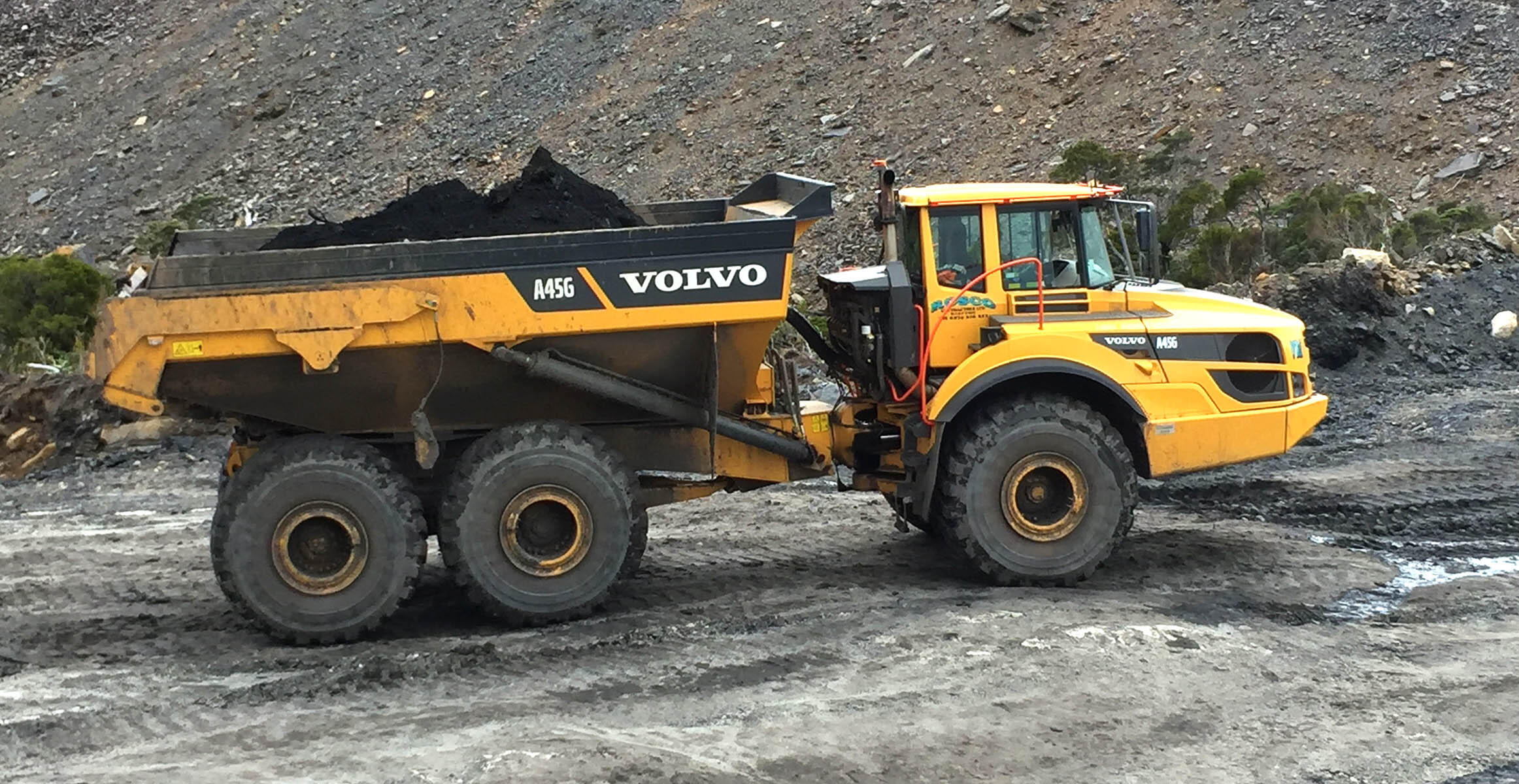 Excavator additions

The latest Volvo additions to the Rosco Contractors fleet are four EC480DL excavators. These units include a 265 kW engine with an automatic idling system which reduces engine speed to idle when the levers and pedals are not activated, lowering fuel consumption. The reinforced heavy-duty boom and arm are built from high strength steel for added reliability in severe applications. The Volvo machines for Rosco Contractors deliver superior performance, achieving nine to 10 machine hours per 12-hour shift. The fleet handles a range of duties at various mine sites, including a lot of removal of overburden.

"Many mines in New Zealand are in mountainous areas with steep terrain and high rainfall. Using Volvo machines has helped us tremendously as they are very reliable, even in extreme weather conditions," Stone said. "It's one thing to have the products but you also need to be known as a company that's going to deliver on time. That's where good, reliable machinery comes into play."

Rosco Contractors began life when owner Rosco Moore started offering his services to the mining, civil and building construction industries on the West Coast of New Zealand and in Canterbury. All the company's Volvo machines are purchased and serviced via Transdiesel, Volvo CE's dealer for New Zealand.