Deep in the Kaingaroa Forest in the North Island of New Zealand, on a patch of logging land so challenging that previous harvesting crews left it behind, an EC380DL crawler excavator from Volvo Construction Equipment (Volvo CE) is clearing up remnants of old Douglas fir and navigating the tough terrain like a champ.
"The southern end of the forest all used to be Douglas and they were huge," said Mike Harris, owner of Mike Harris Logging Ltd. "The stuff we're cutting, the P-size varies from 0.3 to 7.3. Some of it's really nice, but a lot is very ugly, and we've got to hurry with it because Douglas dries out quickly."
On landscape that's criss-crossed with deep gullies and hard to access or negotiate, Harris is using the first EC380DL in New Zealand to fall, trim and process 7-ton plus trees into logs. The company produces around 3,000 tons of logs daily.
Harris previously used a second-hand Volvo EC460CL excavator to harvest the large timber. When Harris was looking for a replacement machine, he selected the EC380DL because he had such a good experience with the EC460 CL. Just a couple of months after purchasing the first EC380DL in New Zealand, Harris added a second EC380DL to his fleet in April.
"I had a good run so decided to stick with Volvo," Harris said. "The EC380DL is also very economical—using only 27.9 litres of fuel per hour whereas the old one was running at about 33 litres per hour. Other machines around this size can be doing anything up to 40 litres, so this compares really well."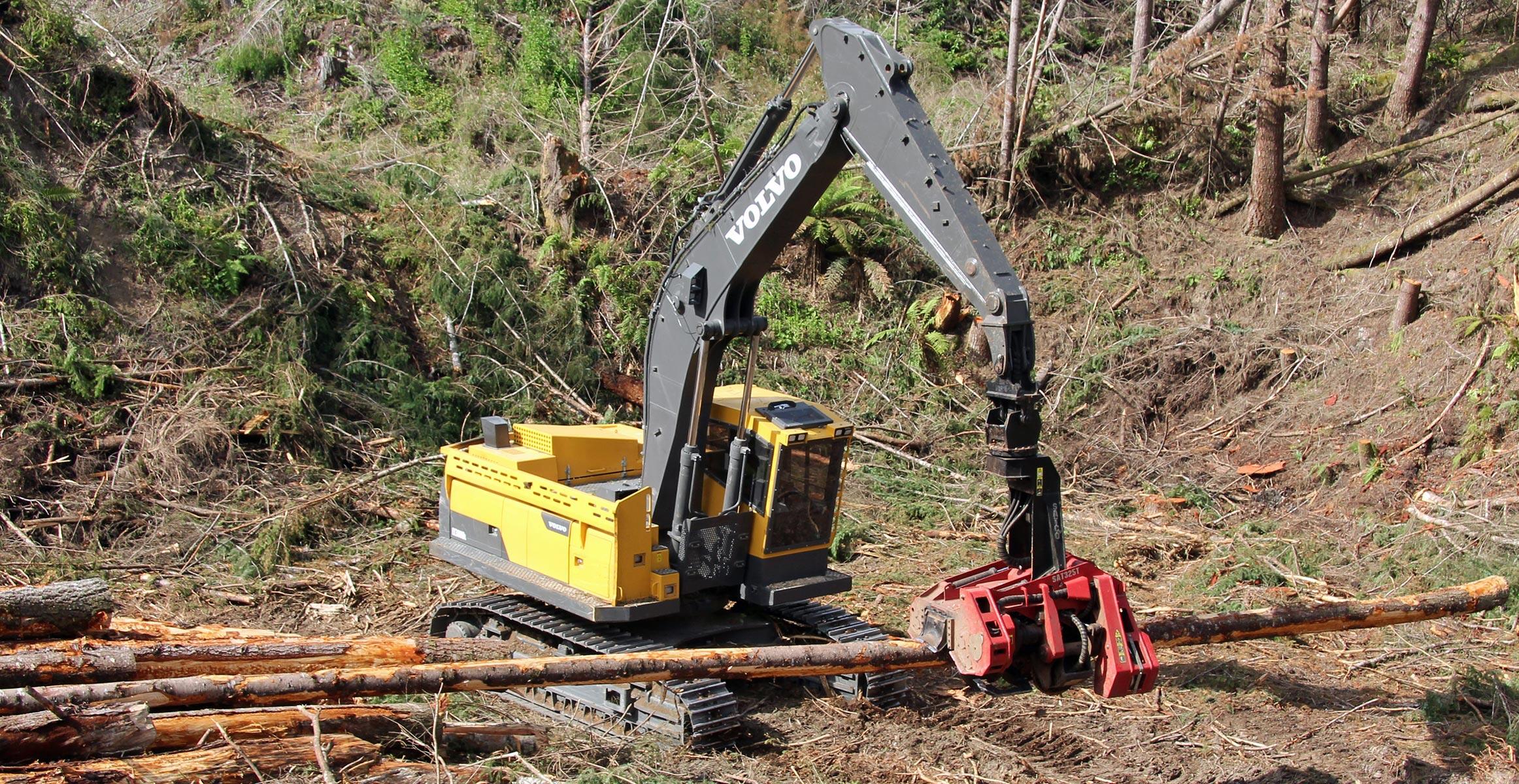 The 38-tonne EC380DL is powered by a Volvo 208kW/283hp D13F, Tier 2/Stage IIIB engine to offer 1,700 rpm of power. The crawler excavator features a bucket capacity of 1.35 m3 to 3 m3; 14,540 kg lifting capacity along the undercarriage; a breakout force range between 198 kN to 215 kN; and maximum digging reach of 11,720 mm.
Even though the EC380DL has slightly less reach than the EC460CL, Harris says the EC380DL's superior fuel economy and machine performance make it ideal for harvesting large timber in New Zealand's broken terrain and steep conditions.
"The EC460CL had a standard base so it was a bit of a mission out in the cutover—the EC380DL has a lot more clearance," Harris said. "I think the dipper is a little shorter but it handles the wood fine and when you are falling you don't need reach."
The EC380DL offers 500 mm ground clearance, higher and wider than the EC460CL, and is based on the undercarriage of a 50-ton Volvo excavator.
Another reason Harris purchased the EC380DL from long-time Volvo CE dealer Transdiesel was because of the technical knowledge of Ewen Satherley, Timber & Material Handling National Product Manager at the dealership. After seeing where Harris would use the machine, Satherley explained why the slightly smaller EC380DL would work well.
"Ewen was right—the EC380DL is a good falling machine, it's got plenty of weight, handles the bigger trees here, and is nice and fast," Harris said. "It's also very stable with that long-reach counterweight on the back."