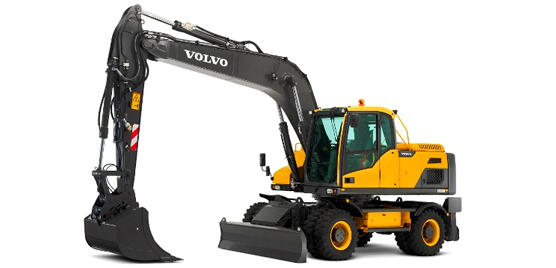 Although sales of many types of construction equipment has stalled in recent years, demand for wheeled excavators have shown resilience – largely due to versatility and ease of transport. Recognizing this surge in popularity, respected Finnish trade magazine, Koneviesti, decided to compare models from six of the leading global brands to see how they differ.
The machines tested were in the 18.6-20.9 tonne weight class – the sweet spot of the wheeled excavator market. The test group included Volvo CE's EW180D-Series 19.4 ton wheeled excavator against five other of the industry's biggest brands – all of which use stringent engine emissions technology.
The in-depth test lasted just over a week, which included thorough evaluations by skilled drivers and engineers, who carefully tested a wide range of various specifications and performance criteria – and then rated each machine's capabilities. Tractive power was measured by MTT Vakola, a company which tests the operation of heavy machinery, with tests conducted on gravel and soft ground for a balanced assessment.
The main objective was to assess the usability of the machines, how comfortable they were and their comparative performance in a variety of different tasks. Operators filled in a 43-question evaluation form where different features were evaluated on a scale of 1-10.
Aspects such as hydraulic controllability, working position adjustability and serviceability of the machine were assessed, as well as fuel consumption, cab storage facilities and ergonomics of controls, switches etc.
The results are in
After taking each test area into consideration, the final scores saw the Volvo EW180D wheeled excavator come out on top.
Acceleration of the machines was tested from 0-100m and Volvo topped the score board with 20.4 seconds. The other machines' results ranged from 20.5-23.7 seconds. Volvo also had the quietest sound level in job mode with 73db (A) – taking joint first place overall for noise. Volvo's upper carriage slewing force came in at 1,030kg, where the other machines ranged from 660kg-930kg. Volvo also won the lifting capacity category with 7,150kg compared to its competitors, which ranged from 5,370kg-6,440kg.
"After collecting the test results it's clear that the Volvo wheeled excavator is the market leader," says Jan-Peter Nybeck, Volvo CE sales manager in Finland. "The majority of testers would have chosen the Volvo as their machine, which clearly makes it the operator's choice. This independent evaluation reinforces how the Volvo wheeled excavator offers the best package of efficiency, power and comfort in the market."
ENDS
For further information, please visit: www.volvoce.com/press
Or contact:
Thorsten Poszwa
Director, External Communications
Volvo Construction Equipment
Tel: int + 32 4918 60331
Email: thorsten.poszwa@volvo.com
Twitter: http://twitter.com/VolvoCEGlobal
Brian O'Sullivan
SE10
London
Tel: int +44 77 333 50307
Email: osullivan@se10.com