Banjarmasin – the capital of South Kalimantan in the Indonesian part of Borneo – is located on a delta island. Known as the River City because of its numerous waterways, it is surrounded by coal-rich jungle, and the region has become a hub for mining operations that use the rivers to transport the coal across the Indonesian archipelago.

While the mining industry in Indonesia has slumped in recent years, with many pits drastically reducing or even ceasing operations in Kalimantan, the Hasnur Group – established in 1966 by a native Kalimantan entrepreneur – has diversified its service offering and customer base to withstand the industry's decline. The group's corporate values of health, safety and the environment are reflected in its responsible mining practices, following the Indonesian government's vision for conservation and sustainability. Mining has been an important part of Borneo's economic development, but it has had a negative impact on the environment in the past. The Hasnur Group uses strategic planning, education and training to responsibly manage its operations and contribute towards the sustainable development of the island's economy and conservation of its natural habitats.

The company started out in river transportation, but the management's invaluable knowledge of the local language and culture meant that it grew into shipyard building and maintenance – before more recently moving into coal and iron ore mining. The company then teamed with foreign partners to export its produce worldwide, including South Korea-based electricity provider, KEPID, via its local subsidiary, PT KEPID Technology Indonesia.

World-class fuel efficiency
Located at one of the region's many river ports, 200km from Banjarmasin, PT KEPID Technology handles the coal that arrives from the mine site via truck. At the site, five Volvo Construction Equipment (Volvo CE) L220G wheel loaders carry the crushed coal from stockpiles to the conveyor where it is then sent to waiting transporter ships. With the machines in operation for 17 hours a day, fuel consumption is of utmost importance to site manager, Lee Kwang Hun, who notes that 40% of the coal handling cost per ton is diesel.

"Having used Volvo equipment in our operations in Tanjung Jati, in Central Java, we were confident that the fuel consumption would meet our needs," explains Lee. "But in fact, it exceeded our expectations – with our wheel loaders using around 20 liters per hour. We are very happy with this as the fuel savings significantly impact our bottom line."

Experienced machine operator, SA Juki, has operated many wheel loader brands throughout his career. He says: "Especially in a load and carry application, Volvo machines consume more than 40% less fuel than other brands, while in a dozing application, it uses less than 20 liters per hour. The fuel consumption is impressively low."

Full loads around the clock
Daniel Krismantoro, operations manager at PT KEPID Technology, has been so impressed with the Volvo wheel loaders' performance during their first 600 hours of operation since he took delivery in May that Hasnur Group is now considering switching its large fleet over to the Volvo brand. "One unique feature of Volvo loaders that's very relevant to coal handling operations is the TP linkage," he says. "By keeping the up and down movement completely parallel, there is no spillage of material during loading. This is a huge benefit over the usual Z-bar linkage."

Krismantoro also purchased a Volvo EC480DL hydraulic excavator and a Volvo SD110 compactor to support operations on the site. The excavator is used to trim the coal pile while the compactor keeps the loading and unloading area flat and smooth. "The loaders and excavator are both powered by the Volvo D13 engine and feature other common parts," he says. "The engine is very powerful, but what is most useful to us is that we can stock the same consumable parts for all our machines."

Transporting spare parts across the widely uninhabited island presents many more challenges than your average delivery. While the Indonesian government is improving infrastructure in the region, the majority of the existing roads are privately built, owned and maintained by the coal mining conglomerates themselves. Many of the access routes are untarmaced or covered in potholes, and speed is restricted to 40km/hr in many parts. When travelling long distances, journeys can take up to five times longer than travelling on tarmaced roads.

Heri Krisdiyanto, business manager at PT Volvo Indonesia, explains: "Our dealer network covering Kalimantan, Sulawesi and Maluku – PT Intraco Penta Prima Servis (IPPS) – continually invests in expanding its capabilities to reach remote locations such as this site, but with parts being delivered to Banjarmasin – up to three hours' drive away – we advise customers to stock some parts on site. By using common parts across our range of construction equipment, we can train on-site maintenance support staff how to keep the machine in top condition, maximizing uptime."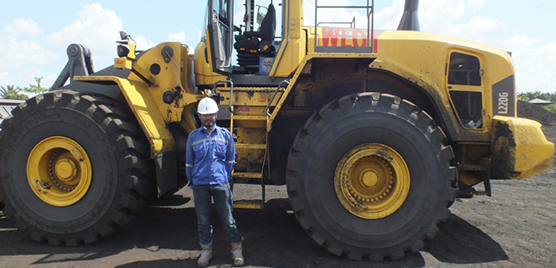 Looking to the future
At the Third Annual Indonesia Mining 2014 Conference held in Bali this February, experts from the industry and associated bodies gave an overview of the current and predicted outlook for the mining industry. While Indonesia continues through a period of political uncertainty until the new government has found its feet, experts anticipate that the coal industry will pick up in the second half of 2015.


For PT KEPID Technology, it's business as usual as coal handling operations at the river port continue. The company will work with its local dealer, IPPS, to plan for future service and maintenance of its Volvo fleet. "Anticipating any large investments we'll need to make in the future is very important for our cash flow," Lee explains. "The service that our dealer offers to help us plan for component exchanges or overhauling the machine is very useful – although a long way off yet. We don't expect to incur any major costs before 14,000 hours of operation."

Ends.

September 2014

For further information, please visit: www.volvoce.com/press
Or contact:
Thorsten Poszwa
Director, External Communications
Volvo Construction Equipment
Tel: int +32 2482 5021
Email: thorsten.poszwa@volvo.com
Twitter: http://twitter.com/VolvoCEGlobal
Brian O'Sullivan
SE10
London
Tel: int +44 77 333 50307
Email: osullivan@se10.com