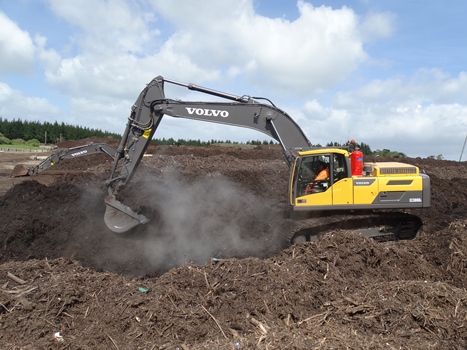 Recycling organic waste and producing compost has two environmental benefits. Firstly, it reduces the amount of food and garden waste that is sent to landfill, which in turn reduces the amount of methane – a greenhouse gas that is 20 times more potent than carbon dioxide – that is produced while it decomposes.

Secondly, when compost is added to depleted soils, it improves the structure and chemistry of the earth, reducing the need for fertilizers and helping things grow.

Compost improves plant yield, as well as the appearance and nutritional balance of crops. It also reduces the need to water the soil by an average of 30%.In 1994, three entrepreneurs recognized the benefits of compost and decided to set up Living Earth – a waste re-processing facility in Auckland, New Zealand. The company has grown to become the country's main provider of organic waste processing services and expanded to a second facility in Christchurch. In total, Living Earth processes over 100,000 tons of green and food waste a year.
Nothing goes to waste
Food and garden waste is collected from households and refuse stations across New Zealand and delivered to Living Earth's sites. The company's Auckland site is based on Puketutu Island, just south of the city, where a Volvo L120F wheel loader is the first to get stuck in, once the waste material has been through a shredding machine.

The 20t loader arranges the shredded material into piles, using an 8m3 Volvo bucket. With 164kN of breakout force, along with a high lifting and traction force, larger loads are moved using less fuel and lower emissions. The Volvo V-ACT D7E engine offers 180kW of power and high torque in lower revs, reducing fuel usage further while delivering high productivity.

A Volvo EC300DL excavator then regularly turns the piles, which are left for between 90-120 days, to maximize the amount of oxygen present in order for aerobic composting to take place. This is where microorganisms break down the organic matter to produce humus – soil that is rich in nutrients. The piles reach temperatures of 60°C, killing off any weeds, seeds and pesticide residues, leaving only healthy, useful, organic material.

The EC300DL excavator has been fitted with 800mm tracks for enhanced stability and extra guarding to protect its undercarriage. The machine is in operation for up to 12 hours a day and extra working lights have been fitted to allow operations to continue regardless of the season. The machine offers a maximum breakout force of 205kN, an operating weight of up to 33t and a 2m3 bucket capacity.

"We're pleased with the EC300DL," explains Living Earth's operations manager, Cory Berney. "Our relationship with Volvo goes back a long time and from an operational perspective, Volvo excavators are superior to anything else we've seen."
Getting the most out of every load
Living Earth's two sites have five Volvo Construction Equipment (Volvo CE) wheel loaders between them, including the L120F at the Auckland site, alongside an L90F, one L120F and two L70Fs in Christchurch. Once the compost is ready, the loaders are used to put it through a trommel screen that separates the material to get rid of any oversized particles. The compost is then either loaded straight onto trucks, bagged for resale or made into one of Living Earth's specialist mixes.

"Our latest L120F was delivered in September and replaces a previous E-series model that clocked 13,000 operational hours," Berney explains. "We were pleased with the fuel consumption of our last L120, but with the new one I am able to monitor fuel consumption very closely using MATRIS and it's currently performing better than we expected. In addition, we've gone for a larger 8 m3 Volvo bucket that increases each load's capacity by a third – further increasing productivity and speeding up our operations, while using no additional fuel."The machines are backed by Volvo CE's national dealer for New Zealand, TransDiesel. Berney adds: "TransDiesel's technicians are knowledgeable about the machines and any faults are taken care of quickly."

Contact Us
Thorsten Poszwa
Volvo Construction Equipment
Tel: +32 490 65 96 68
Email: thorsten.poszwa@volvo.com
Brian O'Sullivan
SE10
Tel: + 44 77 333 50307
Email: osullivan@se10.com