Australia's grain industry represents around a quarter of all agricultural exports and plays a vital role in the country's economy. CBH Group is one of Australia's leading grain organizations and it represents more than 4,500 grain growers throughout Western Australia (WA). Last year, CBH Group recorded its largest ever harvest, handling more than 15.8 million tons of wheat, barley, canola and oats. But high summer temperatures – reaching over 40°C – and thick, fine dust makes this a difficult environment. CBH Group relies on a fleet of 59 Volvo Construction Equipment (Volvo CE) wheel loaders to ensure the grain gets delivered around the world, on time.
Headquartered in Perth, the CBH Group is a co-operative – owned by growers – and covers 12 grain-growing zones across the southern part of WA. Its fleet of L60 E-Series and F-Series wheel loaders move the grain from storages onto rail or trucks, to be transported throughout Australia and the world. The grain is shipped overseas from four ports in WA and then processed into different food produce or used to feed livestock.
CBH Group has been using Volvo wheel loaders as its primary loading equipment for over 10 years. Leon Fallon, network resources manager of Operations, says: "With our product being so essential to people, we need a brand of wheel loader that we can trust." Each of the 59 Volvo machines moves around 200,000 tons of grain per year, working for 8 hours a day and has a lifespan of around 13,000 hours.
Caring for the environment
The CBH Group regards protecting the environment and conserving natural resources as an essential element of the company's operations. In 2008, a Sustainable Fleet Initiative – a program aimed at reducing the engine capacities and increasing the emissions ratings of all the vehicles and machinery used on its sites – was introduced at CBH Group. "Volvo products perform better all round," says Leon Fallon. "Our wheel loaders use less fuel than other brands – and they are more efficient compact machines for our working environment." Volvo's wheel loaders are characterized by lower fuel consumption and world class total economy. The F-Series range features a quiet, low-emission Volvo V-ACT D6E engine that delivers high torque near idle RPM. Teamed with the Automatic Power Shift (APS) function – Volvo wheel loaders always select the right gear for fast, efficient work cycles.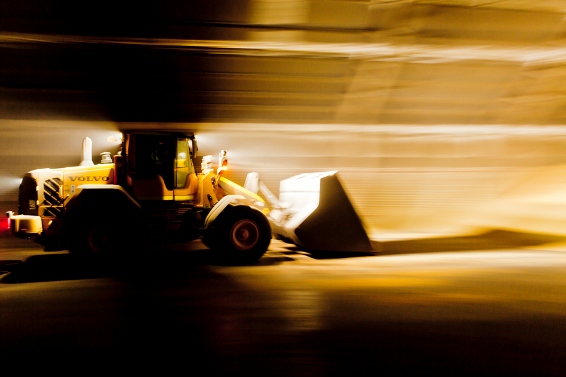 Service with a smile
With over-demand and under-supply issues throughout the global grain industry, CBH Group cannot afford to have its machinery out of operation – otherwise the world's food chain could be seriously disrupted. The company relies on Volvo CE's national distributor CJD Equipment Pty Ltd to keep its fleet of equipment up and running. "CJD Equipment has been a great business partner," Leon Fallon says. "The sales and service staff are very committed to us – and as a result we experience less downtime and more reliable machines."
Founded in 1974, CJD Equipment is also headquartered in Perth, WA, and has a network of sales and service centers to cover Australia from coast to coast. Its team of over 500 employees are highly trained – and experienced service technicians aim to be on-site within 24 hours to resolve any fault or maintenance issue. "We've always received excellent service from CJD," Leon Fallon adds.
Operating in comfort and style
Volvo's range of wheel loaders offer unrivalled operator comfort, with fully functioning in-cab climate control that keep operators cool – even in the blistering temperatures of the WA's summertime. The cab is designed to allow the best visibility, featuring wrap-around glass and a rear-view camera. Safety is at the heart of Volvo and the entire machine is built with the operator in mind to ensure safe access and maintenance in any jobsite conditions.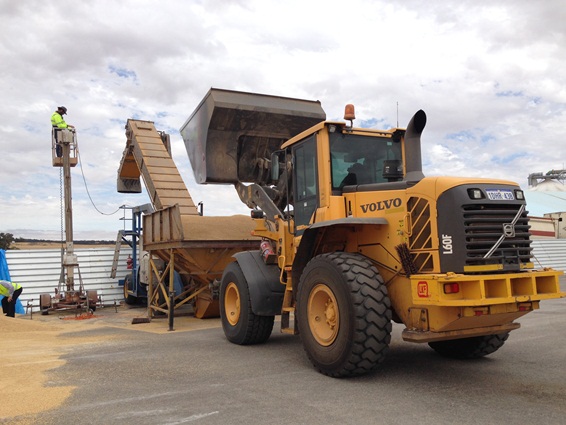 "By keeping our operators comfortable while they work, they are more engaged in what they're doing," explains Leon Fallon. "This leads to a more productive workforce – that contributes towards our bottom line." The CBH Group has been in existence for over 80 years, and Leon Fallon hopes that the company's relationship with Volvo CE and CJD Equipment will continue long into the future.

Ends.
Text: Fiona Gardner
March 2014
For further information, please visit: www.volvoce.com/press
Or contact:
Mats Edenborg
VP, APAC Corporate Communications
Volvo Construction Equipment
Tel: +65 6412 2804
Email: mats.edenborg@volvo.com

Holly Brace
SE10
Singapore
Tel: +65 9724 4871
Email :holly.brace@se10.com