From left: Yaşar Üstün, Service Technician, Ascendum; Esat Gül, CST Manager, Ascendum; Tarik Koyuncu, Raw Material & Construction Machinery Manager, Çeliktaş; Nihat Tekin, Customer Solultions Engineer, Ascendum; Berker Bayrak, Sales Support Engineer, Ascendum; Ali Hamza Özen, Service Technician; Ascendum
Running a 24/7 operation can be a daunting task, especially in the mining industry. Çeliktaş Industrial Sand Company in Turkey produces silica sand for the foundry and construction chemicals sectors, and the company's mining operations demand equipment that can handle heavy loads with minimal downtime.
Tarik Koyuncu, raw material and construction machinery manager at Çeliktaş, knows first-hand the challenges of operating a mining facility. "All our equipment should work without interruption, and we need low fuel consumption. Fuel is the primary expense when operating construction equipment. Our construction equipment must be powerful, have fewer breakdowns, and have a low total cost of ownership and operation. These costs are the most important factors."
To address these challenges, Çeliktaş has been using wheel loaders from Volvo Construction Equipment (Volvo CE) since 2008. Starting with the L90F wheel loader, the company has used various models and now employs several L220H wheel loaders.
Besides the reliability and built-in fuel efficiency of the L220H, a Volvo Service Agreement from local dealer Ascendum has been crucial to ensuring performance at the highest level. The Volvo Advanced Service Agreement enables Çeliktaş to monitor the overall performance of the equipment, fuel costs, and how the operators use the machines.
"At every Volvo Advanced Service Agreement service, MATRIS reports are being prepared and forwarded to us," says Koyuncu. "Via the MATRIS reports, we can see the reasons for fuel cost increases, duration of idling modes, and duration of working modes. In consultations with Ascendum staff, the reasons for these are monitored, and we can minimise our fuel costs."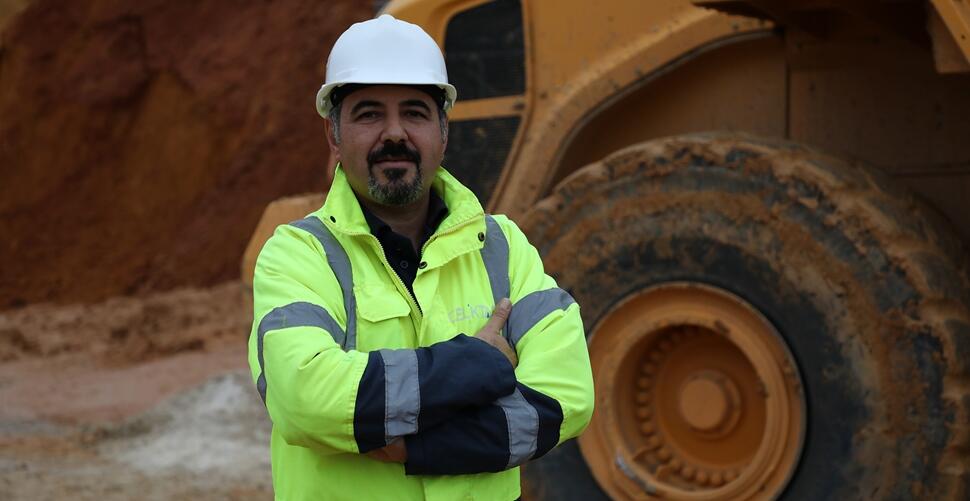 Tarik Koyuncu, Raw Material and Construction Machinery Manager, Çeliktaş
Effective preventative maintenance
Volvo Advanced Service Agreements offer comprehensive maintenance services, spare parts availability, and access to trained technicians for Çeliktaş's equipment. "Good maintenance is about catching the breakdown and finding a solution to it before it happens," says Nihat Tekin, customer solutions engineer at Ascendum.
"We aim to prevent potential malfunctions through regular machine checks and tests. We focus on machine performance at the highest level. Thanks to Volvo Advanced Service Agreements, by combining maintenance inspection reports with oil analysis and MATRIS reports, we aim to keep the total cost of ownership and operation at the minimum level and ensure minimum fuel consumption."
One of the most significant benefits of the Volvo Advanced Service Agreement is the oil sample analysis. Iron dust and burrs are detected during this process, and immediate action can be taken to prevent further damage.
Koyuncu recalls a time when an issue was detected during an oil sample analysis, and the necessary checks were made before the problem escalated. "The differential part was dismantled, and it was found that only one ball was damaged and worn. The cost was taken care of with a small part replacement at the very beginning, before it escalated. This was impressive. Ascendum intervened from the very beginning," he said.
Trusted partners
The partnership between Çeliktaş Industrial Sand Company, Volvo, and Ascendum has been a remarkable success story. By implementing a Volvo Advanced Service Agreement and regularly monitoring the performance of Celiktas' equipment, the team has been able to optimise the machinery for fuel efficiency and minimise downtime, ultimately improving productivity and profitability.
As Koyuncu puts it, "Volvo CE and Ascendum are very important partners for our business." It's clear that this partnership has allowed Çeliktaş to focus on what matters most: producing high-quality silica sand for its customers while maintaining a sustainable and profitable operation.
With this kind of collaboration, it's no wonder that Volvo and Ascendum are trusted names in the construction equipment industry, providing innovative solutions that help businesses thrive.