Volvo Construction Equipment (Volvo CE) aims to deliver the industry's highest levels of customer uptime and profitability. Besides the reliable build of its machines, the added value of its services, and the world-class competence of its dealers, parts availability plays a vital role.
"If a machine cannot work because it is waiting for parts, it becomes a drain on resources rather than helping the customer to earn money. This is something we absolutely want to avoid," says Jesper Uhlin, Service Market Manager for the Middle East at Volvo CE.
In 2006 Volvo Group sought to reduce delivery times to dealers in the Middle East from the Central Distribution Center (CDC) in Ghent, Belgium, by establishing a Regional Distribution Center (RDC) in the strategic location of the Jebel Ali Free Zone in Dubai, UAE.
The 8,000 m2 warehouse stocks around 50,000 spare parts for five Volvo entities in the region: Volvo CE, Volvo Trucks, Volvo Buses, Renault Trucks, and Mack Trucks. Volvo CE parts constitute just under a third of the inventory with approximately 12,000 part numbers.
The top 500 fast moving parts for Volvo CE are maintained at 93% availability, while overall availability hovers at 88%. Parts on backorders are recovered within 11 days of placing orders with the CDC in Ghent.
The site in Jebel Ali has excellent road network connections within UAE and to other Gulf countries so that almost 75% of shipments can be transported to dealers by truck, simplifying and shortening the logistics.
The RDC coordinates with Volvo CE dealers using the Syncron based MMI (Manufacturer Managed Inventory) tool, which helps both dealers and the warehouse to replenish the right quantities at the right time. This avoids dealers having to maintain excess inventory, improving the health of the stock.
Same-day dispatch
Since its opening, Volvo Group has invested considerably in the RDC in Dubai, while its staff are constantly striving for continuous improvement. Whereas in 2013 the lead time for parts available in stock was 168 hours or five days from order to dispatch, today it is under eight hours.
Since 2017, the RDC has extended the cut-off time for stock orders from 1pm to 2pm for local dealers and from 7am to 9am for international dealers. Stock orders before these cut-off times are picked, packed, and dispatched on the same day by 4pm.
Vehicle off-road (VOR) orders, meanwhile, have a cut-off time of 3pm and are still dispatched on the same day. The RDC has dedicated staff to handle these kinds of orders. They are identified by the red colour of their uniforms and are given the highest priority in picking and utilisation of resources. These staff are also trained on end-to-end processes and are empowered to take decisions by themselves to ensure efficiency.
If the part is not available in the RDC, a direct ship process follows where the orders are transmitted to the CDC in Ghent and delivered directly to the dealer. This helps reduce the lead time to process VOR orders and ensures uptime for customers.
Kaizen is key
The Japanese improvement methodology Kaizen has been a vital tool in the RDC's success. "We put a lot of efforts into 'going to Gemba', which is spending time on the shop floor to see the real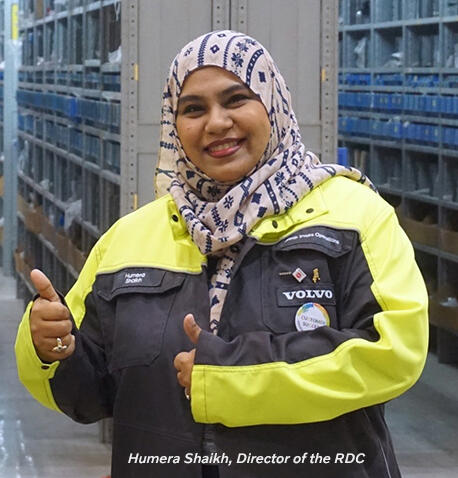 problems we face, talk to everybody involved, and truly understand what is going on," says Humera Shaikh, Director of the RDC.
The next stage is value stream mapping. The team maps all the processes step-by-step to see what can be done to reduce time from order to dispatch, eliminating any hindrances or waste.

"For example, we have a very clean, traffic flow. We have one way traffic and stations set up so we don't have lots of machines driving around and colliding. We also have a pull, rather than a push, system for ordering so that orders do not accumulate in one station," Shaikh explains.

The team has also established a flawless process for import documentation, so that no trucks are waiting at border crossings due to incomplete paperwork.
A benchmark in quality and safety
Today, the RDC is considered a benchmark in quality and safety for the entire Volvo Group, and has received awards and accolades, including 'Platinum level' in the Volvo Production System (VPS) assessment and the Group Trucks Operations (GTO) Quality Award in 2018, and the Volvo Health, Safety & Wellbeing Award in 2020.
Quality is measured in parts per million (PPM), which indicates failures in a million order lines. Failures can occur due to picking inaccuracies, packing discrepancies, or damage of goods in transit.
In January 2014 the RDC's quality performance level was at 3,500 PPM. Today, it is just 225 PM. This means only one error for every 4,500 order lines and the RDC is handling an average of 3,000-3,500 lines per week. Volvo CE parts constitute approximately 1,000 lines per week.
Safety also plays a vital role in maintaining short lead times and high quality. So far the RDC has gone eight years with no lost time due to accidents – a remarkable achievement.
"Safety is a cornerstone of Volvo's brand identity," Shaikh says. "It is important to us to instil a mindset where everyone takes care of themselves and those around them."
To encourage staff to identify and report unsafe conditions and behaviour, and take immediate action to rectify them, the RDC has gamified the process. Staff participate in a 'safety race' competition, where each team is awarded one point for problem detection and two points for problem-solving. The teams' progress is then visualised on a symbolic racetrack.
"The safety race has been a great way to get everybody engaged with the topic of safety and involved in suggesting and implementing improvements for the benefit of all staff," she adds.
Sharing best practices with dealers
The next step for Volvo CE is to share the lessons learned from the RDC with certain dealers and help them to implement the same continuous improvement methodology that has proved so successful for Shaikh and her colleagues.
"There is a limit to how much we can do to decrease lead times within our operations, but we can improve our end-to-end thinking with dealers, together as an extended enterprise," she explains.
"We can do similar value stream mapping with them to have a clear picture of what happens after the parts reach them. How can they make the lead time shorter for the customer to purchase the part? How can they improve quality? Are there any constraints in terms of packaging? Is there anything we could do at the RDC to further improve the packaging and logistics setup for them? We can also help them arrange parts in the way we have done based on machine movements and introduce initiatives to improve safety awareness."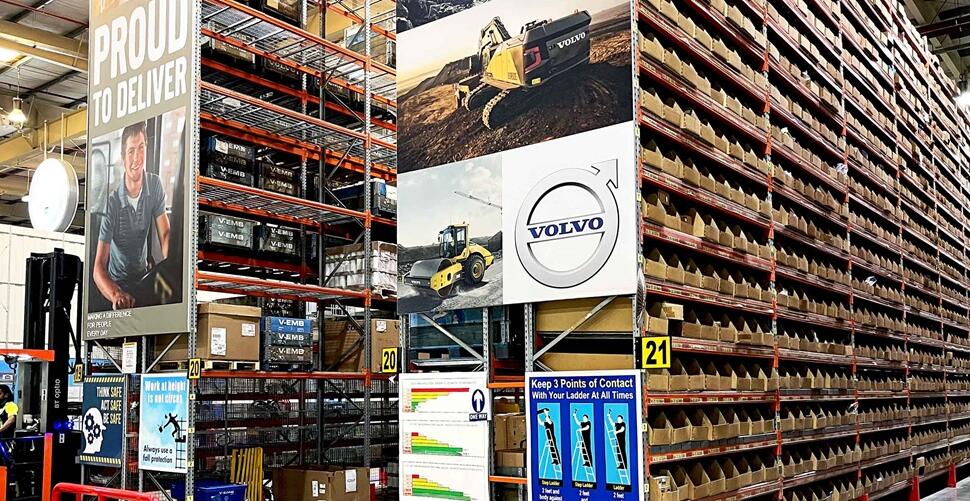 The team at the RDC in Dubai strive for continuous improvement and, as leaders in quality and safety among the Volvo Group, are now helping others to learn from their experience for the benefit of customers overall.
Direct shipment programmes
In some cases, Volvo CE can get parts to dealers quicker, cheaper, and with less environmental impact by bypassing the RDC and shipping them directly from the supplier.
"Where dealers only need a few small parts, the RDC offers a simple, convenient, and reliable service to replenish their inventory. However, for really heavy parts, such as undercarriage parts, or extremely high-volume parts, such as filters, it makes sense to skip two stages in the chain – the CDC in Ghent and RDC in Dubai – and ship parts directly to the dealer," Uhlin explains.
"This is used quite a lot in the Middle East and, when used correctly, has a positive impact on logistics, pricing, lead time, resources, and carbon footprint. It's all about balancing dealer stock levels and optimizing logistics flows," he continues.
Whether parts go through the RDC or directly to dealers from the supplier, Volvo CE is pursuing different approaches according to customer needs and striving for continuous improvement to ensure high-quality parts are always available to them, so that their machines stay up and running and earning.