This new model variant promises to deliver the same exceptional levels of productivity and profitability found in the existing SD110C soil compactor, while allowing customers to take on an even wider variety of projects and applications
Top grade versatility
With flexibility in mind, it comes in two new configurations to ensure customers are able to deliver excellent results for any compaction job. Firstly, it comes with drum drive-type propulsion for use on steep job sites, such as building levees or dykes, and slippery or poor under-wheel site conditions. The additional drive motor is mounted on the drum frame, delivering increased traction and gradeability, enabling the machine to comfortably climb slopes up to 50%without any wheel spin.
Meanwhile the second configuration provides uniform compaction of more cohesive materials such as clay and silt when fitted with a new bolt-on padfoot shell kit option. Just like smooth rollers, padfoot rollers generate static pressure, vibration and impact on the materials. In doing so, they generate a manipulative force that allows the tapered pads to penetrate and compact the material to build up the soil's strength, break the natural bonds between the particles of cohesive soil and therefore achieve greater compaction results.With this option, customers can expand the range of materials they can work with to include soils with more than 50% cohesive material and a greater percentage of fines.
New design, strong foundation
The new Volvo SD110CD is a formidable variant of the versatile, reliable and durable SD110C single drum compactor –launched last year to replace its predecessor, the Volvo SD110B. Both of the older variants come with axle drive-type propulsion. Created specifically for the Indian market, it is designed to help you achieve maximum return on investment and is packed with features including a powerfully efficient engine. Built on its proven success, customers can now count on the SD110CD to comfortably deliver the same outstanding results across a wider range of applications.
Slightly heavier than its sister machine, the SD110CD has an operating weight of 11,200 kg. With a drum width of 2.1 meters, the well-balanced and stable machine maintains confident contact between the drum and tires and the material surface, further contributing towards a productive performance. Highly maneuverable with +/-40° of articulation and +/-17° of oscillation, the result is fast and effective compaction, even on uneven terrain.As with the existingSD110C, the new Volvo variant delivers a frequency of 0-30 Hz and a centrifugal force of 243 kN on high amplitude and 130 kN on low amplitude –boasting the highest centrifugal force in its class.
It is the optimum choice for customers looking to reduce both their environmental impact and operating costs, with further fuel saving features including the optimized hydraulics and a vibration system which helps to quickly achieve optimum density.
All of these features can be found in both configurations of the new SD110CD.
The perfect balance
With the highest levels of Volvo quality built into every component, the SD110CD is a reliable and durable machine designed to work harder for longer, helping customers achieve the maximum return on investment. This is demonstrated through its robust drum assembly, strong center joint and wider front wider front bumper, including semi-automatic special purpose machine-welded seams. The durably designed eccentric assembly further contributes to a long service life.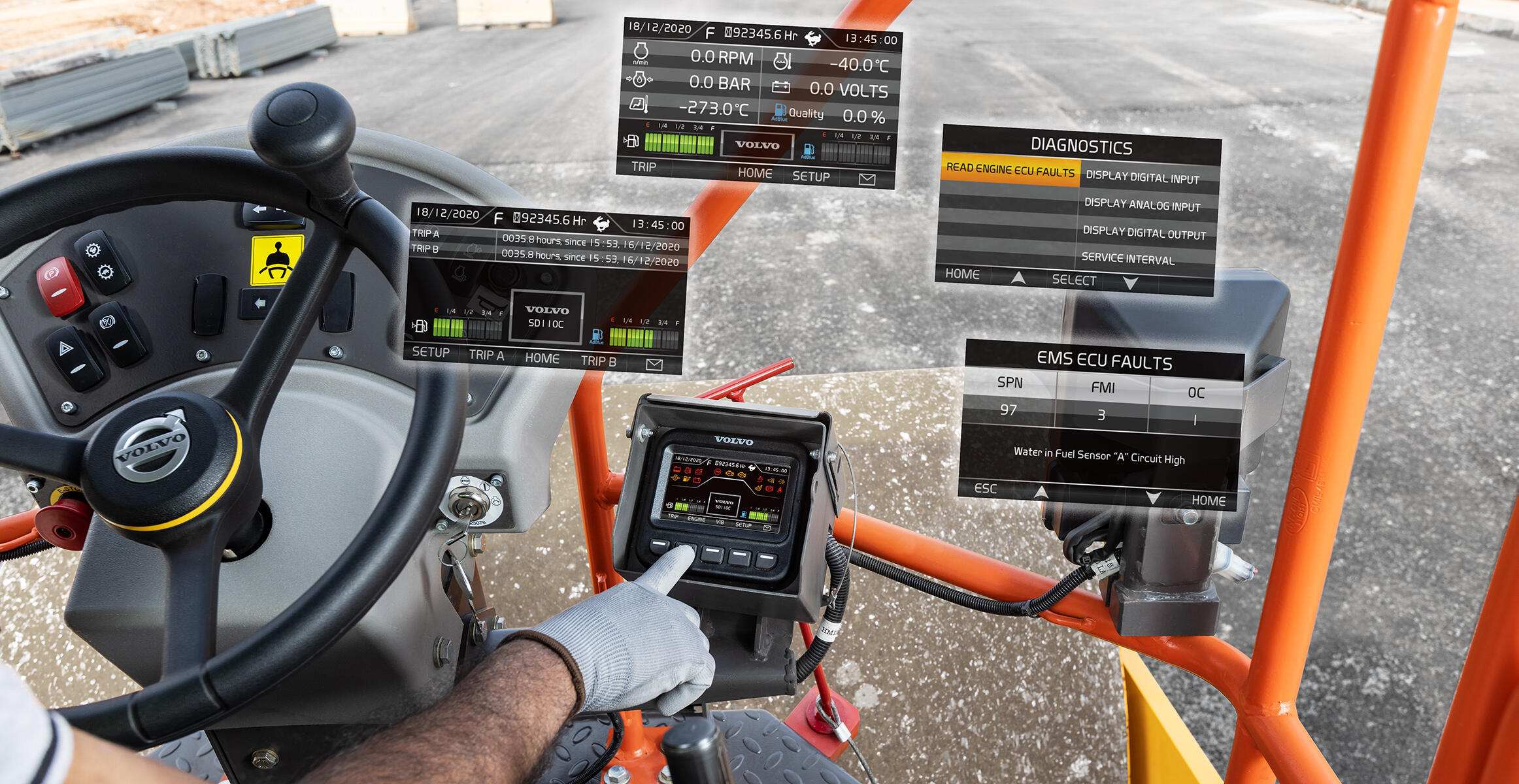 In addition, the in-cab display, which puts vital machine information in clear view, helps operators unlock the full potential of the machine with real-time data on travel speed, trip meter, total working hours, engine rpm and high coolant temperature indicator. The operator experience is made comfortable with an adjustable/sliding seat, generous amounts of space and storage and easy-to-reach controls including a propulsion control lever with integrated vibration switch for enhanced precision and control.
It is also designed for efficient maintenance and inspections. The engine hood lifts up, providing ground level access to the engine and hydraulic components, while key service check points are grouped on one side of the compactor to reduce downtime.
The new variant SD110CD from Volvo CE is the perfect balance –offering all the durable design and outstanding features of the original model, but with the added versatility to comfortably take on a much wider range of jobs, no matter how steep or challenging the site conditions.