The ability to deliver more for less
Assisting the Company in daily operations are three Volvo machines - an EC300DL Excavator, a SD110 Soil Compactor and DD90B Asphalt Compactor. While the EC300DL excavator is active at the crusher quarry, the compactors are busy laying out brand new roads in the area. It is hard work, day in day out, but the Volvos are going about their job without complaint. "When it comes to productivity and reliability, it's not just difficult to beat Volvo...it's impossible," says Praneeth Reddy. "These machines can achieve desired outputs hour after hour...for years."
According to him, Volvo equipments last longer because they are built stronger and they work better because they are technologically superior. He believes the fuel-efficiency demonstrated by these machines give them a distinct edge in the market. "Think about it. Fuel is a daily cost. With Volvo, you can achieve the same outputs with less fuel consumption. It means on daily basis – you save on operating cost with no loss in productivity. And that means – returns on investment in no time!" he says.
The many wonders of trust, value and service
Spares and maintenance support for Siva Sai Construction's Volvo fleet is provided by local VolvoCE dealer, Ramanand Power Systems Ltd. Praneeth Reddy is pleased with the personalized service and attention his Company gets from the dealer. "They are professional, courteous and very efficient," he says. "If there is an issue, they sort it out faster than you expect. They are truly most reliable, no doubt about it."
As a respected Business Head, Praneeth Reddy's views and recommendations carry weight with peers and contractors in the area. He strongly urges them to consider Volvo equipments as integral part of their fleet. "The way I see it, Volvo machines have worked wonders for my business for years in trust, value and service. If I can help my friends and well-wishers work wonders in their business as well, why not?" He signs off with a smile.
Siva Sai Constructions and Volvo – A partnership built on trust, value and service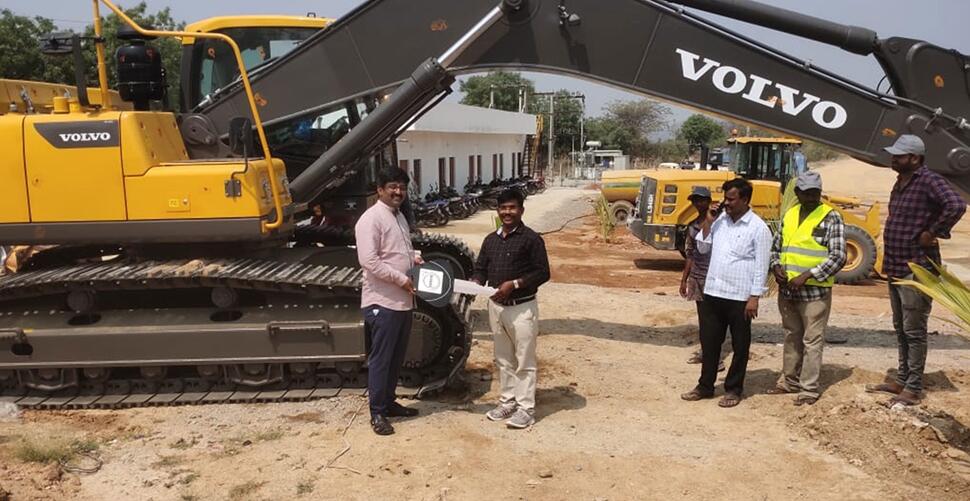 Volvo Excavator and Compactors are helping Siva Sai Constructions blaze new trails of growth and success in road building