And so the Kaleshwaram Lift Irrigation Project was born – an elaborate network of barrages, tunnels, canals and pump houses - to lift waters of the Godavari from reservoirs downstream to not just lakhs of acres of fertile lands upstream, but to industries and homes as well located several hundred kilometres away. "It's the largest, most ambitious and innovative project of its kind – not just in our country but the world," says Dixith Rao."One runs out of superlatives describing its scale and scope. All I can say is, we feel proud and privileged to be part of it."
When the going gets impossible, VolvoCE makes it possible
Assisting Expressway Services in its operations at the Kaleshwaram Lift Irrigation Project is a vast fleet of Volvo Construction Equipment. These include among other machines a full range of excavators - an EC200, two EC210s, nine EC300s, five EC380s and eight EC480s. Day in day out, they are on the job – cutting through acres of hard rock and digging deep into the earth through a differentiated strata of sand, stiff soils and gravel. "The kind of output these Volvos deliver - it's quite amazing," says Dixith Rao. "Especially when you consider the rough conditions and tough deadlines, we operate in."
According to him, the Volvo EC480 excavator stands out as a machine of choice for large irrigation projects. He believes it can easily do 4000 cum of earthwork in 20 hours per day with little stress. This, he feels, is a game-changer in a business where high productivity and low machine downtime mean everything to protect and grow margins. And when one considers standard features of every Volvo Equipment - robust construction, best in class fuel efficiency and unmatched reliability - it only strengthens the case, he adds.
Apart from Kaleshwaram, Expressway Services is also active in the Palamuru Rangareddy Lift Irrigation Project. The Firm has established itself as a benchmark in the region. "Yes, we are clinching more tenders and work orders than ever before against some stiff competition," says Dixith Rao. "You can say we have emerged the go-to Company for executing challenging irrigation projects on time. All credit to our fantastic team and of course, our Volvos!" He also has a good word for local VolvoCE Dealer – Ramanand Power Systems Pvt Ltd. "They provide effective aftermarket support with ready spare parts and ensure maximum machine uptime by posting a dedicated service engineer at site. With them around, it's complete peace of mind."
Expressway Services is looking to replicate its successes in irrigation projects in other sectors as well. There are plans to foray into road building and mining. While the Company's order books are already swelling at four times the current turnover, Dixith Rao believes the action has only just begun. "Lifting higher with each project – it's not just an attitude, but a way of life for all of us. And with the range of Volvo equipments we have, there's no telling how high we can lift ourselves." He signs off with a smile.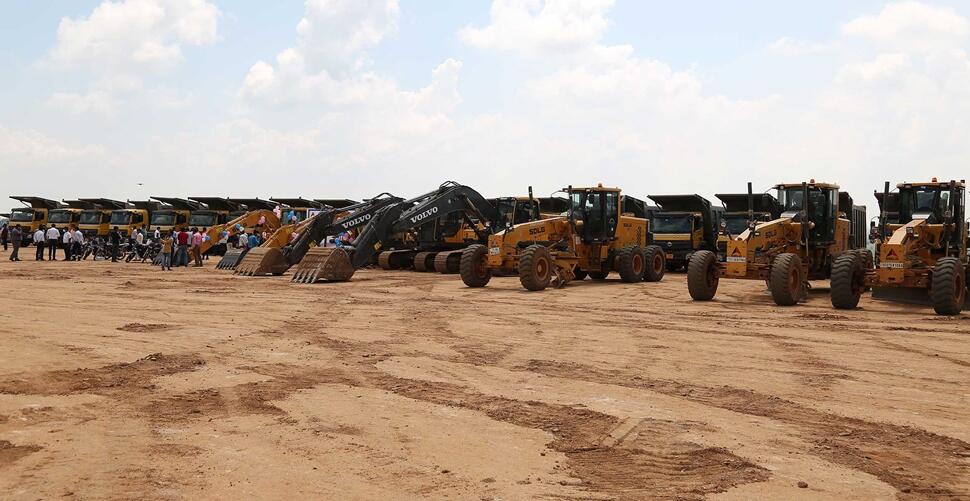 Volvo Excavators have gained high visibility at the Kaleshwaram Lift Irrigation Project for their outstanding performance.