Based out of Nizamabad District in Telangana State, Geo-Tech Infrastructure undertakes infrastructure development works for its clients across Telangana and in neighbouring states. The Company owns and operates its own stone quarry in Nizamabad along with two crusher units producing aggregates for building and road constructions. "We are also active in other important development works," says Sudhakar Reddy. "One of them is a railway line-extension project on the Ranchi-Singarauli stretch in Jharkhand."
It takes two to make a difference
Two Volvo Excavators assist Geo-Tech Infrastructure in its operations – an EC 210D solely for stone quarry and an EC 300DL with vibro-ripper attachment, exclusively for the railway project in Jharkhand. It's tough job - day in day out - for both excavators, cutting into hard rock and digging out massive boulders. "The railway project is quite challenging, because it involves harsh hilly terrain," says Sudhakar Reddy. "But our Volvo with vibro-ripper is doing a phenomenal job – like only a Volvo can do."
He believes that when it comes to productivity, fuel-efficiency and reliability, Volvos are way ahead of the pack. "It's a win-win combination that no business in infrastructure development can afford to ignore," he says. "On one hand, you achieve much better cost of production, and on the other, you save substantially on operating costs resulting in a big boost to both top and bottom lines." According to him, Volvo equipments are built tougher to last longer and they are designed to ensure safety and comfort at all times in any work environment. This, he believes, assures high machine uptimes and low overall maintenance costs.
All for one and one for all
Maintenance and service of Geo-Tech Infrastructure's Volvo machines is undertaken by local Volvo CE dealer, Ramanand Power Systems Ltd. Sudhakar Reddy is pleased with the personalized attention his Company gets from the dealer. "They are a special lot - absolutely professional and efficient," he says. "If there is any issue, you can be sure they will sort it out in double-quick time."
While Geo-Tech Infrastructure has come a long way forward since inception, it sees brighter prospects ahead. With new opportunities emerging on the infrastructure landscape, the Company is determined to seize as many as it possibly can. But there is more to Sudhakar Reddy than meets the eye. He is as devoted to charity work as he is to his business. "We have to give back - at least a part of what we get. I am only doing my bit," he says modestly. As for his business, he is all set to purchase two new Volvo machines in the next month. Why Volvo? His answer is simple. "The rewards are multiple when it's Volvo. Besides, persistent customers always look for consistent performers." He signs off with a smile.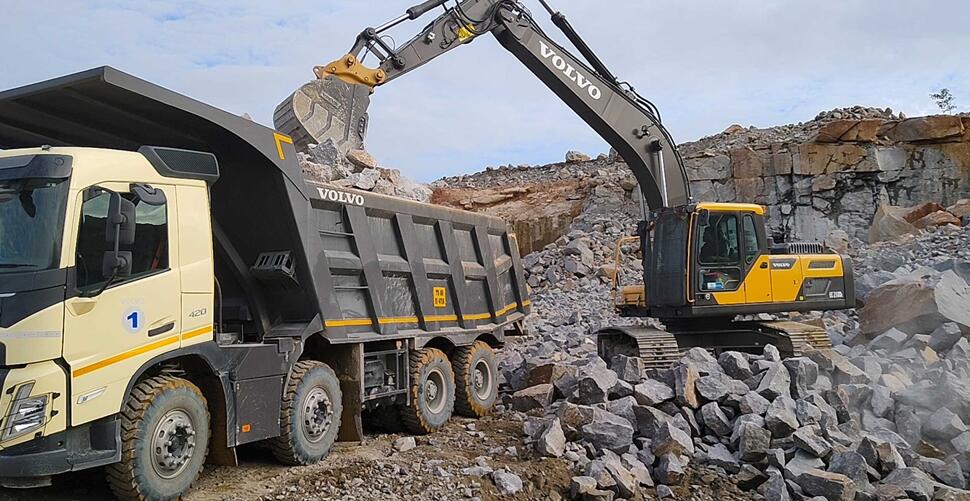 Volvo Excavators are leaving no stone unturned to deliver value for money for Geo-Tech Infrastructure