On any given day, you will find at least one Volvo equipment of AM Guddodagi Constructions at work in the districts of Vijayapura and Bagalkote in Karnataka
A Class 1 Contractor, Annappa M Guddodagi runs his multi-domain infrastructure Company from Vijayapura in North Karnataka. The Company is actively engaged in infrastructure building – from rock and soil excavations and quarry works to road and bridge constructions and canal projects - primarily in Vijayapura and Bagalkote Districts. "Over the years, we have successfully executed many Government projects – both at State & Central levels," says Annappa Guddodagi.
Making an impression, in more ways than one
Assisting AM Guddodagi Constructions in daily operations is an imposing fleet of Volvo Equipment. It includes nine excavators in the 14 ton-30 ton range, nine soil & ssphalt compactors, two pavers, a pneumatic roller and motor grader. They are on the job at different locations – at the Company's blue metal quarry, at various road constructions and canal works in the two districts. "Even after years of unmatchable service a Volvo just won't give up," says Annappa Guddodagi. "Our EC 300DL Excavator has clocked over 19,000 hours and still doing very well."
According to him, whatever the condition or the terrain, Volvo equipments leave no room for doubt in terms of productivity, fuel efficiency and reliability. He believes every Volvo machine is designed to be cost-effective and profitable for the owner; safe and comfortable for the operator. He is convinced the Volvo brand is in a league of its own. "The way I see it, there are all kinds of construction equipments. And then, there is Volvo," he says.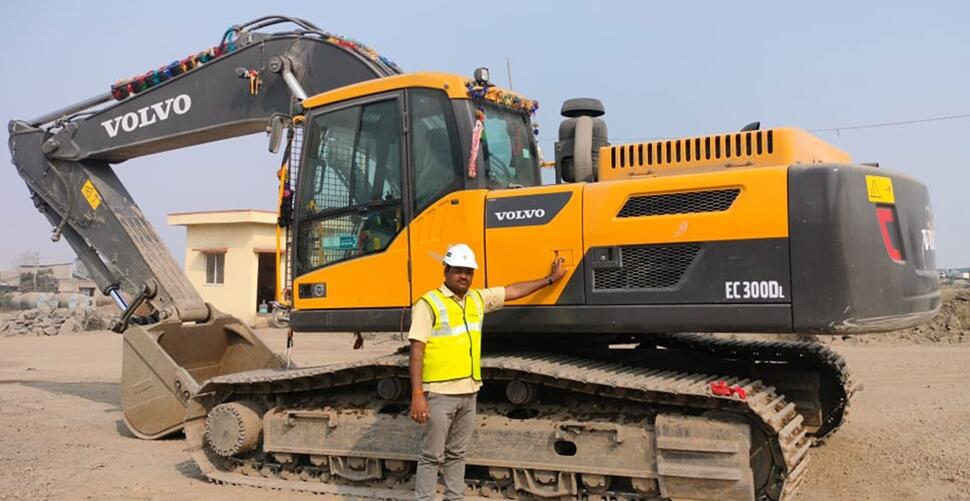 Let the good times roll into the future
Spares and service support for the entire fleet of Volvo machines at AM Guddodagi Constructions is managed by local Volvo CE dealer, Encore Heavy Machinery Private Limited. Annappa Guddodagi is pleased with their overall service. "They only add to that special Volvo experience" he says.
As a highly respected Class 1 Contractor and as the first customer of Volvo Equipment in Vijayapura District, Annappa Guddodagi's words carry both weight and meaning. He has actively championed the use of Volvo machines among his peers. "Volvo has done a world of good for my business over many years. And what's good must be shared with friends after all," he says.
As AM Guddodagi Constructions looks ahead to explore new opportunities in road building and other infrastructure projects, Volvo construction equipment will continue to be part of the action. Annappa Guddodagi sums up with a smile. "Our relationship with Volvo can be summed up in a line – the farther we go, the closer we get."
AM Guddodagi Constructions and Volvo – All about keeping good company