And so the iconic 'Missing Link' Project was conceived by the Maharashtra State Road Transport Corporation to bypass the existing Khandala Ghat Section. It involves construction of two tunnels and viaducts, three bridges, tube and rectangular culverts, 4+4 lane highway and 100 metres right of way. Once completed, it would reduce travel distance between Mumbai and Pune by six kilometres, shrink travel time by a good half an hour and more importantly, do away with the gridlock on the ghat section. "As they say, the best way out is the way through," smiles Radhakrishnan Nair, Senior Manager–Operations, P&M, Navayuga Engineering. "We are honoured to be entrusted with the task of building the tunnel stretch for the 'Missing Link' Project."
Digging deep with high hopes
Navayuga Engineering is constructing two tunnels of varying lengths, each tunnel comprising two tubes of four lanes each. The tubes measure 25 metres in width each – among the widest in the world. The tunnels are being dug at depths of up to 150 metres, right under the picturesque hill station of Lonavala. Assisting the Company in its operations is a fleet of Volvo Construction Equipment. It includes one EC290 and two EC300D Excavators, two L220G and three L180F Wheel Loaders.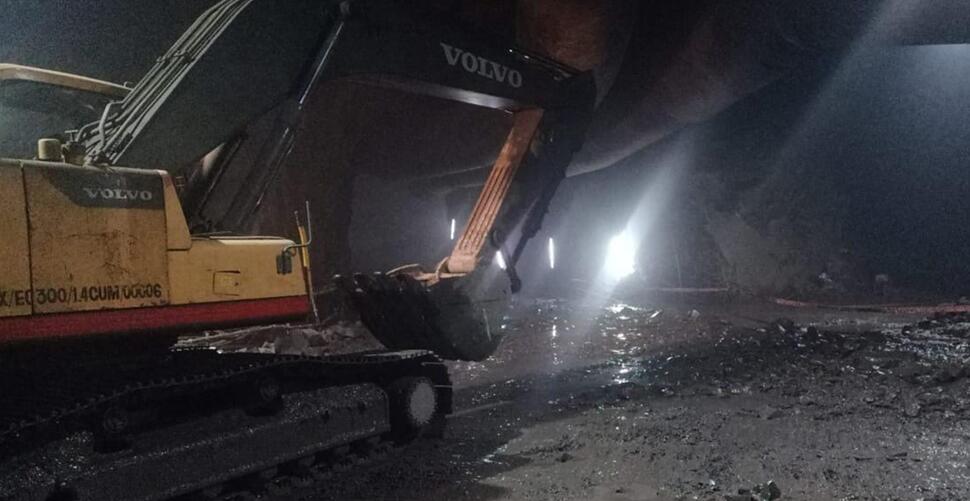 "It's very tough job, no doubt – finding a way through the mountains," says Rajendra Prasad. "Only we don't feel it – thanks to our Volvos." According to him, Volvo equipments possess an uncanny ability to ease work pressure, particularly in extreme conditions. "They operate smoothly even if regular service schedules are not adhered to, unlike other machines," says Anil Kumar. He believes Volvo machines are a notch above the rest when it comes to speed and reliability. "And they ensure unmatched operator safety and comfort – which matters a lot in deep tunnel work," adds Radhakrishnan Nair. His colleague Madhav Chinta, DGM-Purchase & Finance, sums it up well. "Actually, it is all reward and no risk with Volvo Equipments. Now you know why we stay invested in Volvo."
Dreaming new possibilities
Backing Volvo machines at the 'Missing Link' Project is complete aftermarket support from Volvo CE along with local dealer DRS Earthwork Pvt Ltd. It includes ready supply of spares and service to help maximise machine uptimes in demanding conditions. "They resolve even before we raise the problem," says Anil Kumar. "That's how good the support is."
Navayuga Engineering is powering ahead to create new benchmarks in infrastructure development on a global scale. The Company is bidding aggressively for challenging projects in unforgiving terrains, across the country and abroad. "In fact, greater the challenge, stronger is our determination," says Rajendra Prasad. "Look around at some of the most iconic projects and you will find our name associated with quite a few of them." The 'Missing Link' Project on the Mumbai-Pune Expressway is one. Radhakrishnan Nair sums it up with a smile. "Remember, iconic projects are built with iconic equipment. So wherever we go, there will be Volvo."
Navayuga Engineering and Volvo CE – a brave new world of unending possibilities