Believing that true change starts with us, Volvo CE is showcasing the people who are leading industry change and driving progress in the areas of sustainability, electromobility and service solutions – and in doing so discovering the motivation that propels them forward.
In this first story – unveiled today by Volvo CE during a preview of its plans for the CONEXPO global construction trade show in March – we introduced someone with a modern approach to farming, an early adopter of zero-emission construction solutions to bring us closer to a carbon-free world. Jennifer Milikowsky is a wildlife conservationist turned farmer from New England, USA, who is driving the sustainability conversation forward by incorporating it into every aspect of her business and life.
Cultivating a more sustainable future
It is this ambition that inspired her to put to work a zero-emission Volvo ECR25 Electric compact excavator, the first electric machine from Volvo CE to be delivered to the USA, on Walden Hill, her Massachusetts farm dedicated to providing customers with local, sustainable and premium quality food.
She says: "We have so many different projects here at the farm and several of those we hadn't implemented yet because it felt so incongruous in my mind to use a diesel machine to work on a project that was to enhance our sustainability. So, the Volvo electric compact excavator has really helped us feel so much better about finally moving forward with a lot of these projects that are conservation and sustainability focused."
The versatile ECR25 Electric is used for everything from grading farm roads and putting in culverts through to clearing and moving logs to process firewood and collecting acorns to feed livestock. The advantages of zero exhaust fumes, near silence and more comfortable operation add further incentives to use the compact machine for a multitude of tasks around the farm. Those coming to ConExpo can find out more about how these machines have performed on the farm from Jennifer and husband Tylan themselves – as they will be there at the Volvo booth.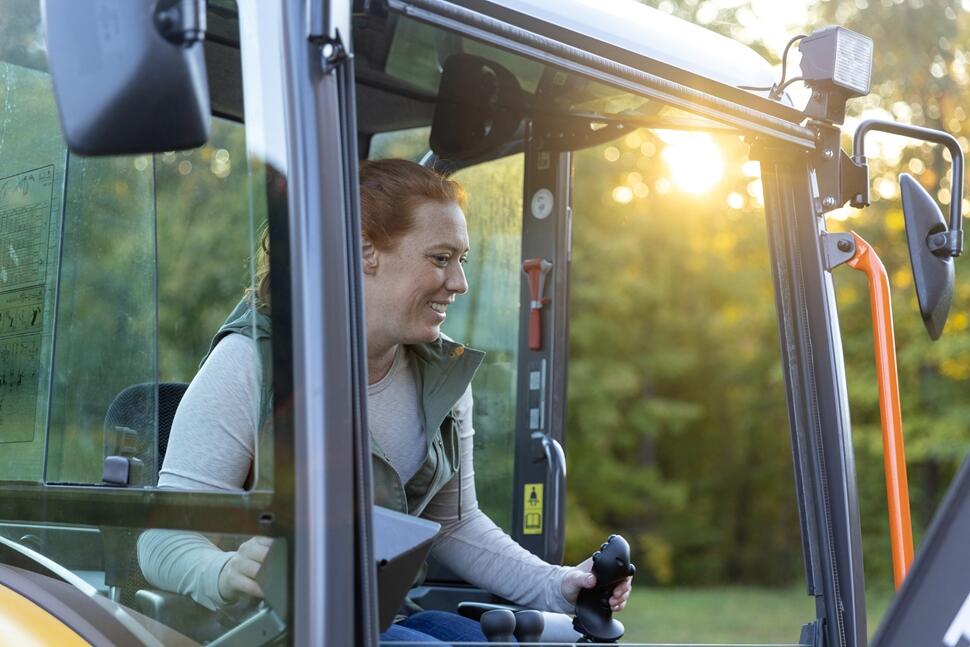 Jennifer uses the zero-emission ECR25 Electric compact excavator for a variety of projects on the farm.
The power of change
Jennifer's story is one example of many new customers adapting to more sustainable ways of working through the use of Volvo CE's zero-emission electric machines. The ECR25 Electric is one of five compact models available across selected global markets. The others are the ECR18 Electric and EC18 Electric excavators and the L25 Electric and L20 Electric wheel loaders. These compact machines form part of a wider range of electric solutions by the company – one of the largest in the industry – that also includes the mid-size 23-ton EC230 Electric excavator and the newly unveiled DD25 Electric asphalt compactor.
These battery-electric solutions are one of several approaches Volvo CE is taking to achieve its industry-leading aim for net zero value chain greenhouse gas emissions by 2040 – as validated by the Science Based Targets initiative. The company also advocates for internal combustion engines powered by biofuels like hydrogen and is also developing hydrogen fuel cell solutions for heavier equipment like the concept HX04 hydrogen fuel cell articulated hauler prototype.
Change Starts Here
This electromobility roadmap illustrates how change does not happen in one day. It starts with strong ambitions and powerful technologies, but it takes clever partnerships and innovative people to keep it moving.
When Volvo CE launched the new communication concept Change Starts Here in 2022, it was a way to create awareness about the importance of change and of building the world we want to live in through sustainability, electromobility and services. And now with this new video series, the company is showcasing the power of people just like Jennifer to not only achieve our goals but to take the lead in our industry transformation, together in partnership.
Further stories will be unveiled in the coming months on Change Starts Here.