Volvo Construction Equipment (Volvo CE) is showcasing its groundbreaking innovations in connected, automated and electrified construction machinery at bauma CHINA 2020. Some of these technologies are already available to customers today, while others are being implemented or part of the company's innovation strategy.
Connectivity and remote monitoring
Among the exciting innovations already available to customers is Volvo ActiveCare, one of the highlights of the Volvo Services showcase at the exhibition. Volvo ActiveCare is a machine monitoring and proactive maintenance service, using data from connected machines to take preventative action and avoid unplanned downtime. When customers subscribe to the service, data from the Volvo CareTrack telematics system on their machines is fed in real time to the Volvo Uptime Center. Here, case handlers monitor the machines' performance and if an error code or alarm occurs that might lead to a breakdown, they call the closest dealer to the machine, suggesting an action for the dealer to relay to the customer. Customers can rest assured that potential issues will be noticed, and preventative action taken to ensure maximum uptime for their machines.
Silent and sustainable power for China's urban areas
Exemplifying its innovations for the near future, Volvo CE has on display two new electric customer pilot excavators at bauma CHINA – the 5.5-t EC55 Electric and the 22-t EC230 Electric – which will shortly go for testing by real customers in China. These electric excavators are powered by lithium ion batteries and can work a full day with a high-power lunch-hour charge. This is the first time Volvo CE has developed electric customer pilot machines for China. These excavators are not commercially available yet but during this research phase Volvo CE aims to mature them quickly so that they can be commercialized as soon as possible.

The EC55 Electric has been developed in China with locally sourced components for the needs of Chinese customers, using a common electromobility and charging platform. The EC230 Electric, meanwhile, has been designed at Volvo facilities in Changwon, South Korea to suit a broader Asian customer base.

Although the two excavators differ in size, they will both deliver the same performance as their diesel-powered counterparts, if not better, with the added benefits of zero emissions, low noise, and low total cost of ownership. The energy running costs for the EC55 Electric are expected to be 50% lower than for its conventional diesel-powered counterpart the EC55D, while the EC230 Electric is expected to achieve a 60-70% reduction compared to the diesel-powered EC220E.

"China is the largest electromobility market globally and a leading producer of electromobility components, which provides the demand and means to manufacture a machine locally. In addition, China has an industrial strategy to decrease dependence on diesel and so the electromobility market is expected to move quicker. These factors make China the perfect place to test our new machines and gain valuable customer feedback," says Mats Sköldberg, Head of Technology at Volvo CE China.
Innovation for a safer future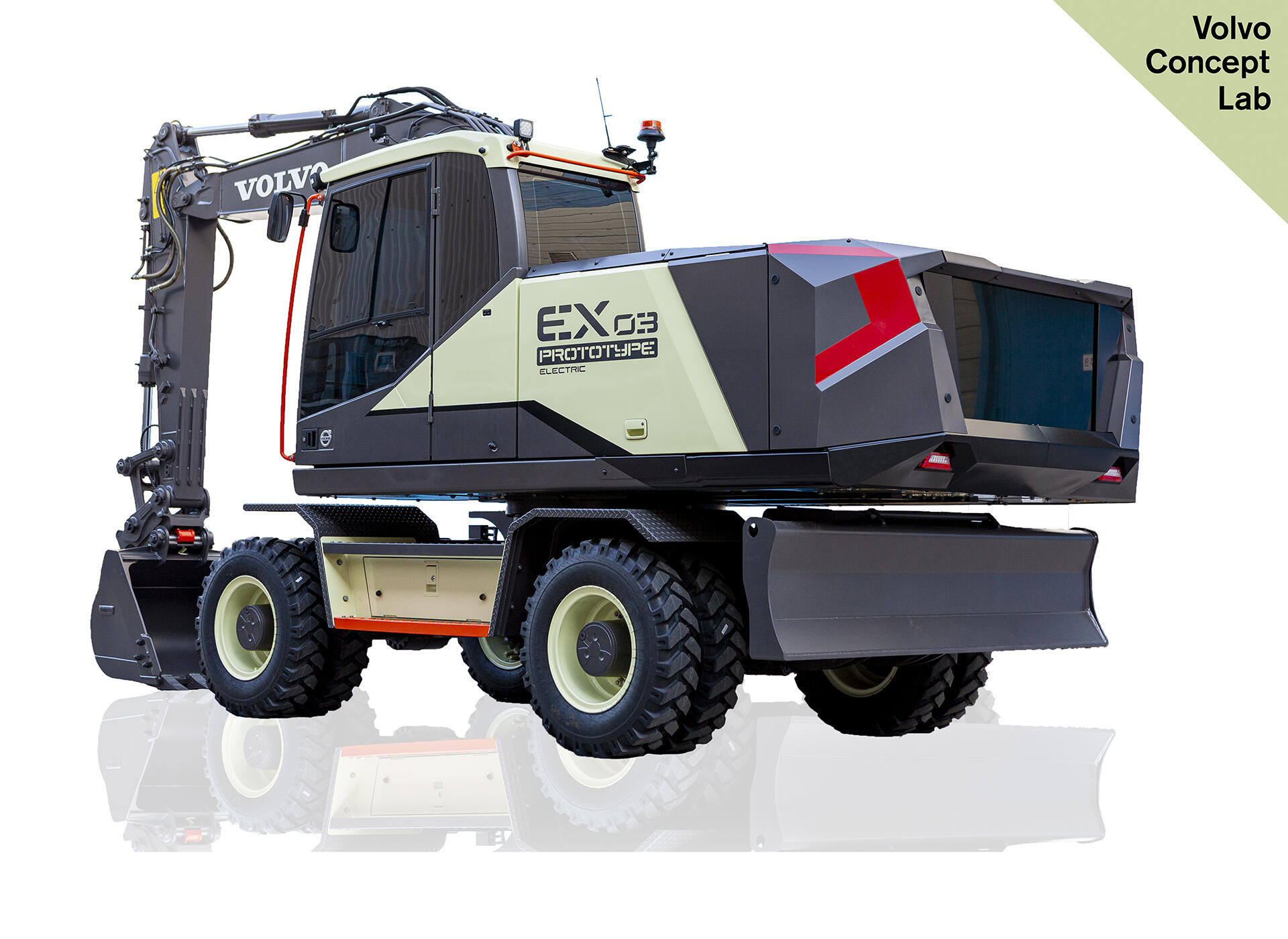 EX03 concept wheeled excavator

Volvo CE is also presenting the 14-t EX03 electric wheeled excavator prototype, which is earlier on its development phase than the EC55 Electric and EC230 Electric customer pilots. The EX03 offers the same low noise, zero emissions, energy efficiency and simple maintenance, but includes several groundbreaking safety features.

When driving on public highways, a real-time video stream from the front of the excavator will allow vehicles behind to clearly see ahead. When working, a text-based safety screen will alert job site staff to left/right movement and reversing. A communication live stream will also enable the operator to make eye contact with pedestrians and other works to help minimize misunderstandings and increase safety. While still in the concept stage, Volvo CE is exploring the possibility of eventually trialing a similar version of the EX03 in customer pilots.
The future of quarrying
Finally, Volvo CE is displaying a miniature Volvo Electric Site model. Volvo Electric Site is the company's vision for the future of quarrying, which is designed to achieve zero emissions, zero accidents, zero unplanned stops and ten times greater efficiency. Although the Volvo Electric Site is not a commercial offer, it could serve as a model for rethinking production operations to run on green, sustainable power, while increasing safety and efficiency. Indeed, its application is not limited to quarries.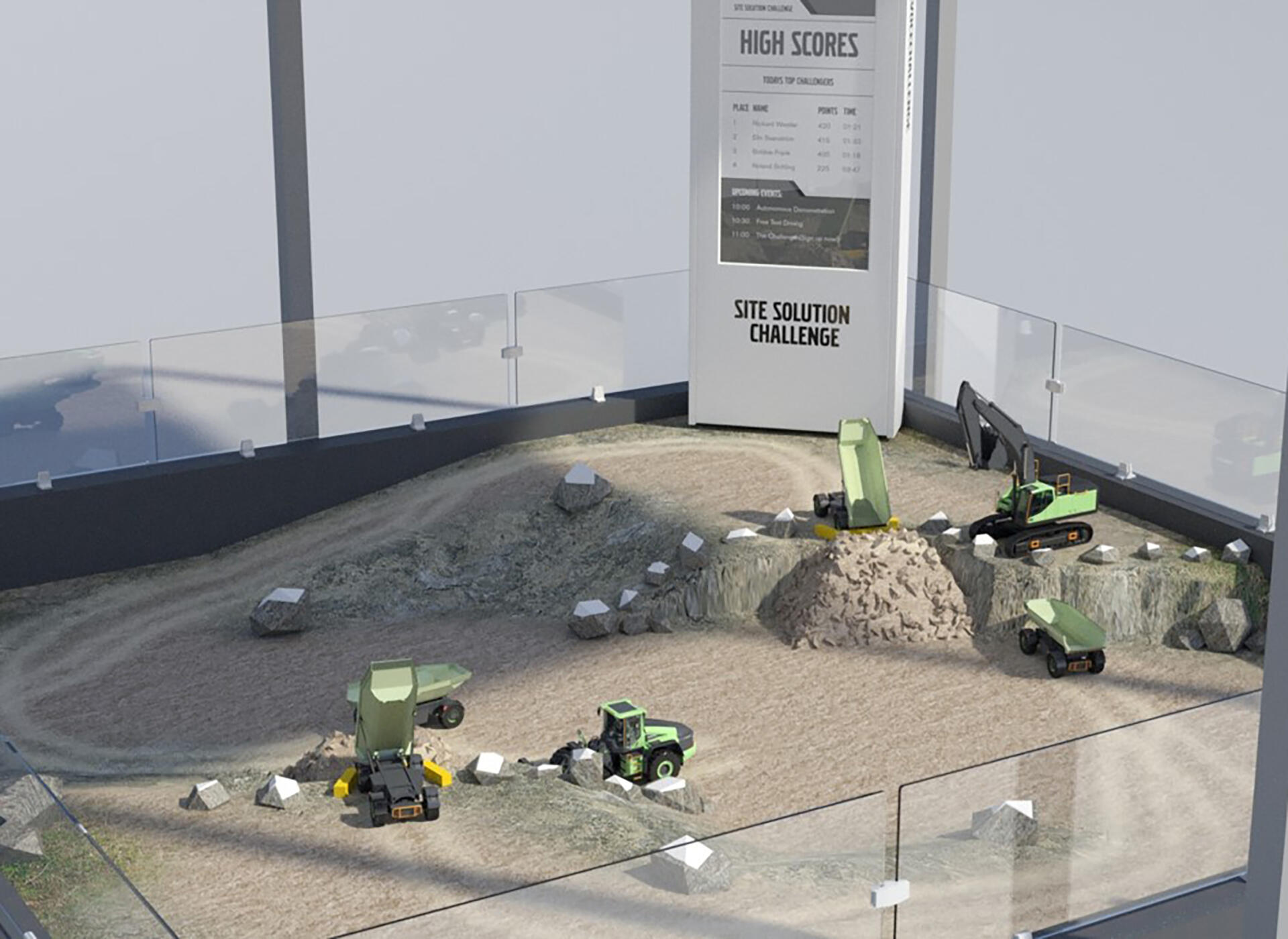 Volvo Electric Site miniature model
The Volvo Electric Site system consists of four HX02 autonomous, battery-electric load carriers, one LX01 electric-hybrid wheel loader prototype, and one EX01 70-ton dual-powered, cable-connected excavator prototype.

"At Volvo CE, we believe in a sustainable future and through our innovation and research in connectivity, automation and electromobility, we are doing our best to build the world we want to live in. By showing these key innovations, we prove that we are well equipped to be the leading partner for developing China's future and a company able to provide solutions for the massive government investment in urban development," Sköldberg concludes.