A committed Volvo CE customer in Malaysia has supplemented its large Volvo excavator fleet with its biggest-ever model, the EC950EL. Upon delivery, the machine was immediately dispatched to its first job site – the Hume Cement quarry in the state of Perak.
Premier Perspective, a Gopeng, Perak-based quarrying and construction contractor already has 13 Volvo machines working at its site near Kota Bharu, approximately 200 km north of Kuala Lumpur. The new EC950EL model joins the mix of EC750DL, EC480DL, EC460BLC, EC360BLC, EC350DL, EC330BLC and EC300DL excavators, using HB29 and HB36 hydraulic breakers. In addition to the excavators, there are also a number of Volvo L150H wheel loaders on the job.
Since purchasing its first machine in 2012, the contractor has been a frequent visitor to Volvo CE Malaysia's Ipoh branch, from where the EC950EL was ordered.
"With our past experience with Volvo CE excavators we have every confidence that the EC950EL will deliver excellent fuel efficiency, productivity, reliability and low cost of ownership." said Kelvin Choong, Director at Premier Perspective.
"The EC950EL has many features designed to reduce fuel consumption and operating costs, so that made the decision to invest a straightforward one." said S.L Wong, Director at Premier Perspective.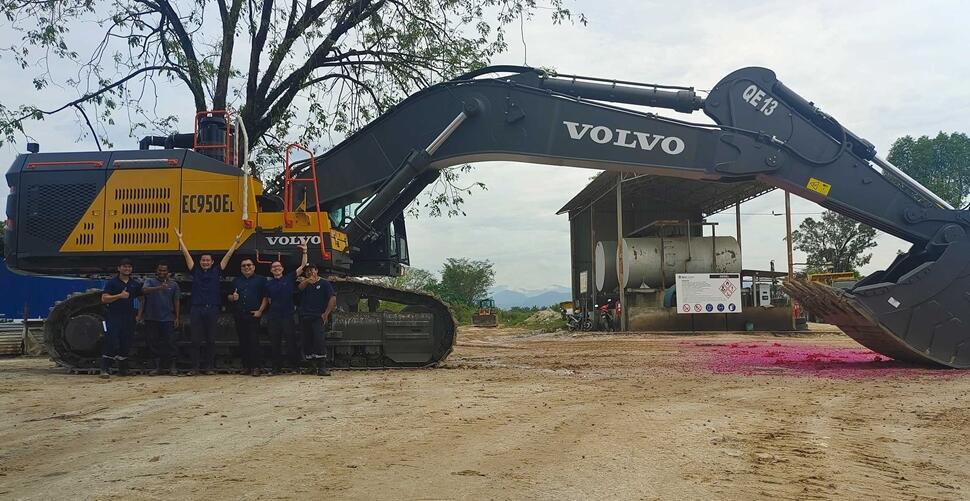 Fuel's gold
One outstanding method of boosting the huge excavator's fuel efficiency is the fine-tuning of its enhanced electrohydraulic system to best match the 450 kW, high-torque Volvo D16E engine. In addition, the unique ECO Mode optimizes the hydraulic system, reducing loss of flow and pressure, while operators can also choose the most suitable work mode for each task, ranging from I (Idle) to P (Power max).
Cycle times are minimized, and performed even more smoothly, through a combination of increased pump power and the new MCV (main control valve) that uses intelligent technology to control on-demand flow. Supplementing this, the Automatic Idling System reduces engine speed whenever the levers and pedals are not activated, further reducing fuel consumption and lowering cab noise levels.
Premier Perspective's operators appreciate the exceptional safety and comfort of the cab which significantly reduces noise, shock and vibration levels. It is conveniently accessed via a wide door opening and offers excellent all-round visibility.
Live long and prosper
In its role at the Hume Cement quarry, the EC950EL works arduous shifts of up to 11 hours per day, making the machine's high level of uptime a particularly welcome feature.
"The EC950EL has performed superbly so far, which is no surprise," said Choong. "But when the time comes for an intervention, whether planned or not, we know the exceptional aftermarket service provided by Volvo CE will be just as valuable as the quality of the excavator itself. In the past, Volvo CE has really impressed us with its rapid response when we've needed parts and service support – we treat each other more like business partners than customers and suppliers."