A new online portal is open for Singapore companies to register their interest in using electric machines from Volvo Construction Equipment on their construction projects. With the acceleration towards more sustainable infrastructure development in Singapore and the country committed to greater uptake of electric vehicles, interest levels are expected to be high.
By Q2 2023, the first Volvo CE electric machines will arrive in Singapore, and more will be on their way. Ahead of this, construction contractors, utility companies, industrial business, energy companies and others can register their interest in getting an individualized, live walkthrough to see the technology up close and understand how it could be harnessed at their facilities.
AM Muralidharan, Head of Productivity & Retail Development Asia, said:
"We've been discussing the arrival of electric machines in Singapore for several months, so we know interest is strong. By launching this online portal, we can structure the introduction and create more personalized customer experiences. With our electric construction machines, ways of working are transformed thanks to near-silent operation, zero exhaust fumes and an operating station free of vibrations. But in terms of performance, there's no difference. When it comes to power and on-site capabilities our electric machines are almost identical to their diesel counterparts."
Future-focused Singapore
Over the past couple of years, Volvo CE has steadily rolled out its electric construction machines to countries around the world, focusing on those with the strongest potential. There are machines currently working in North America and Europe, while in Asia, the first units were brought to South Korea last year.
"We are phasing out the use of diesel engines in our compact machines over the course of this decade so the upcoming release of these electric machines in Singapore is an important milestone," continued AM Muralidharan. "Volvo CE is committed to building the world we want to live in, and as governments and communities increasingly demand quiet and emissions-free machinery on their local projects, we are taking the lead in making these demands a reality."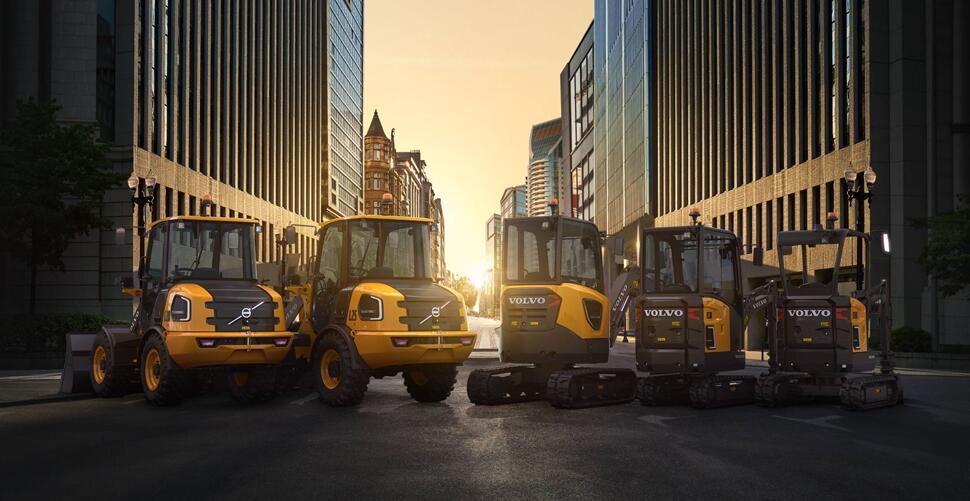 Electric machines from Volvo CE have been used for a diverse range of projects, including a wine cellar construction at a vineyard outside Verona, Italy; a waste management project in Berlin, Germany; a trail-building development for a nature reserve in Virginia, U.S.; and off-grid property development in the deserts of California, U.S.
"Singapore has a strong global reputation for sustainability and customers here are already asking for the machines, having read about them on projects in the U.S. or Europe," said AM Muralidharan. "So we've been working hard to create the necessary structure to introduce the machines locally. These are our first electric machines in South East Asia, and we expect them to attract interest from beyond Singapore's borders too."
Technical details
There will be two electric machines from Volvo CE launched in Singapore. The ECR25 Electric compact excavator is a 2.6-2.8 t excavator with a 22.3 kN breakout force. It is equipped with an on-board charger for general charging, an external quick charger (optional for indoor/outdoor specifications), and a 20 kWh battery array, allowing for up to 4 hours of effective work per charge.
There's also an excavation bucket (0.074 m3) with a quick coupler, a standard arm, spare piping, and a ROPS standard canopy. Furthermore, there are no exhaust gases generated by the drive system and very little vibration and noise, resulting in a very low environmental impact on the operator, surrounding workers, and neighbors. Operator comfort is improved even further because there are no fumes, soot, or excessive noise from the electric operating system. And unlike a diesel excavator, the ECR25 Electric consumes almost no energy while idling thanks to an inbuilt stop/start system, so it only consumes energy during the minutes it works. It has a slightly higher operating weight than its diesel equivalent, but then also delivers more continuous motor power.
The other electric machine launching in Singapore is the L25 Electric compact wheel loader, which features a 2.1 t payload, a maximum speed of 20kph, outstanding lifting height and 100% parallel movements. The machine comes with a 40kWh battery pack and is expected to deliver up to 8 hours of active work per charge. Again, operator comfort is enhanced by near-silent operation, and there's also an automatic park brake with hill-hold functionality and a range of customizable work modes. Like its electric sibling, the ECR25 Electric, the L25 Electric has a slightly higher operating weight than its diesel equivalent, but then has a higher static tipping load too.
Discover more about Volvo machines and services at www.volvoce.com/asia.