The team experienced the latest A60H articulated haulers with a test drive.
To honour 40 years of profitable partnership with Volvo Group, Jusak Kertowidjojo, President Director of Indonesian dealer partner INDOMOBIL Group, took a team of key executives to see the company's headquarters in Gothenburg, Sweden. The executives included Eric Ng, Director of Volvo Trucks, Volvo Construction Equipment dealer, PT Indotruck Utama, and Bambang Prijono, President Director & CEO of Volvo Group brands dealer, PT Wahana Inti Selaras. For the visit, the INDOMOBIL team was accompanied by several local Volvo representatives, including Gerrit Lambert, Head of Market Indonesia for Volvo Construction Equipment and Jonas Nilsson, Vice President of Market India & Indonesia for Volvo Trucks.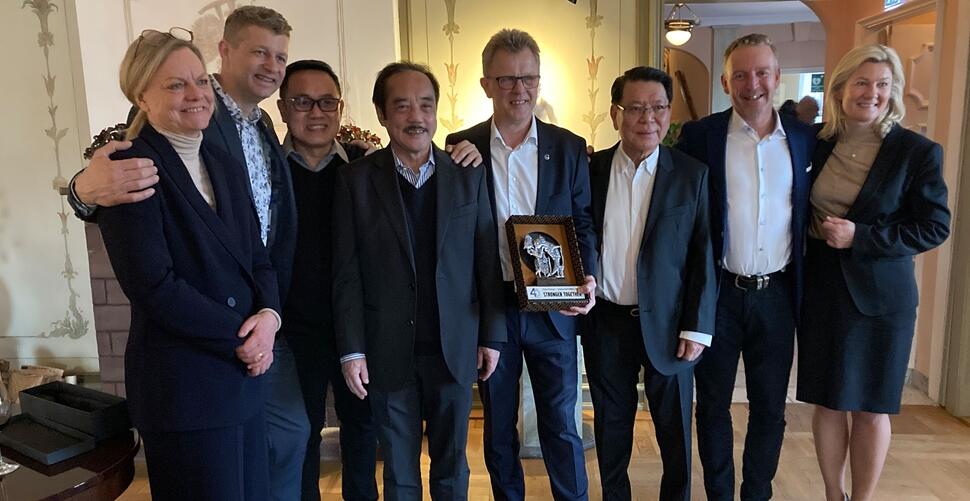 (From Left to Right) Heléne Mellquist, President, Volvo Penta; Melker Jernberg, Head, Volvo CE; Bambang Prijono, President Director & CEO, Wahana Inti Selaras & Subsidiaries, Indotruck Utama President Director; Jusak Kertowidjojo, President Director, Indomobil Group; Eric Ng, Indotruck Utama Founder & Shareholder; Per-Erik Lindström, SVP Volvo Trucks International and Anna Westerberg, President, Volvo Bus.
The trip included a comprehensive look at Volvo's operations in Sweden, kicking off with a visit to the Volvo Trucks Exhibition Center (VTEX) and a test drive of Volvo Trucks' full range of electric trucks. After this, guests had a chance to see some of the latest machines from Volvo Construction Equipment and test drive the new A60H articulated haulers plus enjoy a personalized presentation of the ground-breaking TA15 autonomous electric dumper. This was followed by a tour of the Volvo Group headquarters led by Martin Lundstedt, President and CEO of Volvo Group and Joachim Rosenberg, Executive Vice President of Strategic Initiatives & President of Volvo Energy, to learn more about the history, technology advances, and future vision of the Volvo brand.
To give formal recognition to the long-standing partnership between Volvo Trucks and INDOMOBIL, there was a facilitation ceremony at the Volvo Rossared Mansion. This was attended by top executives and board members from across the Volvo Group who had enjoyable discussions and celebrations with their long-term business partners.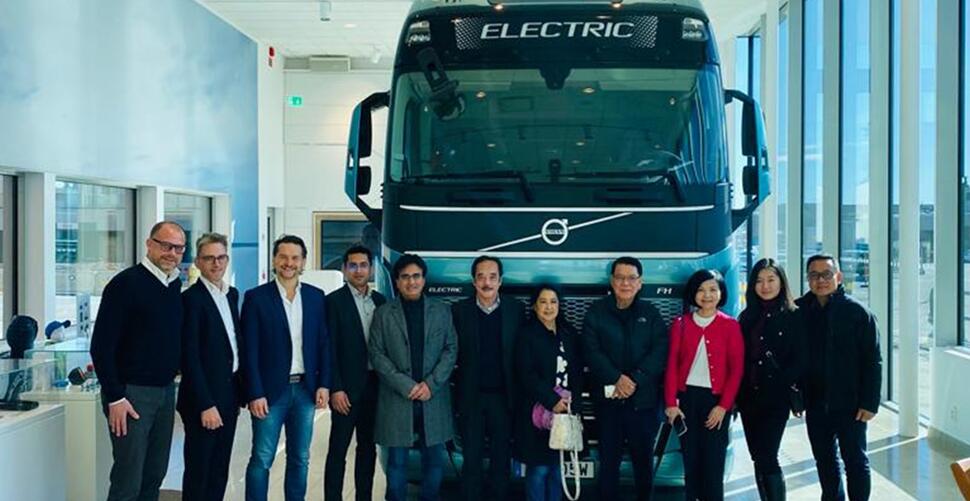 The INDOMOBIL Executive Team and Volvo Group Board Members gather to pay tribute to the lucrative 40-year partnership between the two companies.
Bambang Prijono, President Director of PT Indotruck Utama, said the visit was a memorable one:
"We want to thank Volvo Group for hosting us and providing valuable insights into their manufacturing process and latest innovations. Our 40-year partnership is a testament to our mutual dedication to collaboration, transparency, and the invaluable trust we have built over the years. As we mark this milestone, we remain committed to nurturing new ventures and achieving even greater success in the future."
INDOMOBIL represents several Volvo Group brands in Indonesia including Volvo Construction Equipment, Volvo Trucks, Renault Trucks, Volvo Penta, Volvo Bus and SDLG.