Volvo CE's first offline media event in three years was suitably significant as print, online and broadcast journalists gathered at a major event to mark the availability of electric machines in Asia. Over 100 journalists attended, along with numerous South Korean government officials who have been instrumental in helping customers with applications for state subsidies or incentives to invest in the new electric machines.
The 2.5-ton battery-powered ECR25 Electric compact excavator is the first electric machine from a major manufacturer to arrive in the Asian market. While the launch of the product line was set for South Korea, further rollout is planned for China, Japan, and Singapore.
The ECR25 Electric excavator is one of Volvo CE's key strategic models, designed to meet increased customer demand for sustainable construction equipment solutions. National emissions regulations are continuing to tighten across Asia and there has also been an increase in government incentives to build more sustainably. Electric equipment from Volvo CE has already proven a huge success in Europe and North America.
Daniel Wolvén, the Ambassador of Sweden to the Republic of Korea, attended the event and opened proceedings, giving a congratulatory address. Following this, Tomas Kuta, head of Region Asia, introduced the Volvo ECR25 Electric excavator to the gathered media and explained how it forms part of a wider sustainability vision at Volvo CE.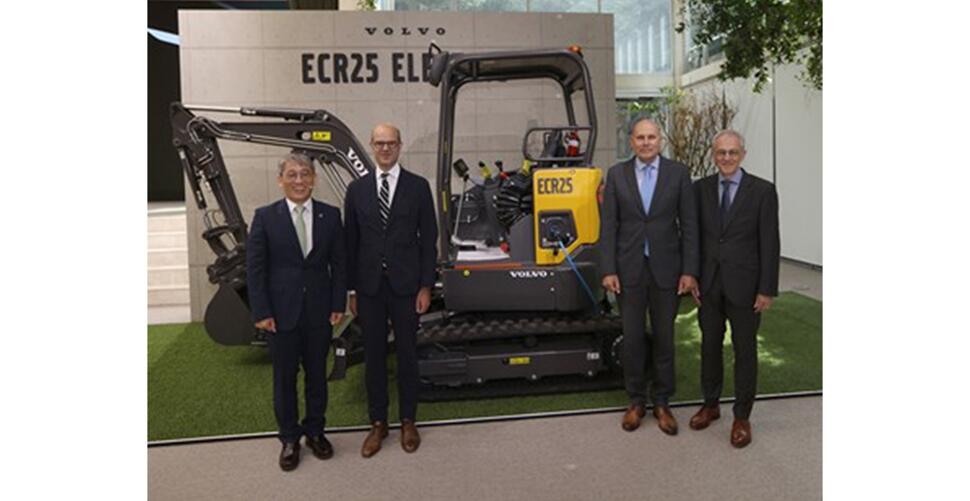 Pictured left to right: Jaetack Lim, Daniel Wolvén, Thomas Kuta, Andrew Knight.
"Volvo CE has ambitious goals, and a strategy to achieve net-zero value chain by 2040. We want to deliver 35% of our sales through electric machines by 2030," he said. "We expect to discover new opportunities with electric machines in the Korean market and will continue our considerable investment to take a leading position in electromobility."
Both the ECR25 Electric and an electric charging station were on display at the event. Jaetack Lim, head of Market Korea, gave a live demonstration of the operation of the ECR25 Electric including Volvo CE's telematics-based Electric Machine Management Application (EMMA).
Also addressing the assembled media was Andrew Knight, head of Excavator Operations and managing director of Volvo Group Korea, who pointed to the company's long-lasting legacy in the industry that has enabled it to deliver the innovation that is building tomorrow.
"Our history defines who we are today," Knight said. "We are highlighting Volvo CE's major achievements for the last 22 years and its long-term future strategies in terms of business, people and sustainability."
To learn more about the ECR 25 Electric click here.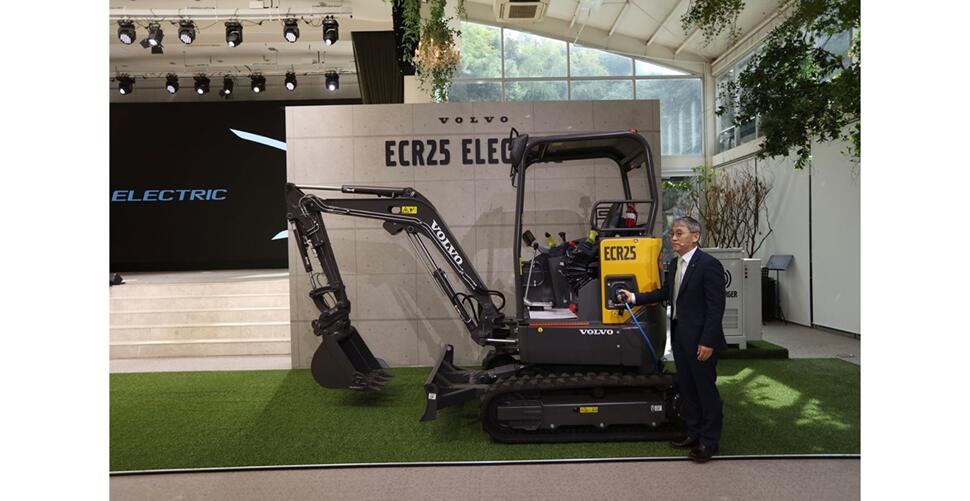 Jaetack Lim operates Volvo CE's new electric compact excavator, the ECR25 Electric.