As a brand synonymous with safety, Volvo has designed attachments to work in perfect harmony with its excavators and offers customers a complete solution that is proven, reliable, and backed by a full warranty and servicing.
"Choosing a package of Volvo machines and perfectly matched attachments gives contractors peace of mind that work will be completed efficiently and comply with the government requirements in Singapore," says Joseph Low, Senior Manager for Productivity and Retail Development at Volvo Construction Equipment Singapore.
One such contractor benefitting from this peace of mind is leading transport infrastructure and civil engineering company Or Kim Peow Contractors Pte Ltd (OKP), which recently purchased two new Volvo EC350DL excavators with a specially designed front attachment for vibro hammer applications.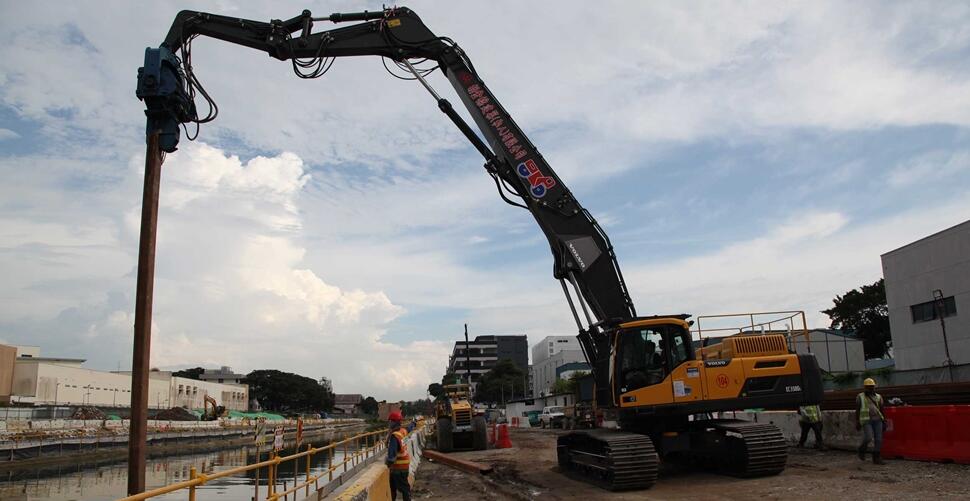 OKP's Volvo EC350DL excavator installing sheet piles to construct the retaining wall on the Sungei Selarang and Subsidiary Drain A improvement project.
OKP has deployed one of the excavators to work for 8 to 12 hours a day on a project to improve the Sungei Selarang and Subsidiary Drain A, positioning sheet piles efficiently and effectively to construct the retaining walls.
"We have a tight schedule for the project and its progress is affected by the high and low tide of the water so we needed a solution that would be reliable and powerful enough to put the sheet piles in place quickly," explains Kance Liong, Senior Project Manager at OKP.
"Besides efficiency, safety is our topmost priority, and we are confident in the complete solution from Volvo to meet both our criteria. This allows us to work with peace of mind, whereas if we used a third-party front attachment, it may not be certified by the authorities and may fail, causing more trouble for us," Liong continues.
"In addition, the excavator is also reliable and fuel efficient, and Volvo's aftermarket service support is among the best in Singapore. Our first choice of equipment purchase is Volvo nowadays," he concludes.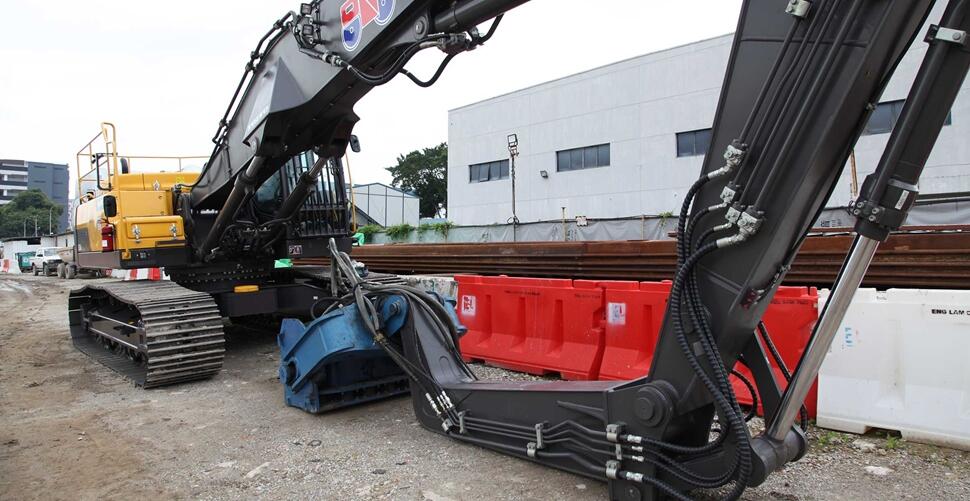 The Volvo excavator and vibro hammer have been designed to work in perfect harmony with each other.
Discover more about the Volvo EC350D excavator or the range of Volvo excavator attachments at www.volvoce.com/asia.