In North Sumatra, Indonesia, it rains more often than it doesn't. The city of Medan regularly records 2.2 metres of annual precipitation, and so the locals often joke that there is no such thing as a 'dry season'.
In such a weather-challenged environment, local aggregates producer PT. Bangun Mitra Abadi needs machines that can handle the rain and the flooding with minimal downtime. In fact, this is doubly important given it often digs for stones in local rivers.
Surya Ichsan, owner of PT. Bangun Mitra Abadi, said maintaining a regular supply of aggregates is essential to keeping the development of local infrastructure on track.
"We produce aggregates that are used to construct buildings in Medan, and roads in Barus and Stabat—all vital infrastructure for the area's development," he said. "So it's important for us to select strong equipment, like the Volvo EC210D excavator, to ensure smooth operations."
On site since April 2017, the EC210D excavator works eight hours daily to support the impressive output of PT. Bangun Mitra Abadi. Each day the company produces some 600 tons of base course, as well as splitting 350 tons of stones and loading an impressive 1,200 tons of materials.
"We really appreciate the contribution of the EC210D to our overall productivity," Ichsan said. "The machine's superior performance, helps us deliver material to clients on time while using only 12 to 18 liters of fuel per hour."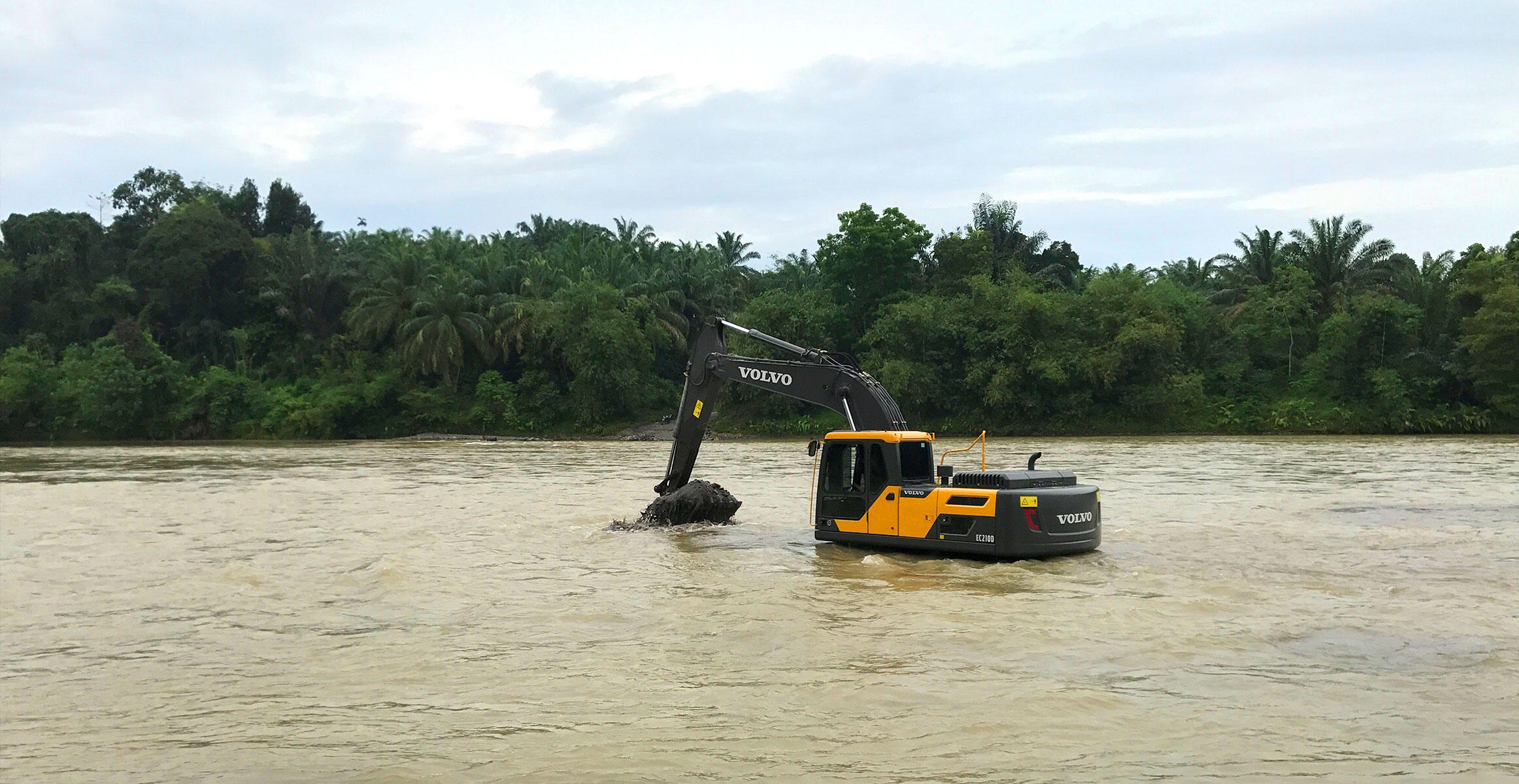 Designed to increase productivity and reduce fuel consumption, the robust EC210D features a maximum slew speed of 12.3 r/min and maximum slew torque of 76.7 kNm. Up to 1.22 m3 of bucket capacity is available while overall maximum operating weight is 22,800 kg. Equipped with a Volvo D5E engine, the EC210D provides superior performance. And in addition to its impressive technical specifications, the design of the EC210D focuses on delivering the best possible working environment for the operator.
"Our operators appreciate the EC210D's comfortable seats, air conditioning and radio inside the cab," Ichsan continued. "While these might seem like small details, they actually help boost morale and productivity, and our operators look forward to working in the machine."
The EC210D can be equipped with either a top or side mounted Volvo hydraulic breaker to handle even most demanding materials, delivering consistent power and high breaking force. The Volvo-designed hydraulic breaker/shear piping and quick coupler piping option provide optimum flow to the hydraulic attachments. State-of-the-art auxiliary lines allow the correct flow and pressure for special attachments.
Established in 2010 PT Bangun Mitra Abadi is an aggregates producer based in Medan, North Sumatra, Indonesia. The company purchased its EC210D excavator from Volvo Construction Equipment's dealer for the local area, PT. Indotruck Utama.