Hong Kong is one of the most densely populated cities in the world. In 2014 the average land population density stood at 6,690 people per square kilometer, while in the most densely-populated district of Kwun Tong each square kilometer was home to a whopping 57,250 people. And where there are people, there is waste.

Last year the city generated more than six million tons of municipal solid waste – a figure that has grown year on year over the past few decades, fueled by a growing economy and increasingly disposable lifestyle. Processing this waste as efficiently as possible is a major challenge for Hong Kong's three landfill sites.

"With such huge volumes of waste arriving at the landfill sites every day, it is essential that we are able to sort and transport it quickly," says Raymond Cheng, maintenance manager at the West New Territories (WENT) landfill in Hong Kong. "But with steep slopes, a dusty and corrosive environment, and two eight-hour shifts six days a week, our transport vehicles have a lot to contend with."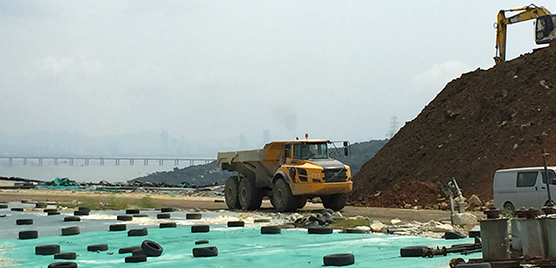 Luckily WENT landfill's two Volvo A40F articulated haulers are more than up to the job – delivering productive work shifts with quick cycle times and high machine uptime, despite the difficult conditions.

The A40F haulers – purchased by landfill owner Recycling & Waste Recovery Asia in 2013 – handle the steep terrain with ease thanks to the automatic traction control (ATC) and differential locks. The ATC automatically switches between drive combinations of 6x6 and 6x4 depending on whether lower fuel consumption or maximum traction is a priority, while all wheels can be set to rotate at the same speed for improved grip on especially treacherous slopes. When traveling downhill, the retardation system, incorporating wheel brakes and an engine brake, ensures the driver remains in control at all times. The maximum speed achieved by the A40F haulers is 57km per hour.

"We have been very satisfied with the speeds with which the Volvo articulated haulers can safely negotiate the hilly site. They have slightly boosted our cycle times," Cheng says.
Safeguarding productivity
The productivity of the A40Fs' operators is enhanced further still by the Volvo Care Cab. The air-suspended seat and ergonomically positioned controls limit fatigue during the operators' eight-hour shifts, while the low noise levels and effective climate control system – with industry-leading air-filtration – create a pleasant and comfortable working environment. Even at the dusty WENT site, the operators can breathe easy.

"We have also been impressed by the durability and ease of maintenance of the Volvo haulers," Cheng says. "And we cannot fault the support of our local Volvo dealer, Huada Machinery & Engineering. These factors have ensured maximum uptime from our vehicles, while – together with the low fuel consumption – helping to keep running costs at a minimum."

"We are able to meet the increasing pressure placed on our landfill sites with these two A40F haulers," he concludes. "They are productive and efficient machines that we know we can count on."