Taikoo Motors is one of Taiwan's biggest car dealership companies and the parent of Taikoo Commercial Vehicles which has represented Volvo Trucks and Volvo Buses since 1978. In 2021, the organization added Volvo CE to its portfolio and has been impressed with the first two years of the partnership.
Taikoo Commercial Vehicles employs around 300 staff including 170 skilled technicians. Technicians undergo regular training programs to ensure they provide the very highest levels of customer support and the company operates a large parts inventory that is structured to maximize uptime.
For ongoing customer maintenance contracts, parts inventory is stocked with at least 6 weeks' supply, and level checks are run every two weeks. For general parts inventory, there's a monthly check and adjustments are made for any promotional programs. In addition, total inventory is reviewed monthly with Volvo CE, to take account of new models and to ensure all performance metrics are being met.
Taikoo's 45-year partnership with Volvo Group means both companies have a good understanding. Service is a priority for Taikoo and as well as maintaining a large parts inventory the company has service locations across Taiwan and a coordinated team that adapts to any situation.
Popular products
Excavators and wheel loaders are Volvo CE's two most popular product lines. Customers love the wheel loaders for their high power and fuel efficiency, plus their innovative design that delivers optimal performance. Recent years have also seen the delivery of several large Volvo excavators in Taiwan, including an EC750DL demolition excavator to Hsin Yen Hung Company in Kaosiung - the first of its kind in the country.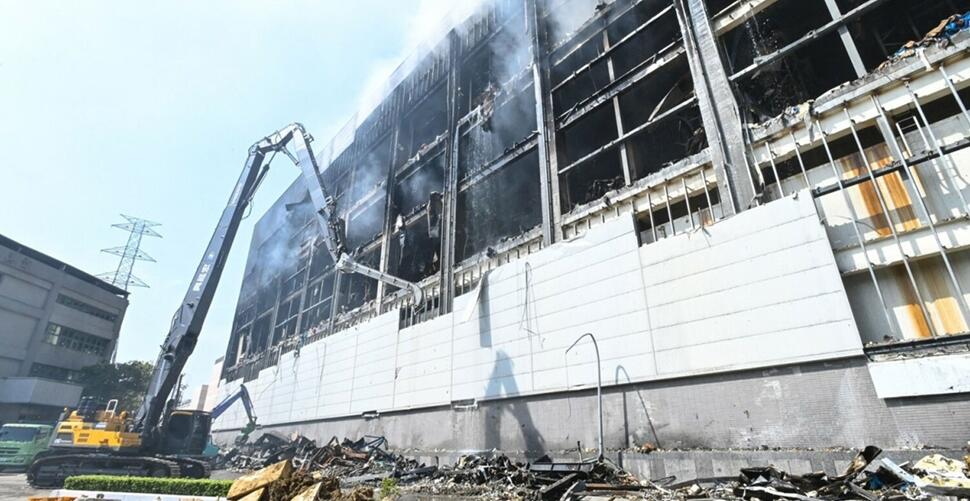 A Volvo EC750DL helps with disaster-response on a fire-damaged building in Taoyuan City.
Since arriving in the country the EC750DL has been continually employed, demolishing old oil storage units for CPC Corporation, tearing down a factory for materials company CHIMEI, and safely dismantling a fire-damaged building in a disaster-response operation in Taoyuan City. The machine's advanced technology and safety features have made the unit a stand-out market leader.
The success of the EC750DL and the ongoing interest in Volvo CE means the outlook is bright for Taiwan. The country is expanding its infrastructure and residential construction is on the rise. As Taiwan looks at further advances, such as smart buildings, AI and IoT, demand will focus on leading technology to support that development. This is where Volvo CE and Taikoo have a strong advantage. There will also be more focus on renewable energy and Volvo CE is a perfect partner for this too.