Volvo Construction Equipment (Volvo CE) has extended its ability to serve the needs of Malaysian customers with the addition of a dealership in Kuching, Sarawak, on the island of Borneo. The sub-dealer is Borneo VCE. It will act as an independent dealership covering East Malaysia.
Leading Borneo VCE are Ting Heng Lee, Managing Director, and Anthony Chin, Marketing Director. There was a launch event to celebrate the opening of the new location on June 22, with 83 representatives from approximately 32 customers attending. Borneo VCE will focus on the sales and service of the full Volvo CE product line, including articulated haulers, compact excavators, compact wheel loaders, crawler excavators, wheel loaders, and wheeled excavators.
In addition to celebrating its new dealership, Borneo VCE also used the event to launch the Volvo EC550EL crawler excavator to the local market. There was a product presentation and machine walkaround, followed by the handover of the first four models to local customers SSF Quarry and Alam Suria Equity, with each company receiving two units. The SD110 soil compactor was also highlighted, and a presentation highlighted Volvo CE's essential aftermarket services.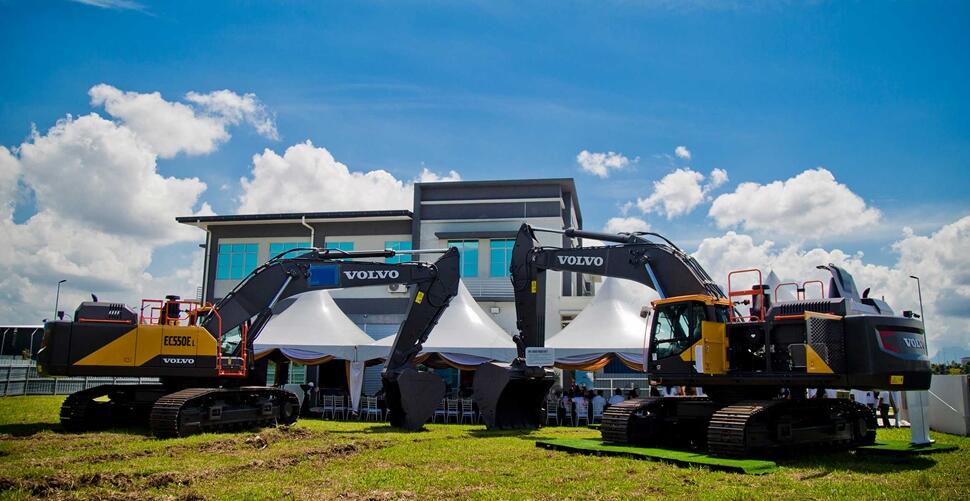 Several Volvo CE executives attended the dealership opening, including Roger Tan, Head of Market SEA; Wee Kim Wei, Head of Market Malaysia; Sutar Rajendra, Head of Aftermarket Malaysia; Isaac Leow, Head of Sales; Maggie Cho, Sales & Marketing Support Manager; Vinnie Khor, Marketing & Logistics Manager; and Steven Kwok, Market Development Director from Volvo Financial Services.
Roger Tan, Head of Market SEA, commented:
"This is a very important milestone for Volvo CE Malaysia. With Borneo VCE, we are expanding our network better to serve customers in the east of the country. Borneo VCE is associated with our long-time partner for Malaysia, so we know they have the passion, experience, and expertise they will bring to Volvo customers in this region. We look forward to celebrating many future successes together."
Ting Heng Lee, Managing Director at Borneo VCE, said:
"We are very proud to be the exclusive partner of Volvo CE in East Malaysia. The company is leading the way in the international construction equipment market with fuel-efficient machines and some exciting low- and zero-emission solutions. We are convinced that working closely together can make great things happen in Borneo."
In addition to the four EC550EL excavators handed over at the launch, Borneo VCE has received a signed order from Alam Suria for a further two machines. The same contractor has also received three A40G articulated haulers. Meanwhile, SSF Quarry ordered two L260H wheel loaders, and two EC200D crawler excavators have been delivered to other customers.